Our Best Brain Shut Down, so Another Shutdown is Rounding the Corner on Wednesday, December 2nd, 2020
He hired the best people. He has the best words. No one can believe his IQ test results. But he couldn't figure out how to be a hero on the pandemic. Duh – make the government make tests, masks, swabs, AND vaccines, then tell people to wear the masks – NOT rocket science, except the vax part. So the disease is rocketing like Space-X rght before the vaccines get distributed to docs and nurses so they can continue to be the last person to talk to the dying for another 200,000, for another six months. Because we elected a broken child in 2016.
It's getting serious again, folks. Please be careful out there and in here. Keep your distance and try to be an "efficient" shopper, to keep the overall store population down minute to minute.
We made a booboo on DC's this week. Many of them are "missing" until late next week, which could easily turn into the following Monday. I left them on the list for this week because I'm not that good at my job.
No summary. Very late, tons to do. See the list below. Sorry for all the white space. Short on time. Again Wednesday is STILL New Comic Day, no matter what you read on the internets. We can't clear the new rack to just have 10 DC's  surrounded by empty space.  We do it once, Wednesday morning.
We encourage everyone to be careful, make your trip to our store quick and efficient, and try to come in to shop in smaller groups, and reduce your own exposure to ALL public places indoors, including ours. Bob is open, bring your mask, keep your distance, and help keep Bob healthy. If you like, you can browse the list and make an order to fbgbob@aol.com for a quicker pick up. It might also help to put in a time window when you would be in the neighborhood, to give Bob a chance to get them together, and include a phone number for good measure.
Please wear a mask!
Watch this space and our Facebook page for latest news about the rest of the month, season, year, millenium, etc. (And text messages from 5-Star.) The complete list is found below. If you want to know about the next sale or store event, or whether or not WE ARE EVEN OPEN click here. Sign in here to get an email reminder for ALL sales and other events. Also, you can go to     fb.fantasybooksandgames.com and you'll be taken to our Facebook page. We also use our in-store 5-Star Rewards system to text similar announcements to your phone.
Thanks to Comics on the Green for this week's images, which include many of the comics and a few of the books and other items we received today, and may have pics of things we didn't and/or won't get. Use the list, and maybe the picture.
AMAZING SPIDER-MAN #53.LR PHAM VAR (last week) $ 3.99
ATLANTIS ATTACKS #5 (OF 5) KIB $ 3.99
ATLANTIS ATTACKS #5 (OF 5) PAGULAYAN VAR KIB $ 3.99
BATMAN CATWOMAN #1 (OF 12) CVR A CLAY MANN $ 4.99
BATMAN CATWOMAN #1 (OF 12) CVR B JIM LEE & SCOTT WILLIAMS VAR $ 4.99
BATMAN CATWOMAN #1 (OF 12) CVR C TRAVIS CHAREST VAR $ 4.99
BATMAN CATWOMAN #1 (OF 12) CVR D BLANK VAR $ 4.99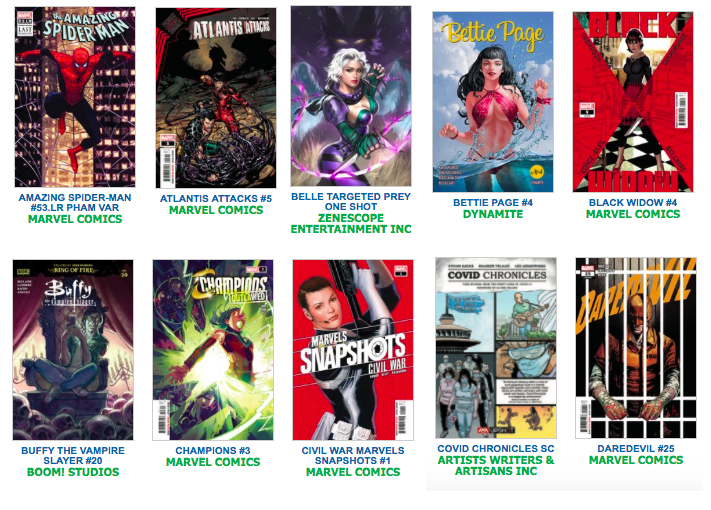 BELLE HORNS OF MINOTAUR #1 CVR A WHITE $ 5.99
BELLE HORNS OF MINOTAUR #1 CVR A WHITE $ 5.99
BELLE TARGETED PREY ONE SHOT CVR A VITORINO $ 5.99
BELLE TARGETED PREY ONE SHOT CVR B BURNS $ 5.99
BELLE TARGETED PREY ONE SHOT CVR C SANAPO $ 5.99
BETTIE PAGE #4 CVR C LINSNER $ 3.99
BETTIE PAGE #4 CVR D BECERRIL COSPLAY $ 3.99
BETTY & VERONICA JUMBO COMICS DIGEST #289 $ 7.99
BLACK WIDOW #4 $ 3.99
BLACK WIDOW #4 BROWN MCU VAR $ 3.99
BLACK WIDOW #4 CHECCHETTO VAR (1/25) $ ???
BLACK WIDOW #4 SKAN KNULLIFIED VAR $ 3.99
BOYS DEAR BECKY #7 (MR) $ 3.99
BUFFY THE VAMPIRE SLAYER #20 CVR A MAIN $ 3.99
CHAMPIONS #3 $ 3.99
CIVIL WAR MARVELS SNAPSHOTS #1 $ 4.99
CIVIL WAR MARVELS SNAPSHOTS #1 KELLY VAR $ 4.99
DAREDEVIL #25 $ 3.99
DAREDEVIL #25 LARROCA VAR (1/25) $ ???
DAREDEVIL #25 LASHLEY KNULLIFIED VAR $ 3.99
DARK NIGHTS DEATH METAL #5 (OF 7) CVR A GREG CAPULLO EMBOSSED FOIL $ 4.99
DRYAD #7 $ 3.99
DUNE HOUSE ATREIDES #1 (OF 12) 3RD PTG $ 4.99
E RATIC #1 CVR A ANDREWS $ 3.99
E RATIC #1 CVR B DEODATO JR $ 3.99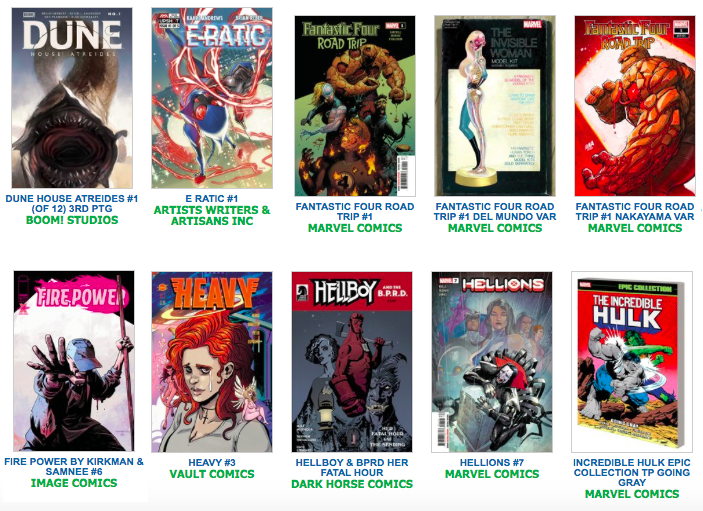 FANTASTIC FOUR ROAD TRIP #1 $ 4.99
FANTASTIC FOUR ROAD TRIP #1 DEL MUNDO VAR $ 4.99
FANTASTIC FOUR ROAD TRIP #1 NAKAYAMA VAR $ 4.99
FIRE POWER BY KIRKMAN & SAMNEE #6 $ 3.99
HEAVY #3 CVR A DONOVAN $ 3.99
HEAVY #3 CVR B DANIEL $ 3.99
HELLBLAZER RISE AND FALL #1 (OF 3) CVR A DARICK ROBERTSON (MR) $ 6.99
HELLBOY & BPRD HER FATAL HOUR CVR A TREVALLION (RES) $ 3.99
HELLBOY & BPRD HER FATAL HOUR CVR B MIGNOLA (RES) $ 3.99
HELLIONS #7 XOS $ 3.99
INKBLOT #4 $ 3.99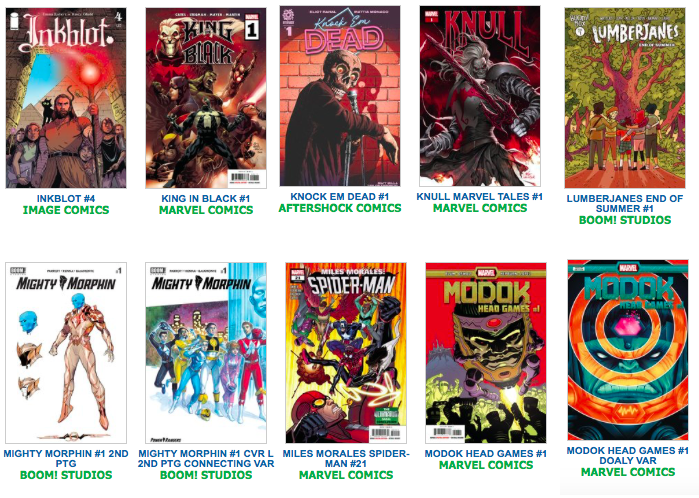 KING IN BLACK #1 (OF 5) $ 5.99
KING IN BLACK #1 (OF 5) BEDERMAN TATTOO VAR $ 5.99
KING IN BLACK #1 (OF 5) BLACK BLANK VAR $ 5.99
KING IN BLACK #1 (OF 5) CLARKE SPOILER VAR $ 5.99
KING IN BLACK #1 (OF 5) COELLO DRAGON VAR (1/50) $ ???
KING IN BLACK #1 (OF 5) HORLEY HIDDEN GEM VAR (1/100) $ ???
KING IN BLACK #1 (OF 5) MOMOKO VAR $ 5.99
KING IN BLACK #1 (OF 5) STEGMAN DARKNESS REIGNS VAR $ 5.99
KING IN BLACK #1 (OF 5) SUPERLOG VAR (1/25) $ ???
KING IN BLACK #1 (OF 5) TAN LAUNCH VAR $ 5.99
KING IN BLACK #1 (OF 5) YU CONNECTING VAR $ 5.99
KNOCK EM DEAD #1 $ 4.99
KNOCK EM DEAD #1 TONY HARRIS (1/15) $ ???
KNULL MARVEL TALES #1 $ 7.99
LUMBERJANES END OF SUMMER #1 CVR A LEYH $ 6.99
LUMBERJANES END OF SUMMER #1 CVR B MOULTON $ 6.99
LUMBERJANES END OF SUMMER #1 CVR C WALDEN $ 6.99
MIGHTY MORPHIN #1 2ND PTG $ 4.99
MIGHTY MORPHIN #1 CVR L 2ND PTG CONNECTING VAR $ 4.99
MILES MORALES SPIDER-MAN #21 $ 3.99
MILES MORALES SPIDER-MAN #21 INHYUK LEE KNULLIFIED VAR $ 3.99
MILES MORALES SPIDER-MAN #21 SCHUMACHER MORALES VAR $ 3.99
MODOK HEAD GAMES #1 (OF 4) $ 3.99
MODOK HEAD GAMES #1 (OF 4) DOALY VAR $ 3.99
MODOK HEAD GAMES #1 (OF 4) YOUNG VAR $ 3.99
ORVILLE #4 HEROES (PT 2 OF 2) $ 3.99
OVERWATCH TRACER LONDON CALLING #1 CVR A BENGAL $ 3.99
OVERWATCH TRACER LONDON CALLING #1 CVR B TARR $ 3.99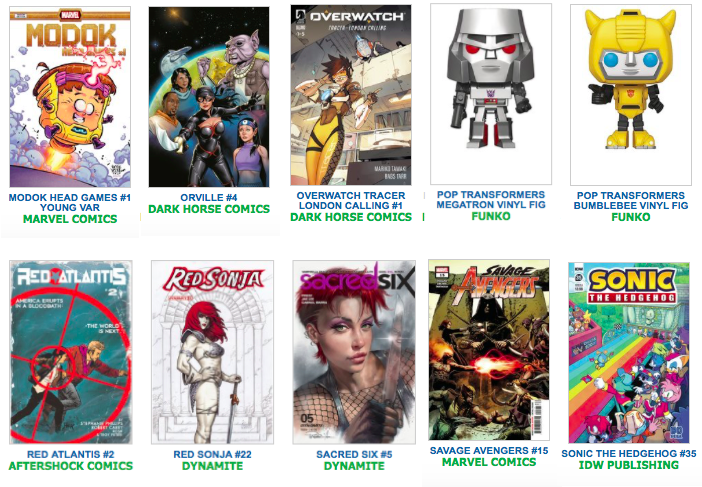 RED ATLANTIS #2 $ 3.99
RED SONJA #22 STOTT VIRGIN $ ???
RED SONJA #22 CVR B LINSNER $ 3.99
RED SONJA #22 CVR D POLSON COSPLAY $ 3.99
SACRED SIX #5 CHEW MONO VIRGIN FOC $ ???
SACRED SIX #5 HETRICK VIRGIN $ ???
SACRED SIX #5 CVR D HETRICK $ 3.99
SAVAGE AVENGERS #15 $ 3.99
SAVAGE AVENGERS #15 LOZANO VAR $ 3.99
SONIC THE HEDGEHOG #35 FOURDRAINE (1/10) $ ???
SONIC THE HEDGEHOG #35 CVR A HAMMERSTROM $ 3.99
SONIC THE HEDGEHOG #35 CVR B ROTHLISBERGER $ 3.99
SPY ISLAND #4 (OF 4) CVR A MITERNIQUE $ 3.99
SPY ISLAND #4 (OF 4) CVR B MITERNIQUE $ 3.99
STRANGE ADVENTURES #7 (OF 12) CVR A MITCH GERADS (MR) $ 4.99
STRANGE ADVENTURES #7 (OF 12) CVR B EVAN DOC SHANER VAR (MR) $ 4.99
STRANGER THINGS D&D CROSSOVER #2 CVR A GIST $ 3.99
STRANGER THINGS D&D CROSSOVER #2 CVR B DITTMANN $ 3.99
STRANGER THINGS D&D CROSSOVER #2 CVR C BECK $ 3.99
STRANGER THINGS D&D CROSSOVER #2 CVR D DUNBAR $ 3.99
TALES FROM THE DARK MULTIVERSE WONDER WOMAN WAR OF THE GODS #1 (ONE SHOT) $ 5.99
THAT TEXAS BLOOD #6 (MR) $ 3.99
THE UNION #1 (OF 5) GRIST VAR KIB $ 3.99
THE UNION #1 (OF 5) KIB $ 3.99
THE UNION #1 (OF 5) PACHECO VAR KIB $ 3.99
THE UNION #1 (OF 5) SILVA DESIGN VAR KIB $ 3.99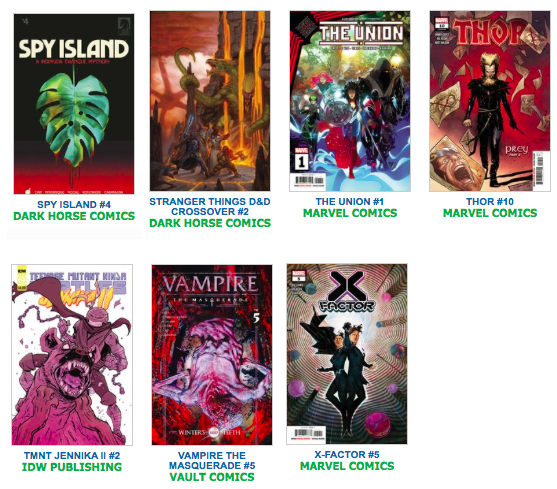 THOR #10 $ 3.99
THOR #10 KLEIN VAR $ ???
THOR #10 LASHLEY KNULLIFIED VAR $ 3.99
THOR #10 OTTLEY VAR $ ???
TMNT JENNIKA II #2 (OF 6) CVR A REVEL $ 4.99
UNEARTH #8 (RES) (MR) $ 3.99
VAMPIRE THE MASQUERADE #5 CVR A CAMPBELL $ 3.99
VAMPIRE THE MASQUERADE #5 CVR B MACK $ 3.99
WALKING DEAD DLX #4 CVR A FINCH & MCCAIG (MR) $ 3.99
WALKING DEAD DLX #4 CVR B MOORE & MCCAIG (MR) $ 3.99
WALKING DEAD DLX #4 CVR C ADLARD & MCCAIG (MR) $ 3.99
WALKING DEAD DLX #4 CVR D ADAMS & MCCAIG (MR) $ 3.99
X-FACTOR #5 XOS $ 3.99
Previews & Marvel Previews (NOT new)

COMIC SHOP NEWS #1737 $ FREE

ALIEN ORIGINAL SCREENPLAY HC (MR) $ 19.99
CAPTAIN MARVEL TP VOL 04 ACCUSED $ 15.99
CHAINSAW MAN GN VOL 02 $ 9.99
COVID CHRONICLES SC $ 9.99
CRITICAL ROLE CHRONICLES OF EXANDRIA MIGHT NEIN DLX ED HC $ 124.99
DEMON SLAYER KIMETSU NO YAIBA GN VOL 19 $ 9.99
DUNE GN BOOK 01 DUNE $ 24.99
ETERNALS COMPLETE SAGA OMNIBUS HC KIRBY DM VAR $ 125
FAIRY TAIL 100 YEARS QUEST GN VOL 04 (RES) $ 10.99
GREEN LANTERN SEASON TWO VOL 01 HC $ 29.99
INCREDIBLE HULK EPIC COLLECTION TP GOING GRAY $ 39.99
INVADER ZIM TP VOL 10 $ 19.99
JIM HENSON LABYRINTH CORONATION TP VOL 03 $ 16.99
KILL A MAN OGN (RES) $ 17.99
KILL A MAN OGN SCHAMBERGER VAR $ ???
LADY MECHANIKA OVERSIZED HC VOL 05 $ 25.99
LEGEND OF ZELDA LEGENDARY ED BOX SET $ 125
MIRKA ANDOLFO MERCY TP (MR) $ 16.99
MOB PSYCHO 100 REIGEN TP $ 11.99
NEW MUTANTS BY ED BRISSON TP VOL 01 $ 19.99
NIGHTWING THE PRINCE OF GOTHAM OMNIBUS HC $ 99.99
ONE PIECE GN VOL 95 $ 9.99
PRETTY VIOLENT TP VOL 02 (MR) $ 14.99
ROBOTECH ARCHIVE TP THE MASTERS (RES) $ 34.99
SPELL ON WHEELS TP VOL 02 JUST TO GET TO YOU (RES) $ 19.99
SPY X FAMILY GN VOL 03 $ 9.99
THOR TP DEVIANTS SAGA NEW PTG $ 17.99
TINY TITANS BEAST BOY & RAVEN TP $ 9.99
WONDER WOMAN DEAD EARTH HC (MR) $ 29.99
X-MEN AGE OF APOCALYPSE TP VOL 01 ALPHA NEW PTG $ 34.99
YONA OF THE DAWN GN VOL 27 $ 9.99

HARRY POTTER PLAYING CARDS $ ???
MTG TCG COMMANDER LEGENDS COLL BOOSTERS $ ???
MTG TCG COMMANDER LEGENDS DRAFT BOOSTER DIS (24) $ ???

FUNKO DC HOLIDAY SANTA JOKER PLUSH $ 11.99
POCKET POP CRIMINAL UNCLE PENNYBAGS KEYCHAIN $ 5.99
POP GOTG 18IN DANCING GROOT VINYL FIG $ 99.99
POP STAR WARS LARGE ENAMEL PIN 12PC ASST $ ???
POP TRANSFORMERS BUMBLEBEE VINYL FIG $ 11.99
POP WWE MR T VINYL FIG $ 11.99
RUBIKS 2X2 CUBE CS $ ???
RUBIKS 4X4 CUBE CS $ ???
RUBIKS CUBE IMPOSSIBLE CS $ ???
TRANSFORMERS GEN STUDIO SER VOYAGER AF ASST 202002 $ ???
TRANSFORMERS MASTERPIECE MP50 BEAST WARS TIGATRON AF $ ???
KING IN BLACK #1 POSTER $ 8.99

COMICARE SHORT COMIC BOX (SOLD IN 10) $ 4.99