Anyone for Seconds? on Wednesday, January 13th, 2021
He has the best brain, the best words, he's smarter than doctors and generals, he did better on the Brain function test…it was incredible, the doctors said they've never seen anyone do as well as him, like no one has ever seen before. And now he's number #1 again. He's been impeached more than anyone else in 244 years of American history. I would have already impeached him for lying about, and misdirecting the public about the pandemic, so this would be the third. So 2 years ago he lost the House, 2.5 months ago he lost the Presidency, 8 days ago he lost the Senate, and 7 days ago he lost his mind and just enough of the American Public to give a few Republicans the guts to vote against him and get impeached. Again. Tired of all the winning?
Wow. For the first time in what seems like forever, we got everything! Admittedly, it is a small list of comics this week, including more Future State's from DC, King in Black's from Marvel, among others, Star Wars Darth Vader, Stranger Things, and We Only Find Them etc. Not much plastic – just some G.I.Joes and Transformers.
Wednesday is STILL New Comic Day, no matter what you read on the internets. We can't clear the new rack to just have 10 DC's  surrounded by empty space.  We do it once, Wednesday morning. We encourage everyone to be careful, make your trip to our store quick and efficient, and try to come in to shop in smaller groups, and reduce your own exposure to ALL public places indoors, including ours. Bob is open, bring your mask, keep your distance, and help keep Bob healthy. If you like, you can browse the list and make an order to fbgbob@aol.com for a quicker pick up. It might also help to put in a time window when you would be in the neighborhood, to give Bob a chance to get them together, and include a phone number for good measure.
Please wear a mask!
Watch this space and our Facebook page for latest news about the rest of the month, season, year, millenium, etc. (And text messages from 5-Star.) The complete list is found below. If you want to know about the next sale or store event, or whether or not WE ARE EVEN OPEN click here. Sign in here to get an email reminder for ALL sales and other events. Also, you can go to     fb.fantasybooksandgames.com and you'll be taken to our Facebook page. We also use our in-store 5-Star Rewards system to text similar announcements to your phone.
Thanks to Comics on the Green for this week's images, which include many of the comics and a few of the books and other items we received today, and may have pics of things we didn't and/or won't get. Use the list, and maybe the pictures.  
AMAZING SPIDER-MAN #57 $ 3.99
AMAZING SPIDER-MAN #57 MASTRAZZO VAR $ 3.99
AMERICAN MYTHOLOGY MONSTERS #1 CVR A MARTINEZ (MR) $ 3.99
AMERICAN VAMPIRE 1976 #4 (OF 9) CVR A RAFAEL ALBUQUERQUE (MR) $ 3.99
AMERICAN VAMPIRE 1976 #4 (OF 9) CVR B VAR (MR) $ 3.99
AUTUMNAL #4 CVR A SHEHAN $ 3.99
AUTUMNAL #4 CVR B GOODEN $ 3.99
BETTY & VERONICA FRIENDS FOREVER WINTERFEST #1 $ 2.99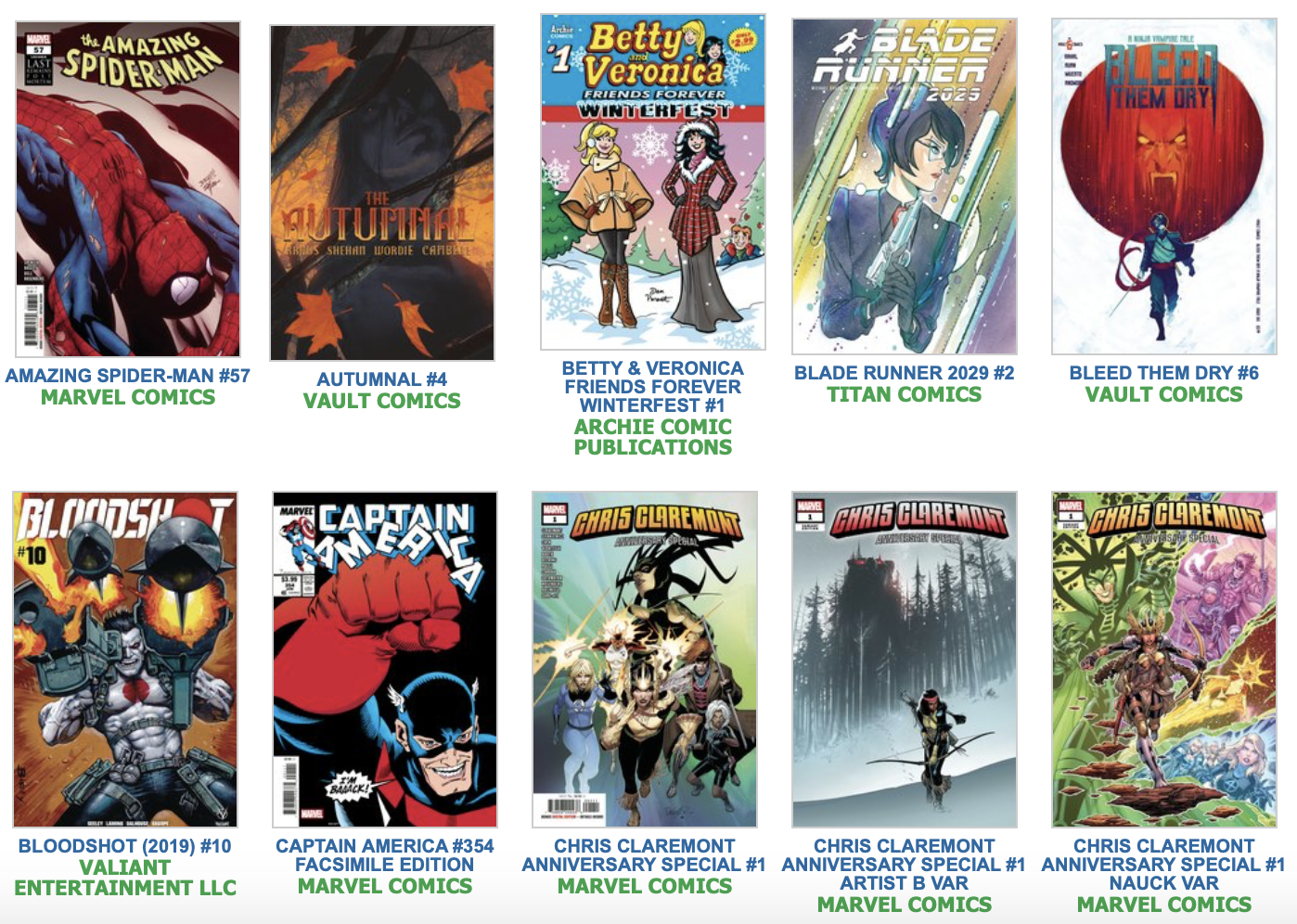 BLADE RUNNER 2029 #2 CVR A MOMOKO $ 3.99
BLADE RUNNER 2029 #2 CVR B MEAD $ 3.99
BLADE RUNNER 2029 #2 CVR C CARANFA $ 3.99
BLADE RUNNER 2029 #2 CVR D COSPLAY CVR $ 3.99
BLEED THEM DRY #6 CVR A RUAN $ 3.99
BLEED THEM DRY #6 CVR B GORHAM $ 3.99
BLOODSHOT (2019) #10 CVR A BISLEY (RES) $ 3.99
BLOODSHOT (2019) #10 CVR B NAKAYAMA (RES) $ 3.99
BROOKLYN GLADIATOR #3 (OF 5) (MR) $ 3.99
CAPTAIN AMERICA #354 FACSIMILE EDITION $ 3.99
CHRIS CLAREMONT ANNIVERSARY SPECIAL #1 $ 4.99
CHRIS CLAREMONT ANNIVERSARY SPECIAL #1 LARRAZ VAR $ 4.99
CHRIS CLAREMONT ANNIVERSARY SPECIAL #1 NAUCK VAR $ 4.99
CIMMERIAN FROST GIANTS DAUGHTER #2 CVR A MIGUEL MERCADO (MR) $ 3.99
CIMMERIAN FROST GIANTS DAUGHTER #2 CVR B CHATZOUDIS (MR) $ 3.99
COMMANDERS IN CRISIS #4 (OF 12) CVR A TINTO (MR) $ 3.99
COMMANDERS IN CRISIS #4 (OF 12) CVR B WADA (MR) $ 3.99
COMMANDERS IN CRISIS #4 (OF 12) CVR C KATZENSTEIN (MR) $ 3.99
CROSSOVER #2 2ND PTG $ 3.99
DEVILS RED BRIDE #4 CVR A BIVENS (MR) $ 3.99
DEVILS RED BRIDE #4 CVR B DANIEL (MR) $ 3.99
DOCTOR WHO COMICS #3 CVR B PHOTO $ 3.99
E RATIC #2 $ 3.99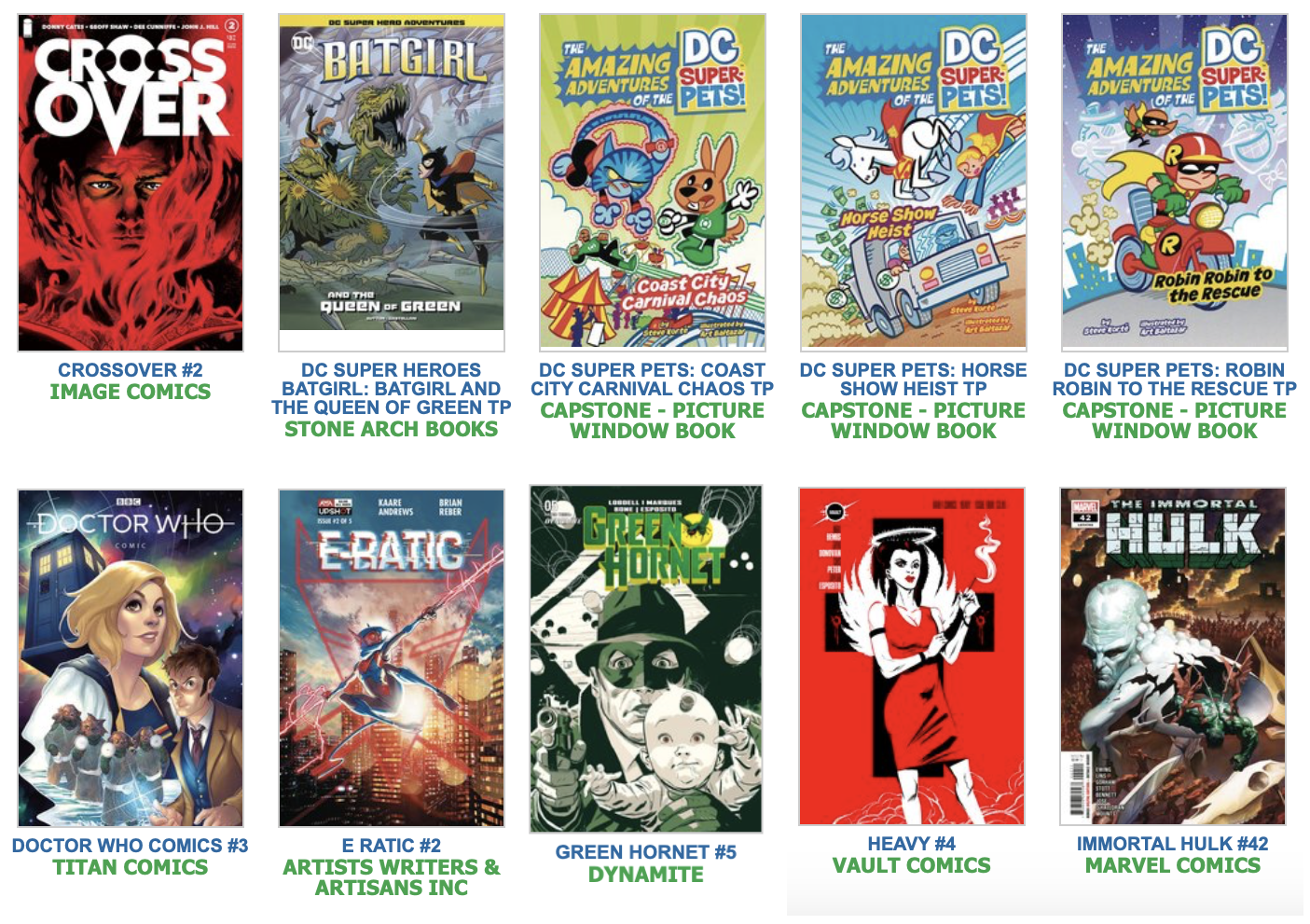 FUTURE STATE DARK DETECTIVE #1 (OF 4) CVR A DAN MORA $ 5.99
FUTURE STATE DARK DETECTIVE #1 (OF 4) CVR B JOHN PAUL LEON CARD STOCK VAR $ 6.99
FUTURE STATE DARK DETECTIVE #1 (OF 4) CVR C WONDER WOMAN 1984 STANLEY ARTGERM LAU CARD STOCK VAR $ 6.99
FUTURE STATE GREEN LANTERN #1 (OF 2) CVR A CLAYTON HENRY $ 5.99
FUTURE STATE GREEN LANTERN #1 (OF 2) CVR B JAMAL CAMPBELL CARD STOCK VAR $ 6.99
FUTURE STATE JUSTICE LEAGUE #1 (OF 2) CVR A DAN MORA $ 5.99
FUTURE STATE JUSTICE LEAGUE #1 (OF 2) CVR B KAEL NGU CARD STOCK VAR $ 6.99
FUTURE STATE JUSTICE LEAGUE #1 (OF 2) CVR C WONDER WOMAN 1984 JIM LEE CARD STOCK VAR $ 6.99
FUTURE STATE KARA ZOR-EL SUPERWOMAN #1 (OF 2) CVR A PAULINA GANUCHEAU $ 3.99
FUTURE STATE KARA ZOR-EL SUPERWOMAN #1 (OF 2) CVR B ALEX GARNER CARD STOCK VAR $ 4.99
FUTURE STATE ROBIN ETERNAL #1 (OF 2) CVR A EMANUELA LUPACCHINO & IRVIN RODRIGUEZ $ 3.99
FUTURE STATE ROBIN ETERNAL #1 (OF 2) CVR B DANIEL WARREN JOHNSON CARD STOCK VAR $ 4.99
FUTURE STATE SUPERMAN WONDER WOMAN #1 (OF 2) CVR A LEE WEEKS $ 3.99
FUTURE STATE SUPERMAN WONDER WOMAN #1 (OF 2) CVR B JEREMY ROBERTS CARD STOCK VAR $ 4.99
FUTURE STATE SUPERMAN WONDER WOMAN #1 (OF 2) CVR C WONDER WOMAN 1984 MOVIE POSTER ART CARD STOCK VAR $ 4.99
FUTURE STATE TEEN TITANS #1 (OF 2) CVR A RAFA SANDOVAL $ 3.99
FUTURE STATE TEEN TITANS #1 (OF 2) CVR B DUSTIN NGUYEN CARD STOCK VAR $ 4.99
FUTURE STATE TEEN TITANS #1 (OF 2) CVR C WONDER WOMAN 1984 GABRIELLE DELL'OTTO CARD STOCK VAR $ 4.99
GHOST RIDER RETURN OF VENGEANCE #1 HOTZ KNULLIFIED VAR $ 4.99
GREEN HORNET #5 CVR A WEEKS $ 3.99
HAHA #1 (OF 6) CVR C BLANK CVR (MR) $ 3.99
HAHA #1 CVR A DEL REY (MR) $ 3.99
HAHA #1 CVR B MALAVIA (MR) $ 3.99
HEAVY #4 CVR A DONOVAN $ 3.99
HEAVY #4 CVR B DANIEL $ 3.99
HOME SICK PILOTS #2 CVR A WIJNGAARD (MR) $ 3.99
HOME SICK PILOTS #2 CVR B WARD (MR) $ 3.99
IMMORTAL HULK #42 $ 3.99
IMMORTAL HULK #42 BENNETT HOMAGE VAR $ 3.99
IMMORTAL HULK #42 LOZANO KNULLIFIED VAR $ 3.99
KICK-ASS VS HIT-GIRL #3 (OF 5) CVR A ROMITA JR (MR) $ 3.99
KICK-ASS VS HIT-GIRL #3 (OF 5) CVR B B&W ROMITA JR (MR) $ 3.99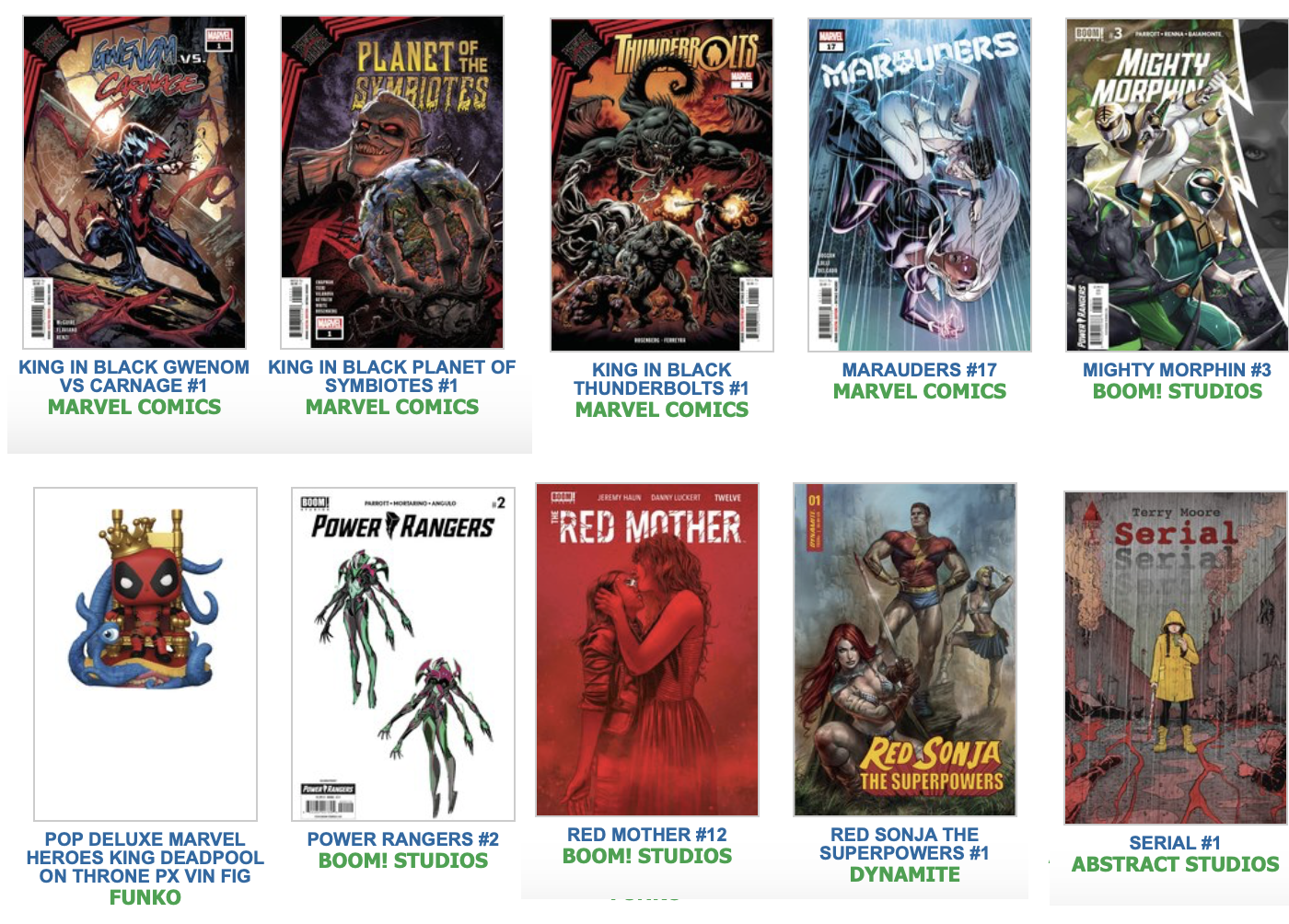 KING IN BLACK GWENOM VS CARNAGE #1 (OF 3) $ 3.99
KING IN BLACK GWENOM VS CARNAGE #1 (OF 3) INHYUK LEE VAR (1/25) $ ???
KING IN BLACK GWENOM VS CARNAGE #1 (OF 3) RYAN BROWN VAR $ 3.99
KING IN BLACK PLANET OF SYMBIOTES #1 (OF 3) $ 3.99
KING IN BLACK PLANET OF SYMBIOTES #1 (OF 3) HOTZ VAR $ 3.99
KING IN BLACK PLANET OF SYMBIOTES #1 (OF 3) MOORE VIRGIN VAR (1/100) $ ???
KING IN BLACK PLANET OF SYMBIOTES #1 (OF 3) NAUCK VAR (1/25) $ ???
KING IN BLACK THUNDERBOLTS #1 (OF 3) $ 3.99
KING IN BLACK THUNDERBOLTS #1 (OF 3) RON LIM VAR $ 3.99
LONELY RECEIVER #5 $ 3.99
MANNS WORLD #1 CVR A RAHZZAH (MR) $ 3.99
MANNS WORLD #1 CVR B DEODATO JR (MR) $ 3.99
MARAUDERS #17 $ 3.99
MARAUDERS #17 LARROCA MARVEL VS ALIEN VAR $ 3.99
MIGHTY MORPHIN #3 LEE $ ???
MIGHTY MORPHIN #3 CARLINI $ ???
MIGHTY MORPHIN #3 MONTES $ ???
MIGHTY MORPHIN #3 CVR A MAIN $ 3.99
MIGHTY MORPHIN #3 CVR B CARLINI LEGACY VAR $ 3.99
MIGHTY MORPHIN #3 CVR C BLACK BLANK SKETCH $ 3.99
ORIGINS #3 (OF 6) CVR A MAIN $ 3.99
POWER RANGERS #1 3RD PTG $ 4.99
POWER RANGERS #2 2ND PTG $ 3.99
RED MOTHER #12 $ 3.99
RED SONJA THE SUPERPOWERS #1 COSPLAY B&W VIRGIN FOC $ ???
RED SONJA THE SUPERPOWERS #1 PARRILLO B&W $ ???
RED SONJA THE SUPERPOWERS #1 LYONS COSPLAY VIRGIN IN $ ???
RED SONJA THE SUPERPOWERS #1 YOON B&W VIRGIN $ ???
RED SONJA THE SUPERPOWERS #1 CVR A PARRILLO $ 3.99
RED SONJA THE SUPERPOWERS #1 CVR B LINSNER $ 3.99
RED SONJA THE SUPERPOWERS #1 CVR C LAU $ 3.99
SAVAGE DRAGON #256 CVR A LARSEN (MR) $ 3.99
SAVAGE DRAGON #256 CVR B RETRO 70S TRADE DRESS (MR) $ 3.99
SERIAL #1 $ 3.99
SEVEN SECRETS #6 CVR A MAIN $ 3.99
SEVEN SECRETS #6 CVR B BARTEL VAR $ 3.99
SEVEN SECRETS #6 SECRET SPOILER VAR $ 4.99
SONIC THE HEDGEHOG #36 FOURDRAINE $ ???
SONIC THE HEDGEHOG #36 CVR A SCHOENING $ 3.99
SONIC THE HEDGEHOG #36 CVR B GRAHAM $ 3.99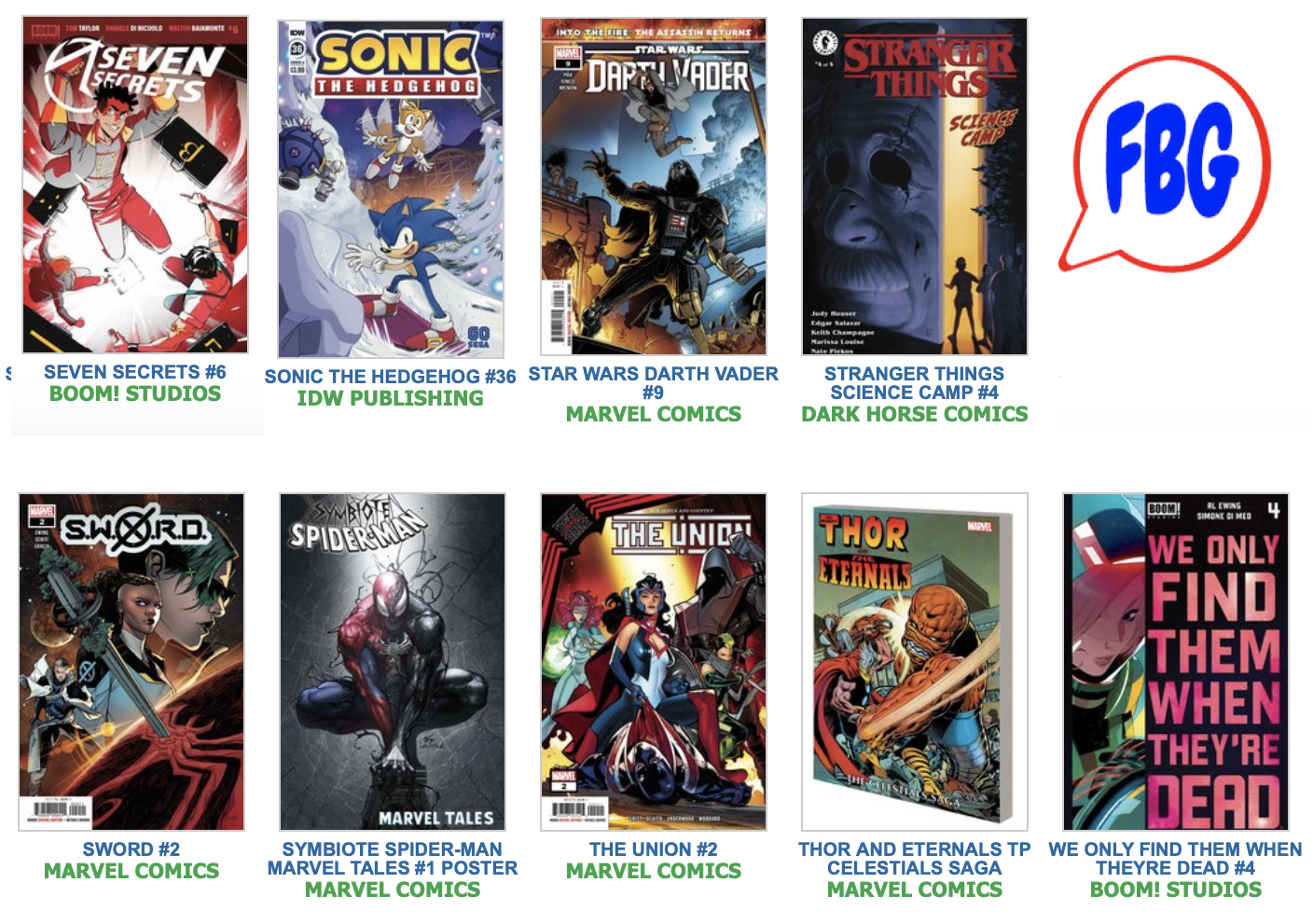 SPACE BASTARDS #1 (MR) $ 5.99
SPACE BASTARDS #1 CVR B FOC ROBERTSON (MR) $ 5.99
SPACE BASTARDS #1 FOC 1 IN 10 BLACK LIGHT VAR (MR) $ ???
STAR WARS DARTH VADER #9 $ 3.99
STAR WARS DARTH VADER #9 IENCO DESIGN VAR $ 3.99
STAR WARS DARTH VADER #9 SPROUSE EMPIRE STRIKES BACK VAR $ 3.99
STRANGER THINGS SCIENCE CAMP #4 (OF 4) CVR A KALVACHEV $ 3.99
STRANGER THINGS SCIENCE CAMP #4 (OF 4) CVR B PIRIZ $ 3.99
STRANGER THINGS SCIENCE CAMP #4 (OF 4) CVR C BAK $ 3.99
SWEET TOOTH THE RETURN #3 (OF 6) (MR) $ 3.99
SWORD #2 DAUTERMAN VAR KIB $ 3.99
SWORD #2 KIB $ 3.99
THE UNION #2 (OF 5) $ 3.99
THE UNION #2 (OF 5) MCCREA VAR $ 3.99
THE UNION #2 (OF 5) SILVA DESIGN VAR $ 3.99
WE ONLY FIND THEM WHEN THEYRE DEAD #4 2ND PTG $ 3.99

COMIC SHOP NEWS #1743 $ FREE

100 BULLETS OMNIBUS VOL 01 HC $ 150.00
47 RONIN TP (RES) $ 19.99
ACTION PRESIDENTS COLOR SC GN VOL 03 THEODORE ROOSEVELT $ 10.99
BANANA FOX GN VOL 01 SECRET SOUR SOCIETY $ 7.99
BLACK CAT TP VOL 03 ALL DRESSED UP $ 15.99
ETERNALS TP DREAMING CELESTIAL SAGA $ 39.99
FANGS GN $ 14.99
HOUND HEROES SC GN VOL 01 BEWARE THE CLAW $ 9.99
MARVEL-VERSE CAPTAIN MARVEL GN TP $ 9.99
SPELL ON WHEELS TP VOL 02 JUST TO GET TO YOU (RES) $ 19.99
THAT TEXAS BLOOD TP VOL 01 (MR) $ 9.99
THOR AND ETERNALS TP CELESTIALS SAGA $ 39.99
VISION & SCARLET WITCH TP SAGA WANDA & VISION $ 39.99
WE FOUND A MONSTER TP $ 9.99
XRAY ROBOT TP $ 19.99

GI JOE CLASSIFIED SERIES 6IN GUNG-HO AF CS $ 24.99
GI JOE CLASSIFIED SERIES 6IN SCARLETT AF CS $ 24.99
POP DELUXE MARVEL HEROES KING DEADPOOL ON THRONE PX VIN FIG $ 24.99
TRANSFORMERS GEN WFCK BLACK ARACHNIA DLX AF CS $ 24.99
TRANSFORMERS GEN WFCK PALEOTREX DLX AF CS $ 24.99
TRANSFORMERS GEN WFCK WARPATH DLX AF CS $ 24.99
TRANSFORMERS SELECTS SG VOY OPTIMUS/DLX RATCHET AF CS $ 62.99

PLANET OF SYMBIOTES #1 POSTER $ 8.99