Happy Valentine's Week – Wednesday, February 17th, 2021
DC's did make it on time this week. I'm short on time and late, so that's all. See the list below.
The new Pokemon is released on Friday, and for some reason I will never understand, it's going to be a big one. I'm even going in to help, because Bob is expecting a crowd. Let's make it less of a crowd. Keep your visit as short and efficient as possible. Things are getting better. Let's not buck that trend.
Wednesday is STILL New Comic Day, no matter what you read on the internets. We can't clear the new rack to just have 10 DC's  surrounded by empty space.  We do it once, Wednesday morning. We encourage everyone to be careful, make your trip to our store quick and efficient, and try to come in to shop in smaller groups, and reduce your own exposure to ALL public places indoors, including ours. Bob is open, bring your mask, keep your distance, and help keep Bob healthy. If you like, you can browse the list and make an order to fbgbob@aol.com for a quicker pick up. It might also help to put in a time window when you would be in the neighborhood, to give Bob a chance to get them together, and include a phone number for good measure.
Please wear a mask!
Watch this space and our Facebook page for latest news about the rest of the month, season, year, millenium, etc. (And text messages from 5-Star.) The complete list is found below. If you want to know about the next sale or store event, or whether or not WE ARE EVEN OPEN click here. Sign in here to get an email reminder for ALL sales and other events. Also, you can go to     fb.fantasybooksandgames.com and you'll be taken to our Facebook page. We also use our in-store 5-Star Rewards system to text similar announcements to your phone.
Thanks to Comics on the Green for this week's images, which include many of the comics and a few of the books and other items we received today, and may have pics of things we didn't and/or won't get. Use the list, and maybe the pictures.  
ABBOTT 1973 #2 (OF 5) CVR A MAIN $ 3.99
ABBOTT 1973 #2 (OF 5) CVR B ALLEN $ 3.99
AMAZING SPIDER-MAN #57 2ND PTG FERREIRA VAR $ 3.99
AMERICAN RONIN #5 (OF 5) (MR) $ 3.99
ARCHIE JUMBO COMICS DIGEST #317 $ 7.99
ARIA HEAVENLY CREATURES (ONE-SHOT) CVR A ANACLETO & HABERLIN $ 6.99
ARIA HEAVENLY CREATURES (ONE-SHOT) CVR B QUESADA & MIKI (MR) $ 6.99
ARIA HEAVENLY CREATURES (ONE-SHOT) CVR C JONES (MR) $ 6.99
ARIA HEAVENLY CREATURES (ONE-SHOT) CVR D DREW (MR) $ 6.99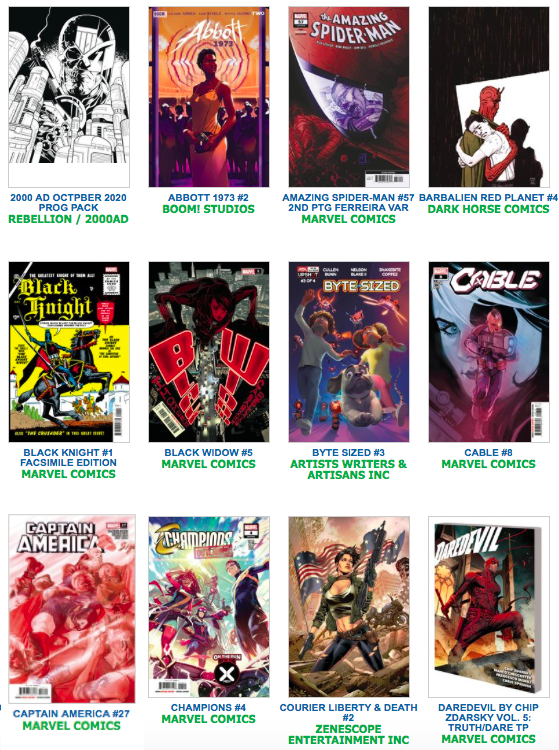 BARBALIEN RED PLANET #4 (OF 5) $ 3.99
BARBALIEN RED PLANET #4 (OF 5) CVR B FRANQUIZ $ 3.99
BATMAN CATWOMAN #3 (OF 12) CVR A CLAY MANN $ 4.99
BATMAN CATWOMAN #3 (OF 12) CVR B JIM LEE & SCOTT WILLIAMS VAR $ 4.99
BATMAN CATWOMAN #3 (OF 12) CVR C TRAVIS CHAREST VAR $ 4.99
BLACK KNIGHT #1 FACSIMILE EDITION $ 3.99
BLACK WIDOW #5 $ 3.99
BLACK WIDOW #5 DODSON MARVEL VS ALIEN VAR $ 3.99
BYTE SIZED #3 $ 3.99
CABLE #8 $ 3.99
CAPTAIN AMERICA #27 $ 3.99
CAPTAIN AMERICA #27 SHAVRIN MARVEL VS ALIEN VAR $ 3.99
CHAMPIONS #4 $ 3.99
CHAMPIONS #4 SOUZA IRONHEART BLACK HISTORY MONTH VAR $ 3.99
COURIER LIBERTY & DEATH #2 (OF 3) CVR A VITORINO $ 5.99
COURIER LIBERTY & DEATH #2 (OF 3) CVR B RICH $ 5.99
DIE!NAMITE #5 SUYDAM NON-ZOMBIE HOMAGE VIRGIN FOC $ ???
DIE!NAMITE #5 DR SEUSS HOMAGE VIRGIN FOC $ ???
DIE!NAMITE #5 PEANUTS HOMAGE VIRGIN FOC $ ???
DIE!NAMITE #5 HOLLON COSPLAY VIRGIN $ ???
DIE!NAMITE #5 PARRILLO B&W VIRGIN $ ???
DIE!NAMITE #5 CVR A PARRILLO $ 3.99
DIE!NAMITE #5 CVR B SUYDAM $ 3.99
DIE!NAMITE #5 CVR D HOLLON COSPLAY $ 3.99
DIE!NAMITE #5 CVR E LORRAINE COSPLAY $ 3.99
DIE!NAMITE #5 CVR F SUYDAM HOMAGE ZOMBIE $ 3.99
EXCELLENCE #10 CVR A RANDOLPH & LOPEZ (MR) $ 3.99
EXCELLENCE #10 CVR B WHITAKER (MR) $ 3.99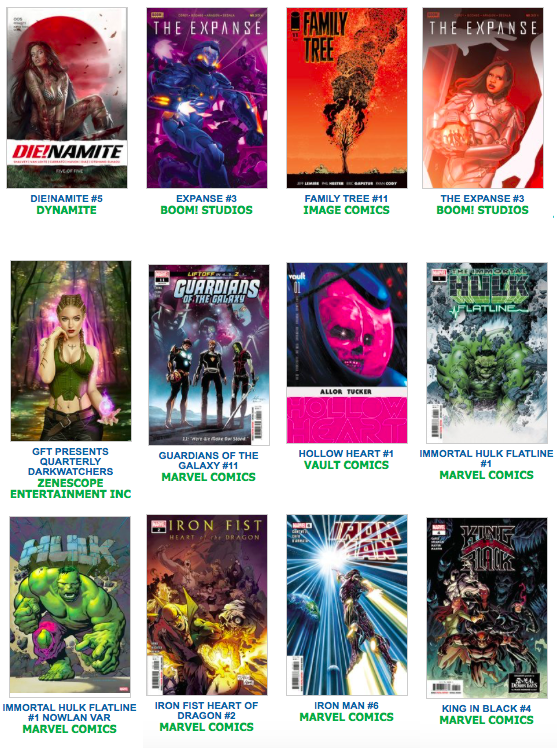 EXPANSE #3 (OF 4) CVR A MAIN $ 4.99
EXPANSE #3 (OF 4) CVR B WALKER $ 4.99
FAMILY TREE #11 $ 3.99
FUTURE STATE CATWOMAN #2 (OF 2) CVR A LIAM SHARP $ 3.99
FUTURE STATE CATWOMAN #2 (OF 2) CVR B HICHAM HABCHI CARD STOCK VAR $ 4.99
FUTURE STATE GREEN LANTERN #1 (OF 2) Second Printing $ 5.99
FUTURE STATE IMMORTAL WONDER WOMAN #1 (OF 2) Second Printing $ 5.99
FUTURE STATE IMMORTAL WONDER WOMAN #2 (OF 2) CVR A JEN BARTEL $ 5.99
FUTURE STATE IMMORTAL WONDER WOMAN #2 (OF 2) CVR B BECKY CLOONAN CARD STOCK VAR $ 6.99
FUTURE STATE JUSTICE LEAGUE #1 (OF 2) Second Printing $ 5.99
FUTURE STATE NIGHTWING #2 (OF 2) CVR A YASMINE PUTRI $ 3.99
FUTURE STATE NIGHTWING #2 (OF 2) CVR B NICOLA SCOTT CARD STOCK VAR $ 4.99
FUTURE STATE ROBIN ETERNAL #1 (OF 2) Second Printing $ 3.99
FUTURE STATE SHAZAM #2 (OF 2) CVR A BERNARD CHANG $ 3.99
FUTURE STATE SHAZAM #2 (OF 2) GERALD PAREL CARD STOCK VAR $ 4.99
FUTURE STATE SUPERMAN WORLDS OF WAR #2 (OF 2) CVR A MIKEL JANIN $ 7.99
FUTURE STATE SUPERMAN WORLDS OF WAR #2 (OF 2) CVR B RICCARDO FEDERICI CARD STOCK VAR $ 8.99
FUTURE STATE THE NEXT BATMAN #2 (OF 4) Second Printing $ 7.99
FUTURE STATE THE NEXT BATMAN #4 (OF 4) CVR A LADRONN $ 7.99
FUTURE STATE THE NEXT BATMAN #4 (OF 4) CVR B JIM LEE & SCOTT WILLIAMS CARD STOCK VAR $ 8.99
GFT PRESENTS QUARTERLY DARKWATCHERS CVR A SALAZAR $ 8.99
GFT PRESENTS QUARTERLY DARKWATCHERS CVR B GARVEY $ 8.99
GFT PRESENTS QUARTERLY DARKWATCHERS CVR C NELLY JIMENEZ $ 8.99
GUARDIANS OF THE GALAXY #11 $ 3.99
HAHA #2 (OF 6) CVR A THOROGOOD (MR) $ 3.99
HAHA #2 (OF 6) CVR B SIMMONDS (MR) $ 3.99
HOLLOW HEART #1 CVR A TUCKER $ 3.99
HOLLOW HEART #1 CVR B DANIEL $ 3.99
HOLLOW HEART #1 CVR E HICKMAN $ 3.99
HOTLINE MIAMI WILDLIFE #6 (OF 8) (MR) $ 3.99
IMMORTAL HULK FLATLINE #1 $ 4.99
IMMORTAL HULK FLATLINE #1 NOWLAN VAR $ 4.99
IRON FIST HEART OF DRAGON #2 (OF 6) $ 3.99
IRON FIST HEART OF DRAGON #2 (OF 6) LUPACCHINO MW VAR $ 3.99
IRON FIST HEART OF DRAGON #2 (OF 6) MARTIN VAR $ 3.99
IRON MAN #6 $ 3.99
IRON MAN #6 BROWN AVENGER MECH STRIKE VAR $ 3.99
IRON MAN #6 SOUZA WAR MACHINE BLACK HISTORY MONTH VAR $ 3.99
KING IN BLACK #4 (OF 5) $ 4.99
KING IN BLACK #4 (OF 5) BEDERMAN TATTOO VAR $ 4.99
KING IN BLACK #4 (OF 5) RIVERA SPOILER VAR $ 4.99
KING IN BLACK #4 (OF 5) YU CONNECTING VAR $ 4.99
KING IN BLACK GWENOM VS CARNAGE #1 (OF 3) 2ND PTG VAR $ 3.99
KING IN BLACK PLANET OF SYMBIOTES #2 (OF 3) $ 3.99
KING IN BLACK PLANET OF SYMBIOTES #2 (OF 3) HOTZ VAR $ 3.99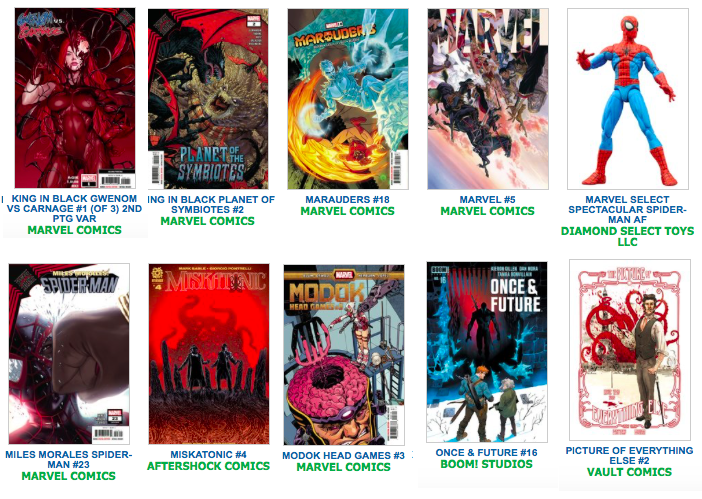 MARAUDERS #18 $ 3.99
MARVEL #5 (OF 6) $ 4.99
MILES MORALES SPIDER-MAN #23 KIB $ 3.99
MILES MORALES SPIDER-MAN #23 SOUZA BLACK HISTORY VAR KIB $ 3.99
MISKATONIC #4 $ 3.99
MODOK HEAD GAMES #3 (OF 4) $ 3.99
MODOK HEAD GAMES #3 (OF 4) LAFUENTE VAR $ 3.99
ONCE & FUTURE #16 $ 3.99
ONCE & FUTURE #16 MORA $ ???
PICTURE OF EVERYTHING ELSE #2 CVR A MOHAN $ 3.99
PICTURE OF EVERYTHING ELSE #2 CVR B GORHAM $ 3.99
POWER RANGERS #4 CVR A MAIN $ 3.99
POWER RANGERS #4 CVR B LEGACY DI NICUOLO $ 3.99
RED SONJA PRICE OF BLOOD #3 COSPLAY VIRGIN $ ???
RED SONJA PRICE OF BLOOD #3 SUYDAM B&W VIRGIN FOC $ ???
RED SONJA PRICE OF BLOOD #3 CVR A SUYDAM $ 3.99
RED SONJA PRICE OF BLOOD #3 CVR B GOLDEN $ 3.99
RED SONJA PRICE OF BLOOD #3 CVR C LINSNER $ 3.99
RED SONJA PRICE OF BLOOD #3 CVR E RAY COSPLAY $ 3.99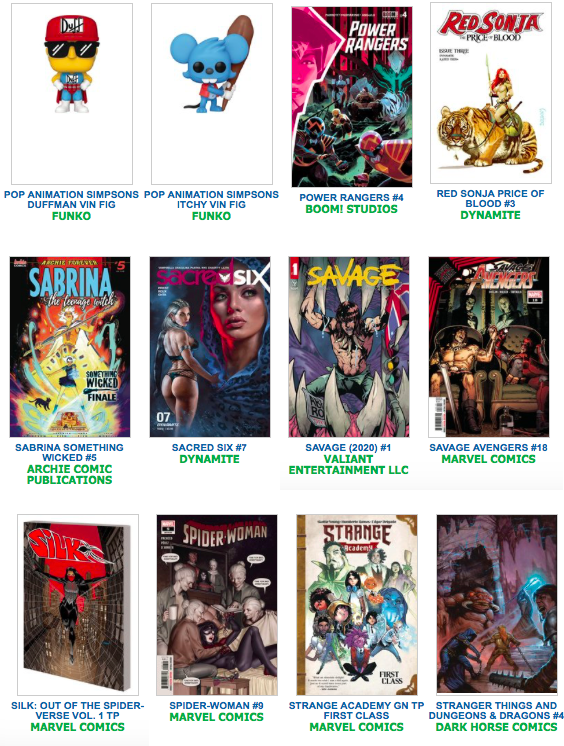 SABRINA SOMETHING WICKED #5 (OF 5) CVR A VERONICA FISH (RES) $ 3.99
SACRED SIX #7 CHATZOUDIS VIRGIN $ ???
SACRED SIX #7 CHEW VIRGIN $ ???
SACRED SIX #7 PARRILLO B&W VIRGIN $ ???
SACRED SIX #7 CVR A PARRILLO $ 3.99
SACRED SIX #7 CVR E CHEW $ 3.99
SAVAGE (2020) #1 CVR A TO (RES) $ 3.99
SAVAGE AVENGERS #18 CASTELLANI AVENGERS MECH STRIKE VAR KIB $ 3.99
SAVAGE AVENGERS #18 KIB $ 3.99
SAVAGE AVENGERS #18 SUPERLOG VAR KIB $ 3.99
SCOOBY-DOO WHERE ARE YOU #108 $ 2.99
SPIDER-WOMAN #9 $ 3.99
STILLWATER BY ZDARSKY & PEREZ #6 (MR) $ 3.99
STRANGER THINGS D&D CROSSOVER #4 CVR A GIST $ 3.99
STRANGER THINGS D&D CROSSOVER #4 CVR B DITTMANN $ 3.99
STRANGER THINGS D&D CROSSOVER #4 CVR C TAYLOR $ 3.99
THOR #12 $ 3.99
THOR #12 KLEIN VAR $ 3.99
THOR #12 SHAW VAR $ 3.99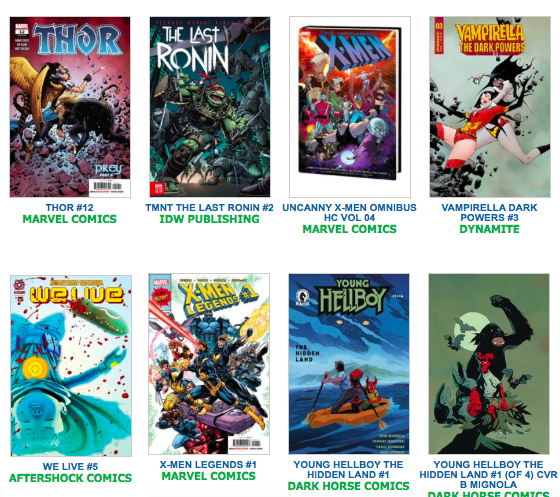 TMNT THE LAST RONIN #2 (OF 5) $ 8.99
TMNT THE LAST RONIN #2 (OF 5) SOPHIE CAMPBELL $ ???
TRUTH & JUSTICE #1 CVR A CHRISCROSS $ 4.99
TRUTH & JUSTICE #1 CVR B VAR $ 4.99
VAMPIRELLA DARK POWERS #3 YOON B&W $ ???
VAMPIRELLA DARK POWERS #3 COSPLAY VIRGIN $ ???
VAMPIRELLA DARK POWERS #3 CVR B LINSNER $ 3.99
VAMPIRELLA DARK POWERS #3 CVR E VANTA BLACK COSPLAY $ 3.99
WALKING DEAD DLX #9 CVR A FINCH & MCCAIG (MR) $ 3.99
WALKING DEAD DLX #9 CVR B MOORE & MCCAIG (MR) $ 3.99
WALKING DEAD DLX #9 CVR C TEDESCO (MR) $ 3.99
WE LIVE #5 $ 3.99
X-MEN LEGENDS #1 $ 4.99
X-MEN LEGENDS #1 CHRISTOPHER ACTION FIGURE VAR $ 4.99
X-MEN LEGENDS #1 COELLO CONNECTED VAR $ 4.99
X-MEN LEGENDS #1 DAUTERMAN VAR (1/25) $ ???
X-MEN LEGENDS #1 GLEASON STORMBREAKERS VAR $ 4.99
YOUNG HELLBOY THE HIDDEN LAND #1 (OF 4) $ 3.99
YOUNG HELLBOY THE HIDDEN LAND #1 (OF 4) CVR B MIGNOLA $ 3.99

COMIC SHOP NEWS #1748 $ FREE
MAD MAGAZINE #18 $ 5.99

AMERICAN BORN CHINESE SC WITH FLAPS $ 14.99
ASSASSIN`S CREED BLOODSTONE HC $ 9.99
BLACK PANTHER EPIC COLL TP REVENGE OF BLACK PANTHER NEW PTG $ 39.99
BLACK PANTHER WHO IS BLACK PANTHER MARVEL SELECT HC $ 24.99
BLADE OF IMMORTAL DLX ED HC VOL 02 (MR) $ 49.99
BOOKS OF MAGIC VOL 3 DWELLING IN POSSIBILITY TP (MR) $ 24.99
CAPTAIN AMERICA HEROES RETURN COMPLETE COLLECTION TP VOL 01 $ 39.99
DAREDEVIL BY CHIP ZDARSKY TP VOL 05 TRUTH DARE $ 17.99
DAWN OF X TP VOL 13 $ 17.99
DUNGEONS & DRAGONS INFERNAL TIDES TP $ 17.99
ENKI BILAL LEGENDS OF TODAY HC (MR) $ 39.99
FLASH BY GEOFF JOHNS OMNIBUS VOL 02 HC $ 99.99
HELLBLAZER VOL 24 SANCTIONED TP (MR) $ 34.99
JIM HENSON DARK CRYSTAL JOURNEY INTO MONDO LEVIADIN HC $ 24.99
MS MARVEL GN TP ARMY OF ONE $ 12.99
RICHARD DRAGON KUNG-FU FIGHTER COMING OF THE DRAGON HC $ 49.99
SILK OUT OF THE SPIDER-VERSE TP VOL 01 $ 34.99
STRANGE ACADEMY GN TP FIRST CLASS $ 13.99
SUGAR TOWN GN (MR) $ 10
UNCANNY X-MEN OMNIBUS HC VOL 04 ROMITA JR DM VAR $ 125
URUSEI YATSURA GN VOL 09 $ 19.99
WONDER WOMAN BOOK 02 ARES RISING TP $ 29.99
X-MEN GN-TP EVOLUTION $ 12.99
ZOM 100 BUCKET LIST OF THE DEAD GN VOL 01 $ 12.99

YU GI OH TCG BLAZING VORTEX BOOSTER DIS (24CT) $ ???

DEMON SLAYER WORLD COLL VOL3 12PC BMB FIG ASST $ 9.99
DRAGON BALL Z WORLD COLLECTIBLE V1 12PC BMB FIG ASST $ 9.99
FUNKO DC HOLIDAY SCROOGE BATMAN PLUSH $ 11.99
MARVEL SELECT SPECTACULAR SPIDER-MAN AF $ 29.99
MYSTERY MINIS DISNEY 65TH 12PC BMB DISP $ 9.99
POCKET POP FORTNITE TNTINA KEYCHAIN $ 5.99
POCKET POP STAR WARS LUKE SKYWALKER KEYCHAIN $ 5.99
POCKET POP STAR WARS R2-D2 KEYCHAIN $ 5.99
POCKET POP STAR WARS STORMTROOPER KEYCHAIN $ 5.99
POCKET POP STAR WARS YODA KEYCHAIN $ 5.99
POCKET POP SW MANDALORIAN IG-11 KEYCHAIN $ 5.99
POCKET POP SW MANDALORIAN MANDALORIAN KEYCHAIN $ 5.99
POCKET POP SW MANDALORIAN MANDALORIAN W/BLASTER KEYCHAIN $ 5.99
POCKET POP SW MANDALORIAN MOFF GIDEON KEYCHAIN $ 5.99
POP ANIMATION SIMPSONS DUFFMAN VIN FIG $ 11.99