The Day Before March 4th – Wednesday, March 3rd, 2021
Well, it was weird. I  got the invoice from Bob, and called him because it looked like he cut off the print area after the books, leaving off the toys and miscellany. There were NO toys and miscellany! This is the first time in over 5 years since I've been the sole Wednesday check in guy that Diamond hasn't sent a single item made of plastic – just comics, books, and a couple of magazines. We did get a few Pops from other sources and a zillion Young Reader books. Plus I restocked over 200 Manga from the back room. So if any of that floats your boat, it might be worth a trip. DC's Future State is past, and now we are entering the Infinite Frontier, King in Black is still King at Marvel, Image has a new blockbuster, Nocterra, along with its Walking Dead retrospective revisitation, and Brzrkr #1 made a big Boom. And Pokemania continues with some new Shining Fates permutational products premiering this Friday.
Wednesday is STILL New Comic Day, no matter what you read on the internets. We can't clear the new rack to just have 10 DC's  surrounded by empty space.  We do it once, Wednesday morning. We encourage everyone to be careful, make your trip to our store quick and efficient, and try to come in to shop in smaller groups, and reduce your own exposure to ALL public places indoors, including ours. Bob is open, bring your mask, keep your distance, and help keep Bob healthy. If you like, you can browse the list and make an order to fbgbob@aol.com for a quicker pick up. It might also help to put in a time window when you would be in the neighborhood, to give Bob a chance to get them together, and include a phone number for good measure.
Please wear a mask!
Watch this space and our Facebook page for latest news about the rest of the month, season, year, millenium, etc. (And text messages from 5-Star.) The complete list is found below. If you want to know about the next sale or store event, or whether or not WE ARE EVEN OPEN click here. Sign in here to get an email reminder for ALL sales and other events. Also, you can go to     fb.fantasybooksandgames.com and you'll be taken to our Facebook page. We also use our in-store 5-Star Rewards system to text similar announcements to your phone.
Thanks to Comics on the Green for this week's images, which include many of the comics and a few of the books and other items we received today, and may have pics of things we didn't and/or won't get. Use the list, and maybe the pictures.
AMAZING SPIDER-MAN #58 2ND PTG VAR $ 3.99
AMERICA CHAVEZ MADE IN USA #1 (OF 5) $ 3.99
AMERICA CHAVEZ MADE IN USA #1 (OF 5) HANS VAR $ 3.99
AMERICA CHAVEZ MADE IN USA #1 (OF 5) TORQUE VAR (1/25) $ 3.99
AMERICA CHAVEZ MADE IN USA #1 (OF 5) YOON VAR $ 3.99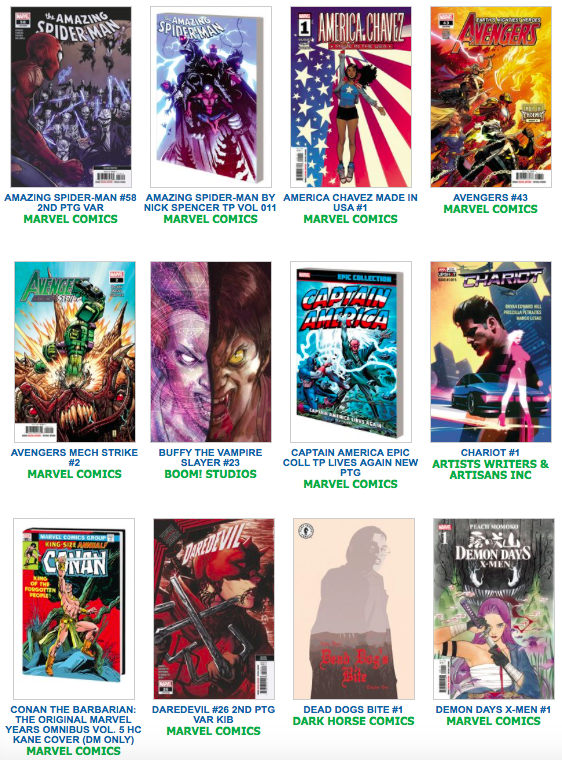 AVATAR THE NEXT SHADOW #3 (OF 4) $ 3.99
AVENGERS #43 $ 3.99
AVENGERS #43 ALEX ROSS TIMELESS VAR $ 3.99
AVENGERS #43 ANT-MAN AND WASP TWO-TONE VAR $ 3.99
AVENGERS #43 BARTEL SHE-HULK WOMENS HISTORY MONTH VAR $ 3.99
AVENGERS #43 GARRON DESIGN VAR (1/10) $ ???
AVENGERS #43 WEAVER CONNECTING VAR $ 3.99
AVENGERS MECH STRIKE #2 (OF 5) $ 3.99
AVENGERS MECH STRIKE #2 (OF 5) SNG VAR $ 3.99
BATMAN #106 CVR A JORGE JIMENEZ $ 4.99
BATMAN #106 CVR B JORGE JIMENEZ WRAPAROUND VAR $ 4.99
BATMAN #106 1:25 RICCARDO FEDERICI CARD STOCK VAR $ ???
BRZRKR (BERZERKER) #1 CVR A GRAMPA (MR) $ 4.99
BRZRKR (BERZERKER) #1 CVR B BROOKS (MR) $ 4.99
BRZRKR (BERZERKER) #1 CVR E BLANK SKETCH VAR (MR) $ 4.99
BRZRKR (BERZERKER) #1 CVR F RED BLANK SKETCH CV (1/10) $ ???
BRZRKR (BERZERKER) #1 CVR G BERMEJO (MR) (1/25) $ ???
BRZRKR (BERZERKER) #1 CVR H GRAMPA (MR) (1/25) $ ???
BUFFY THE VAMPIRE SLAYER #23 CVR A LOPEZ $ 3.99
CASUAL FLING #2 (MR) $ 3.99
CHARIOT #1 CVR A DEKAL $ 3.99
CHARIOT #1 CVR B DEODATO JR $ 3.99
CRIME SYNDICATE #1 CVR A JIM CHEUNG $ 3.99
CRIME SYNDICATE #1 CVR B SKAN VAR $ 3.99
DAREDEVIL #26 2ND PTG VAR KIB $ 3.99
DEAD DOGS BITE #1 (OF 4) CVR A BOSS (RES) $ 4.99
DREAMING WAKING HOURS #8 (MR) $ 3.99
DEAD DOGS BITE #1 (OF 4) CVR B BERTRAM (RES) $ 4.99
DEMON DAYS X-MEN #1 $ 4.99
DEMON DAYS X-MEN #1 ARTGERM VAR $ 4.99
DEMON DAYS X-MEN #1 BROOKS VAR $ 4.99
DEMON DAYS X-MEN #1 GURIHIRU VAR $ 4.99
DEMON DAYS X-MEN #1 JS CAMPBELL VAR (1/50) $ ???
DEMON DAYS X-MEN #1 YU VAR $ 4.99
ENGINEWARD #8 CVR A EISMA $ 3.99
ENGINEWARD #8 CVR B HICKMAN $ 3.99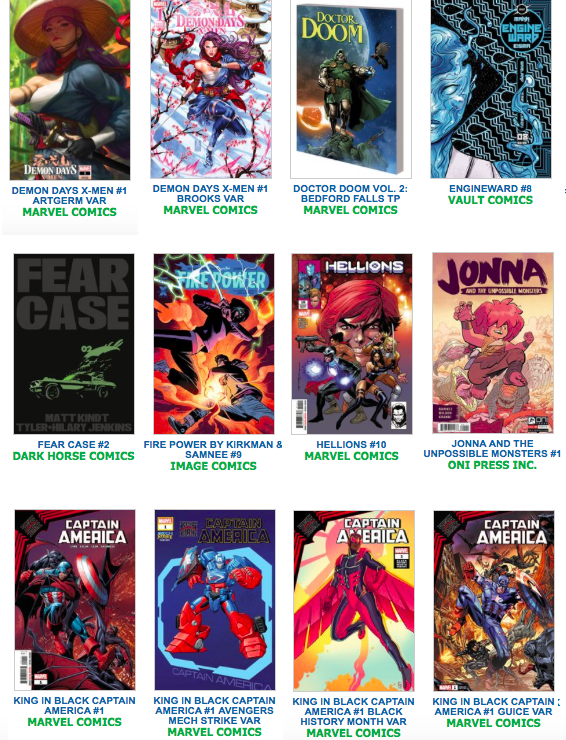 FEAR CASE #2 (OF 4) CVR A JENKINS $ 3.99
FEAR CASE #2 (OF 4) CVR B CAMPBELL $ 3.99
FIRE POWER BY KIRKMAN & SAMNEE #9 $ 3.99
HELLIONS #10 $ 3.99
INFINITE FRONTIER #0 (ONE SHOT) CVR A DAN JURGENS & MIKEL JANIN WRAPAROUND $ 5.99
INFINITE FRONTIER #0 (ONE SHOT) CVR B JOHN TIMMS CARD STOCK VAR $ 6.99
JONNA AND THE UNPOSSIBLE MONSTERS #1 CVR A SAMNEE (RES) $ 3.99
JONNA AND THE UNPOSSIBLE MONSTERS #1 CVR B MAIHACK (RES) $ 3.99
JONNA AND THE UNPOSSIBLE MONSTERS #1 CVR D BARTEL $ 3.99
JONNA AND THE UNPOSSIBLE MONSTERS #1 CVR C (1/10) $ ???
KING IN BLACK CAPTAIN AMERICA #1 $ 4.99
KING IN BLACK CAPTAIN AMERICA #1 AVENGERS MECH STRIKE VAR $ 4.99
KING IN BLACK CAPTAIN AMERICA #1 BLACK HISTORY MONTH VAR $ 4.99
KING IN BLACK CAPTAIN AMERICA #1 GUICE VAR $ 4.99
KING IN BLACK GWENOM VS CARNAGE #3 (OF 3) $ 3.99
KING IN BLACK GWENOM VS CARNAGE #3 (OF 3) LAFUENTE VAR $ 3.99
KING IN BLACK HANDBOOK #1 $ 4.99
KING IN BLACK THUNDERBOLTS #3 (OF 3) $ 3.99
KING IN BLACK THUNDERBOLTS #3 (OF 3) GONZALES VAR $ 3.99
KING IN BLACK WICCAN HULKLING #1 $ 4.99
KING IN BLACK WICCAN HULKLING #1 DAUTERMAN VAR $ 4.99
KING IN BLACK WICCAN HULKLING #1 MOMOKO STORMBREAKERS VAR $ 4.99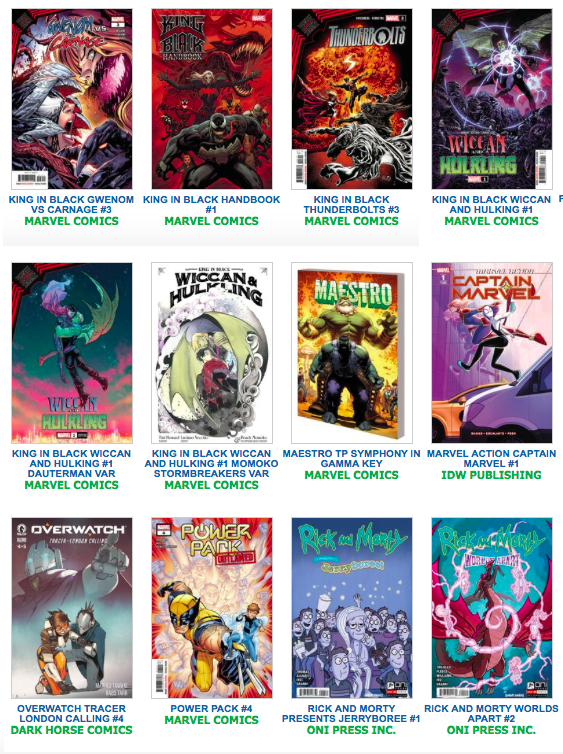 MAN-BAT #2 (OF 5) $ 3.99
MARVEL ACTION CAPTAIN MARVEL (2021) #1 $ 3.99
MARVEL ACTION CAPTAIN MARVEL (2021) #1 LUSKY (1/10) $ ???
MYTHS & LEGENDS QUARTERLY DARK PRINCESS CVR A SALAZAR $ 8.99
MYTHS & LEGENDS QUARTERLY DARK PRINCESS CVR C GARVEY $ 8.99
NOCTERRA #1 CVR A DANIEL & MOREY (MR) $ 3.99
NOCTERRA #1 CVR B JOCK (MR) $ 3.99
NOCTERRA #1 CVR C BOSSLOGIC (MR) $ 3.99
NOCTERRA #1 CVR D CAPULLO (MR) $ 3.99
NOCTERRA #1 CVR E BLANK CVR (MR) $ 3.99
NOCTERRA #1 CVR G MANAPUL (MR) (1/10) $ ???
NOCTERRA #1 CVR H JIMENEZ (MR) (1/25) $ ???
NOCTERRA #1 CVR I KRISTANTINA (MR) (1/50) $ ???
NOCTERRA #1 CVR J JOCK B&W (MR) (1/75) $ ???
NOCTERRA #1 CVR K DANIEL B&W (MR) (1/100) $ ???
NOCTERRA #1 CVR L CAPULLO B&W (MR) (1/150) $ ???
NOCTERRA #1 CVR M BLACKOUT (MR) (1/200) $ ???
OVERWATCH TRACER LONDON CALLING #4 CVR A BENGAL $ 3.99
OVERWATCH TRACER LONDON CALLING #4 CVR B BARTEL $ 3.99
POWER PACK #4 (OF 5) $ 3.99
RICK AND MORTY PRESENTS JERRYBOREE #1 CVR A ALLNATT $ 4.99
RICK AND MORTY PRESENTS JERRYBOREE #1 CVR B KAYCEE CAMPBELL $ 4.99
RICK AND MORTY WORLDS APART #2 CVR A FLEECS $ 3.99
RICK AND MORTY WORLDS APART #2 CVR B WILLIAMS $ 3.99
RUNAWAYS #34 $ 3.99
RUNAWAYS #34 ANKA VAR $ 3.99
SENSATIONAL WONDER WOMAN #1 CVR A YASMINE PUTRI $ 3.99
SENSATIONAL WONDER WOMAN #1 CVR B EJIKURE VAR $ 3.99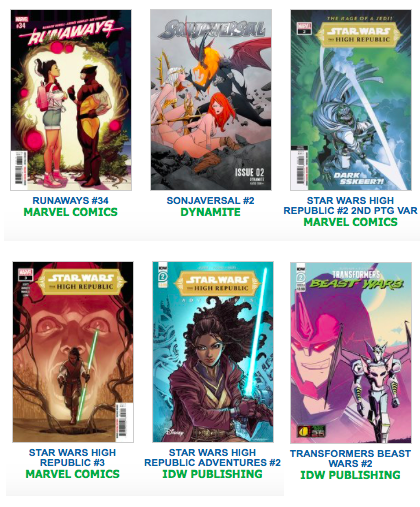 SONJAVERSAL #2 25 COPY HENDERSON VIRGIN (1/25) $ ???
SONJAVERSAL #2 25 COPY MOSS VIRGIN (1/25) $ ???
SONJAVERSAL #2 35 COPY COSPLAY VIRGIN (1/35) $ ???
SONJAVERSAL #2 40 COPY LINSNER B&W VIRGIN (1/40) $ ???
SONJAVERSAL #2 50 COPY LEE B&W VIRGIN (1/50) $ ???
SONJAVERSAL #2 CVR A LEE & CHUNG $ 3.99
SONJAVERSAL #2 CVR B LINSNER $ 3.99
SONJAVERSAL #2 CVR C ROBSON $ 3.99
STAR WARS HIGH REPUBLIC #2 2ND PTG VAR $ 3.99
STAR WARS HIGH REPUBLIC #3 $ 3.99
STAR WARS HIGH REPUBLIC #3 WALKER VAR (1/25) $ ???
STAR WARS HIGH REPUBLIC ADVENTURES #2 $ 3.99
STAR WARS HIGH REPUBLIC ADVENTURES #2 YAEL NATH (1/10) $ ???
SUICIDE SQUAD #1 CVR A EDUARDO PANSICA $ 3.99
SUICIDE SQUAD #1 CVR B GERALD PAREL VAR $ 3.99
SWAMP THING #1 (OF 10) CVR A MIKE PERKINS $ 3.99
SWAMP THING #1 (OF 10) CVR B FRANCESCO MATTINA VAR $ 3.99
TRANSFORMERS BEAST WARS #2 CVR A JOSH BURCHAM $ 3.99
TRANSFORMERS BEAST WARS #2 CVR B DAN SCHOENING $ 3.99
UNDONE BY BLOOD OTHER SIDE OF EDEN #1 CVR A KIVELA & WORDIE $ 4.99
UNEARTH #10 (MR) $ 3.99
WALKING DEAD DLX #10 CVR A FINCH & MCCAIG (MR) $ 3.99
WALKING DEAD DLX #10 CVR B MOORE & MCCAIG (MR) $ 3.99
WALKING DEAD DLX #10 CVR C ADAMS & MCCAIG (MR) $ 3.99
WALKING DEAD DLX #9 CVR A FINCH & MCCAIG (MR) $ 3.99
WALKING DEAD DLX #9 CVR B MOORE & MCCAIG (MR) $ 3.99
WALKING DEAD DLX #9 CVR C TEDESCO (MR) $ 3.99

COMIC SHOP NEWS [90CT BUNDLE] #1750 $ FREE
HEAVY METAL #304 CVR A DOMINICIS (MR) $ 13.99
HEAVY METAL #304 CVR B SUCHANEK (MR) $ 13.99

AMAZING SPIDER-MAN BY NICK SPENCER TP VOL 11 LAST REMAINS $ 17.99
AMETHYST TP $ 16.99
BAD MOTHER TP $ 9.99
BATMAN & THE OUTSIDERS VOL 03 THE DEMONS FIRE TP $ 14.99
CAPTAIN AMERICA EPIC COLL TP LIVES AGAIN NEW PTG $ 39.99
CONAN BARBARIAN ORIG MARVEL YRS OMNIBUS HC VOL 05 KANE DM VA $ 125
DC POSTER PORTFOLIO GREG CAPULLO TP $ 24.99
DOCTOR DOOM TP VOL 02 BEDFORD FALLS $ 15.99
ELFQUEST STARGAZERS HUNT TP $ 17.99
FAITHLESS II TP (MR) $ 17.99
MAESTRO TP SYMPHONY IN GAMMA KEY $ 15.99
MARVEL ART OF BROTHERS HILDEBRANDT HC $ 59.99
NIGHTWING THE JOKER WAR HC $ 29.99
SAVAGE AVENGERS TP VOL 03 ENTER THE DRAGON $ 17.99
STAR WARS RISE OF SKYWALKER GN TP $ 9.99
X OF SWORDS HC BROOKS DM VAR $ 100
X OF SWORDS HC LARRAZ CVR $ 100
X-MEN EPIC COLLECTION FATE OF PHOENIX TP $ 39.99