There IS a Rainbow….of Goblins –  Wednesday, February 8th, 2023
Marvel has a big week with 72 facings, and is becoming more inclusive, introducing #1 issues for two new colors of Goblin, Red and Gold, to join the Green , the Grey, the Demo, and the Hob, plus many more, including Miracleman and 3 Star Wars. DC has Batman, Flash, Joker, Ivy, Lazarus, and Static.  The rest brought Bladerunner, a Godzilla, Madballs vs Garbage Pails, and a new Stranger Things Mini. Enjoy.
We are still encouraging and welcoming masks, but not requiring them. You are only in our enclosed space for minutes, but Bob is there all day. We still need to be careful, people. I am going to talk to the one person reading this. We have put a TON of effort into clearing out the aisles and getting things in order, especially the books and Pops. Please tell Bob you appreciate how the store looks and feels. And help us keep them in order.
Thanks to League Of Comic Geeks for this week's images, which are in some unusual, non-alphabetical order, and 8 across. So it's a somewhat random sample. I'll keep searching. Use the list, and MAYBE the pictures will be useful.
Wednesday is still New Comic Day, no matter what you read on the internets. Watch this space and our Facebook page for the latest news about the rest of the month, season, year, millennium, etc. (And text messages from 5-Star.) The complete list is found below. If you want to know about the next sale or store event, or whether or not WE ARE EVEN OPEN click here. Sign in here to get an email reminder for ALL sales and other events. Also, you can go to     fb.fantasybooksandgames.com and you'll be taken to our Facebook page. We also use our in-store 5-Star Rewards system to text similar announcements to your phone.
DC Comics
BATMAN #132 CVR A JORGE JIMENEZ $ 4.99
BATMAN #132 CVR B JOE QUESADA CD STK VAR $ 5.99
BATMAN #132 CVR C STANLEY ARTGERM LAU CD STK VAR $ 5.99
BATMAN #132 CVR D INC 1:25 DERRICK CHEW CD STK VAR $ ???
BATMAN #132 CVR E INC 1:50 STANLEY ARTGERM LAU FOIL VAR $ ???
BATMAN #132 CVR F MIKE HAWTHORNE CD STK VAR $ 5.99
BATMAN & JOKER DEADLY DUO #4 (OF 7) CVR A SILVESTRI (MR) $ 4.99
BATMAN & JOKER DEADLY DUO #4 (OF 7) CVR B MACK BATMAN VAR (MR) $ 4.99
BATMAN & JOKER DEADLY DUO #4 (OF 7) CVR C MACK CATWOMAN VAR (MR) $ 4.99
BATMAN & JOKER DEADLY DUO #4 (OF 7) CVR D INC 1:25 SHARP VAR (MR) $ ???
BATMAN & JOKER DEADLY DUO #4 (OF 7) CVR E INC 1:50 SILVESTRI VAR (MR) $ ???
BATMAN SPAWN #1 (1-SHOT) 2nd Prt Cvr A Capullo Batman $ 6.99
BATMAN SPAWN #1 (1-SHOT) 2nd Prt Cvr B Capullo Spawn Var $ 6.99
BATMAN SUPERMAN WORLDS FINEST #11 CVR B MEYERS POWERGIRL CnECT CD STK VAR $ 4.99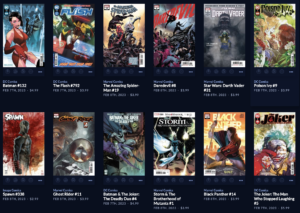 FLASH #792 CVR A TAURIN CLARKE (1-MINUTE WAR) $ 3.99
FLASH #792 CVR B DANIEL BAYLISS CD STK VAR (1-MINUTE WAR) $ 4.99
FLASH #792 CVR C SERG ACUNA CD STK VAR (1-MINUTE WAR) $ 4.99
FLASH #792 CVR D MATEUS MANHANINI BLK HIST MON CD STK VAR (1-MINUTE WAR) $ 4.99
FLASH #792 CVR E INC 1:25 SCOTT KOLINS CD STK VAR (1-MINUTE WAR) $ ???
GOTHAM CITY YEAR ONE #5 (OF 6) CVR A PHIL HESTER & ERIC GAPSTUR $ 4.99
GOTHAM CITY YEAR ONE #5 (OF 6) CVR B JEFF SPOKES VAR $ 4.99
JOKER THE MAN WHO STOPPED LAUGHING #5 CVR A DI GIANDOMENICO $ 5.99
JOKER THE MAN WHO STOPPED LAUGHING #5 CVR B LEE BERMEJO VAR $ 5.99
JOKER THE MAN WHO STOPPED LAUGHING #5 CVR C CLAY MANN VAR $ 5.99
LAZARUS PLANET NEXT EVOLUTION #1 (1-SHOT) CVR A MARQUEZ & SANCHEZ $ 4.99
LAZARUS PLANET NEXT EVOLUTION #1 (1-SHOT) CVR B CHEW CD STK VAR $ 5.99
LAZARUS PLANET NEXT EVOLUTION #1 (1-SHOT) CVR C KUNG CD STK VAR $ 5.99
LAZARUS PLANET NEXT EVOLUTION #1 (1-SHOT) CVR D KIRKHAM CD STK VAR $ 5.99
LAZARUS PLANET NEXT EVOLUTION #1 (1-SHOT) CVR E INC 1:25 KUMAR CD STK VAR $ ???
MONKEY PRINCE #11 (OF 12) CVR A BERNARD CHANG (LAZARUS PLANET) $ 3.99
MONKEY PRINCE #11 (OF 12) CVR B ANAND RK CD STK VAR (LAZARUS PLANET) $ 4.99
POISON IVY #9 CVR A JESSICA FONG $ 3.99
POISON IVY #9 CVR B TERRY DODSON CD STK VAR $ 4.99
POISON IVY #9 CVR C SWEENEY BOO CD STK VAR $ 4.99
POISON IVY #9 CVR D DAN MORA CD STK VAR $ 4.99
POISON IVY #9 CVR E INC 1:25 RIAN GONZALES CD STK VAR $ ???
POISON IVY #9 CVR F INC 1:50 MINDY LEE FOIL VAR $ ???
SCOOBY-DOO WHERE ARE YOU #120 $ 2.99
STATIC #1 POLYBAG FACSIMILE EDITION $ 9.99
STATIC SHADOWS OF DAKOTA #1 (OF 6) CVR A DRAPER-IVEY $ 3.99
STATIC SHADOWS OF DAKOTA #1 (OF 6) CVR B CONLEY CD STK VAR $ 4.99
STATIC SHADOWS OF DAKOTA #1 (OF 6) CVR C COIPEL CD STK VAR $ 4.99
Marvel Comics
ALIEN #6 $ 3.99
ALIEN #6 HARREN VAR $ 3.99
ALIEN #6 KLEIN VAR $ 3.99
ALL-OUT AVENGERS #5 BAZALDUA STORMBREAKERS VAR $ 3.99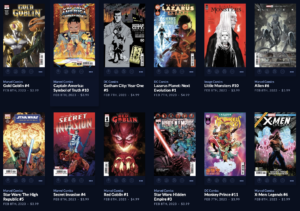 AMAZING SPIDER-MAN #18 MCGUINNESS DESIGN VAR $ 3.99
AMAZING SPIDER-MAN #19 $ 3.99
AMAZING SPIDER-MAN #19 1/100 VAR DISNEY100 B&W $ ???
AMAZING SPIDER-MAN #19 1/25 VAR DODSON $ ???
AMAZING SPIDER-MAN #19 MOBILI PLANET OF THE APES VAR $ 3.99
AMAZING SPIDER-MAN #19 NO PRIZE VAR $ 3.99
AMAZING SPIDER-MAN #19 PERISSINOTTO DISNEY100 VAR $ 3.99
AVENGERS #8 FACSIMILE EDITION $ 3.99
AVENGERS WAR ACROSS TIME #2 $ 3.99
AVENGERS WAR ACROSS TIME #2 MCKONE VAR $ 3.99
BISHOP WAR COLLEGE #1 $ 4.99
BISHOP WAR COLLEGE #1 BUSTOS PLANET OF THE APES VAR $ 4.99
BISHOP WAR COLLEGE #1 LIEFELD VAR $ 4.99
BISHOP WAR COLLEGE #1 PORTACIO VAR $ 4.99
BLACK PANTHER #14 $ 3.99
BLACK PANTHER #14 NO PRIZE VAR $ 3.99
BLACK PANTHER #14 ROMERO VAR $ 3.99
BLACK PANTHER #14 YU PLANET OF THE APES VAR $ 3.99
CAPTAIN AMERICA SYMBOL OF TRUTH #10 $ 3.99
CAPTAIN AMERICA SYMBOL OF TRUTH #10 DAVILA VAR $ 3.99
CAPTAIN AMERICA SYMBOL OF TRUTH #10 RON LIM PLANET OF THE AP $ 3.99
DAREDEVIL #8 $ 3.99
DAREDEVIL #8 CASAGRANDE STORMBREAKERS VAR $ 3.99
DAREDEVIL #8 DODSON PLANET OF THE APES VAR $ 3.99
GHOST RIDER #11 $ 3.99
GHOST RIDER #11 1/25 VAR STEGMAN $ ???
GHOST RIDER #11 JS CAMPBELL ANNIVERSARY VAR $ 3.99
GHOST RIDER #11 MOBILI VAR $ 3.99
GHOST RIDER #11 SHALVEY PLANET OF THE APES VAR $ 3.99
GOLD GOBLIN #4 (OF 5) $ 3.99
GOLD GOBLIN #4 (OF 5) BACHALO VAR $ 3.99
JOE FIXIT #2 (OF 5) $ 3.99
JOE FIXIT #2 (OF 5) $ 3.99
JOE FIXIT #2 (OF 5) MCKELVIE VAR $ 3.99
MILES MORALES SPIDER-MAN #1 2ND PTG BAGLEY VAR $ 4.99
MIRACLEMAN SILVER AGE #4 $ 4.99
MIRACLEMAN SILVER AGE #4 CHRISTOPHER ACTION FIGURE VAR $ 4.99
MIRACLEMAN SILVER AGE #4 HANS VAR $ 4.99
MOON GIRL AND DEVIL DINOSAUR #3 (OF 5) $ 3.99
MOON GIRL AND DEVIL DINOSAUR #3 (OF 5) DARBOE VAR $ 3.99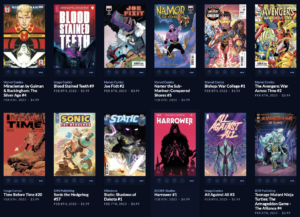 NAMOR CONQUERED SHORES #5 (OF 5) $ 4.99
RED GOBLIN #1 $ 4.99
RED GOBLIN #1 1/25 VAR LOZANO $ ???
RED GOBLIN #1 CHEW VAR $ 4.99
RED GOBLIN #1 REILLY WINDOWSHADES VAR $ 4.99
SECRET INVASION #4 (OF 5) $ 3.99
SECRET INVASION #4 (OF 5) YU VAR $ 3.99
STAR WARS DARTH VADER #31 $ 3.99
STAR WARS DARTH VADER #31 LEINIL YU VAR $ 3.99
STAR WARS DARTH VADER #31 MANHANINI BLACK HISTORY MONTH $ 3.99
STAR WARS DARTH VADER #31 RETURN JEDI 40TH ANNIVERSARY VAR $ 3.99
STAR WARS HIDDEN EMPIRE #3 (OF 5) $ 3.99
STAR WARS HIDDEN EMPIRE #3 (OF 5) 1/25 VAR TRAVEL $ ???
STAR WARS HIDDEN EMPIRE #3 (OF 5) BLK HIST MON VAR $ 3.99
STAR WARS HIDDEN EMPIRE #3 (OF 5) CUMMINGS CONNECTING VAR $ 3.99
STAR WARS HIDDEN EMPIRE #3 (OF 5) SHALVEY BATTLE VAR $ 3.99
STAR WARS HIDDEN EMPIRE #3 (OF 5) VIDEO GAME CHARACTER VAR $ 3.99
STAR WARS HIGH REPUBLIC #5 $ 3.99
STAR WARS HIGH REPUBLIC #5 1/25 VAR BENGAL $ ???
STAR WARS HIGH REPUBLIC #5 MANHANINI BLACK HISTORY MONTH $ 3.99
STAR WARS HIGH REPUBLIC #5 NAUCK VAR $ 3.99
STORM AND BROTHERHOOD MUTANTS #1 $ 3.99
STORM AND BROTHERHOOD MUTANTS #1 1/25 VAR SOUZA VAR $ 3.99
STORM AND BROTHERHOOD MUTANTS #1 CASAGRANDE WOMEN MARVEL VAR $ 3.99
STORM AND BROTHERHOOD MUTANTS #1 SOS FEBRUARY CONNECTING VAR $ 3.99
STORM AND BROTHERHOOD MUTANTS #1 WERNECK STORMBREAKERS VAR $ 3.99
THOR #30 WERNECK STORMBREAKERS VAR $ 3.99
X-MEN LEGENDS #6 $ 3.99
Other Comics
ALL AGAINST ALL #3 (OF 5) CVR A WIJNGAARD (MR) $ 3.99
ASSASSINS APPRENTICE I #3 (OF 6) $ 3.99
BLADE RUNNER 2039 #3 CVR A HERVAS (MR) $ 3.99
BLADE RUNNER 2039 #3 CVR B FISH (MR) $ 3.99
BLADE RUNNER 2039 #3 CVR C MEAD (MR) $ 3.99
BLOOD STAINED TEETH #9 CVR A WARD (MR) $ 3.99
BLOOD STAINED TEETH #9 CVR B LOTAY (MR) $ 3.99
BLOODBORNE LADY OF LANTERNS #4 CVR A QUAH (MR) $ 3.99
CREEPSHOW #5 (OF 5) CVR A BURNHAM & LUCAS (MR) $ 3.99
DEAD MALL #3 (OF 4) $ 3.99
E RATIC RECHARGED #4 (OF 4) $ 3.99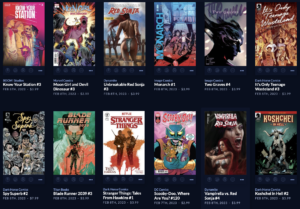 GODZILLA MONSTERS & PROTECTORS ALL HAIL KING #5 CVR A $ 3.99
GODZILLA MONSTERS & PROTECTORS ALL HAIL KING #5 CVR B BELL $ 3.99
GODZILLA MONSTERS & PROTECTORS ALL HAIL KING #5 CVR C 1/10 VAR $ ???
HARROWER #1 (OF 4) CVR A REVEL (MR) $ 4.99
HARROWER #1 (OF 4) CVR B HENDERSON (MR) $ 4.99
HARROWER #1 (OF 4) CVR E BG VAR LEE (MR) $ 4.99
HELL TO PAY #3 (OF 6) CVR C 1/10 VAR SLINEY HORROR $ 3.99
ITS ONLY TEENAGE WASTELAND #3 (OF 4) $ 3.99
JIMMYS LITTLE BASTARDS #2 $ 7.99
KNOW YOUR STATION #3 (OF 5) CVR A KANGAS (MR) $ 3.99
KOSHCHEI IN HELL #2 (OF 4) $ 3.99
LITTLE MONSTERS #10 CVR A NGUYEN (MR) $ 3.99
LITTLE MONSTERS #10 CVR B RUBIN (MR) $ 3.99
MADBALLS VS GARBAGE PAIL KIDS SLIME AGAIN #1 CVR A SIMKO $ 3.99
MADBALLS VS GARBAGE PAIL KIDS SLIME AGAIN #1 CVR B CROSBY $ 3.99
MONARCH #1 CVR A LINS $ 3.99
MONARCH #1 CVR B ALEXANDER $ 3.99
MY LITTLE PONY CLASSICS REIMAGINED LITTLE FILLIES #4 CVR A $ 3.99
SONIC THE HEDGEHOG #57 CVR A KIM $ 3.99
SONIC THE HEDGEHOG #57 CVR B THOMAS $ 3.99
SONIC THE HEDGEHOG #57 CVR C 1/10 VAR FOURDRAINE $ ???
SPACE JOB #1 (OF 4) $ 3.99
SPAWN #338 CVR A MACK $ 2.99
SPAWN #338 CVR B TOMASELLI $ 2.99
SPY SUPERB #2 (OF 3) CVR A KINDT $ 7.99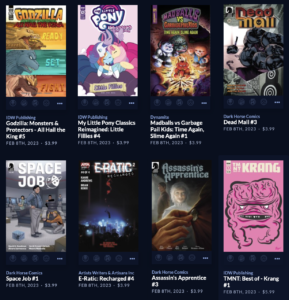 STRANGER THINGS TALES FROM HAWKINS #1 (OF 4) CVR A ASPINALL $ 3.99
STRANGER THINGS TALES FROM HAWKINS #1 (OF 4) CVR B LAMBERT $ 3.99
STRANGER THINGS TALES FROM HAWKINS #1 (OF 4) CVR C GALINDO $ 3.99
STRANGER THINGS TALES FROM HAWKINS #1 (OF 4) CVR D LUCKERT $ 3.99
TIME BEFORE TIME #20 CVR A SHALVEY (MR) $ 3.99
TMNT ARMAGEDDON GAME ALLIANCE #4 CVR A MERCADO $ 3.99
TMNT BEST OF KRANG $ 5.99
TWO GRAVES #4 CVR A WU (MR) $ 3.99
UNBREAKABLE RED SONJA #3 CVR A PARRILLO $ 3.99
UNBREAKABLE RED SONJA #3 CVR B CELINA $ 3.99
UNBREAKABLE RED SONJA #3 CVR E COSPLAY $ 3.99
VAMPIRELLA VS RED SONJA #4 CVR A PARRILLO $ 3.99
VAMPIRELLA VS RED SONJA #4 CVR B LINSNER $ 3.99
VAMPIRELLA VS RED SONJA #4 CVR E COSPLAY $ 3.99
DC Books
DC UNIVERSE BY DWAYNE MCDUFFIE HC $ 39.99
HOUSE OF EL TP BOOK 03 THE TREACHEROUS HOPE $ 16.99
SWAMP THING (2021) TP VOL 03 THE PARLIAMENT OF GEARS $ 16.99
Other Books
DUNE WATERS OF KANLY HC (MR) $ 24.99
AIR TP VOL 02 $ 19.99
BLADE OF IMMORTAL DLX HC VOL 08 (MR) $ 49.99
BRITISH PARANORMAL SOCIETY HC TIME OUT OF MIND $ 24.99
SONIC THE HEDGEHOG TP VOL 13 BATTLE FOR THE EMPIRE $ 16.99
LOVE EVERLASTING TP VOL 01 $ 16.99
MY LIFE AMONG HUMANS HC $ 19.99
SUNDAYS FUN DAY CHARLIE BROWN SC (RES) $ 7.99
BORUTO GN VOL 16 NARUTO NEXT GENERATIONS $ 9.99
MY HERO ACADEMIA GN VOL 33 $ 9.99
SHOW-HA SHOTEN GN VOL 01 $ 9.99
SNOW WHITE WITH RED HAIR GN VOL 23 $ 9.99
News Etc
COMIC SHOP NEWS #1851 $ FREE
ALTER EGO #180 $ 10.95
Toys
FUNKO LILO & STITCH HOLIDAY CARD GAME $ 10.99
MFG GUNDAM GF13-001 NHII MASTER GUNDAM UNIVERSE AF $ 34.99
MSG WING ZZZG-01S SHENLONG GUNDAM GUNDAM UNIVERSE AF ( $ 34.99
POP & BUDDY PROUD FAMILY SUGA MAMA W/ DOG VINYL FIG $ 12.99
POP ANIMATION AVATAR GENERAL ZHAO W/FIREBALL GW VIN FIG (NET $ 12.99
POP ANIMATIONS SAN/NARUTO BADTZ-MARU VINYL FIG $ 12.99
POP ANIMATIONS SAN/NARUTO BADTZ-MARU VINYL FIG $ 12.99
POP ARTIST SERIES NBX OOGIE VIN FIG $ 24.99
POP ARTIST SERIES TMNT 2 DONATELLO VIN FIG $ 24.99
POP BOXING OSCAR DE LA HOYA VINYL FIG $ 12.99
POP DELUXE AVENGERS THOR ASSEMBLE VIN FIG $ 29.99
POP DELUXE LOKI FROG OF THUNDER VIN FIG $ 29.99
POP DELUXE STAR WARS WAMPA #1 VIN FIG $ 29.99
POP DELUXE SW BOUNTY HUNTER IG-88MT VIN FIG $ 29.99
POP DISNEY NBX OOGIE BOOGIEDIYWH VIN FIG $ 12.99
POP DISNEY NBX SANTA JACKDIYWH VIN FIG $ 12.99
POP HEROS WONDER WOMAN 80TH WHITE LANTERN WONDER WOMAN FIG $ 12.99
POP JUMBO MARVEL GLADIATOR HULK BLACKLIGHT VIN FIG $ 39.99
POP JUMBO X-MEN SENTINEL & WOLVERINE W/CHASE PX VIN FIG $ 45.99
POP MARVEL HOLIDAY THANOSGB VIN FIG $ 12.99
POP MARVEL MARVEL MAGIK VIN FIG $ 12.99
POP MARVEL MARVEL ZOMBIES GAMBITGW VIN FIG $ 12.99
POP MARVEL SPIDER-MAN NO WAY HOME DR STRANGE SPL VIN FIG $ 12.99
POP MARVEL SPIDER-MAN NO WAY HOME SPIDER-MAN 1 VIN FIG $ 12.99
POP MOVIES SPACE JAM WET/FIRE VIN FIG $ 12.99
POP ROCKS OASIS NOEL GALLAGHER VIN FIG $ 12.99
POP STAR WARS ATG POP 4 W/PIN VIN FIG $ 12.99
POP STAR WARS NEW CLASSICS CHEWBACCA VINYL FIG $ 12.99
POP STAR WARS NEW CLASSICS DARTH VADER VINYL FIG $ 12.99
POP STAR WARS NEW CLASSICS LEIA VINYL FIG $ 12.99
POP SUPER WHAT IF DR STRANGE SUPREME VIN FIG $ 12.99
POP TOWN STRANGER THINGS S4 VECNA POINTING VIN FIG $ 12.99
POP TOWN STRANGER THINGS S4 VECNA POINTING VIN FIG $ 12.99
POP TRADING CARDS LEBRON JAMES $ 19.99
POP TRADING CARDS STEPHEN CURRY $ 19.99
POP TV SOPRANOS CHRISTOPHER VIN FIG $ 12.99
POP TV SOPRANOS TONY VIN FIG $ 12.99
POP WWE HOODED UNDERTAKER PU/TRL/GW VIN FIG $ 12.15
VINYL GOLD NFL LG RAIDERS BO JACKSON AWAY W/ CH 5IN VIN FIG $ 9.99