Don't Settle! Insist on Truth and Justice – Wednesday, April 19th, 2023
Oh, well. It would have been good for America to hear more testimony and evidence.  But with the network that couldn't shoot straight, there's always more legal trouble in the pipeline.
Warriors are still my old home team.  Now both of them are down 0-2. I'm a little concerned. Home court BETTER be an advantage!
We got comics yesterday. List below.
Free Comic Book Day is only 17 days away, and Bob is planning on going back to the good-old pre-pandemic days of matching your paid receipt with equal values of books out on the sidewalk. Oh, and he'll have 40-60 free comics to choose 3 from, as always. AND your old friend and receipt checker Ralph will be there to put it together and help! I know. That alone is enough to go the extra mile!  I'll put together a list of official entries for 2023 in about a day.
We are still encouraging and welcoming masks, but not requiring them. You are only in our enclosed space for minutes, but Bob is there all day. We still need to be careful, people. I am going to talk to the one person reading this. We have put a TON of effort into clearing out the aisles and getting things in order, especially the books and Pops. Please tell Bob you appreciate how the store looks and feels. And help us keep them in order.
Thanks to League Of Comic Geeks for this week's images, which are in some unusual, non-alphabetical order, and 8 across. So it's a somewhat random sample. I'll keep searching. Use the list, and MAYBE the pictures will be useful.
Wednesday is still New Comic Day, no matter what you read on the internets. Watch this space and our Facebook page for the latest news about the rest of the month, season, year, millennium, etc. (And text messages from 5-Star.) The complete list is found below. If you want to know about the next sale or store event, or whether or not WE ARE EVEN OPEN click here. Sign in here to get an email reminder for ALL sales and other events. Also, you can go to     fb.fantasybooksandgames.com and you'll be taken to our Facebook page. We also use our in-store 5-Star Rewards system to text similar announcements to your phone.
DC Comics
BATGIRLS #17 CVR A CORONA $ 3.99
BATGIRLS #17 CVR B MARQUEZ CD STK VAR $ 4.99
BATMAN #357 FACSIMILE EDITION BLANK VAR Second Printing $ 4.99
BATMAN SUPERMAN WORLDS FINEST #14 CVR A MORA $ 3.99
BATMAN SUPERMAN WORLDS FINEST #14 CVR B ACUNA CD STK VAR $ 4.99
BATMAN SUPERMAN WORLDS FINEST #14 CVR C DI MEO SUPERMAN CD STK VAR $ 4.99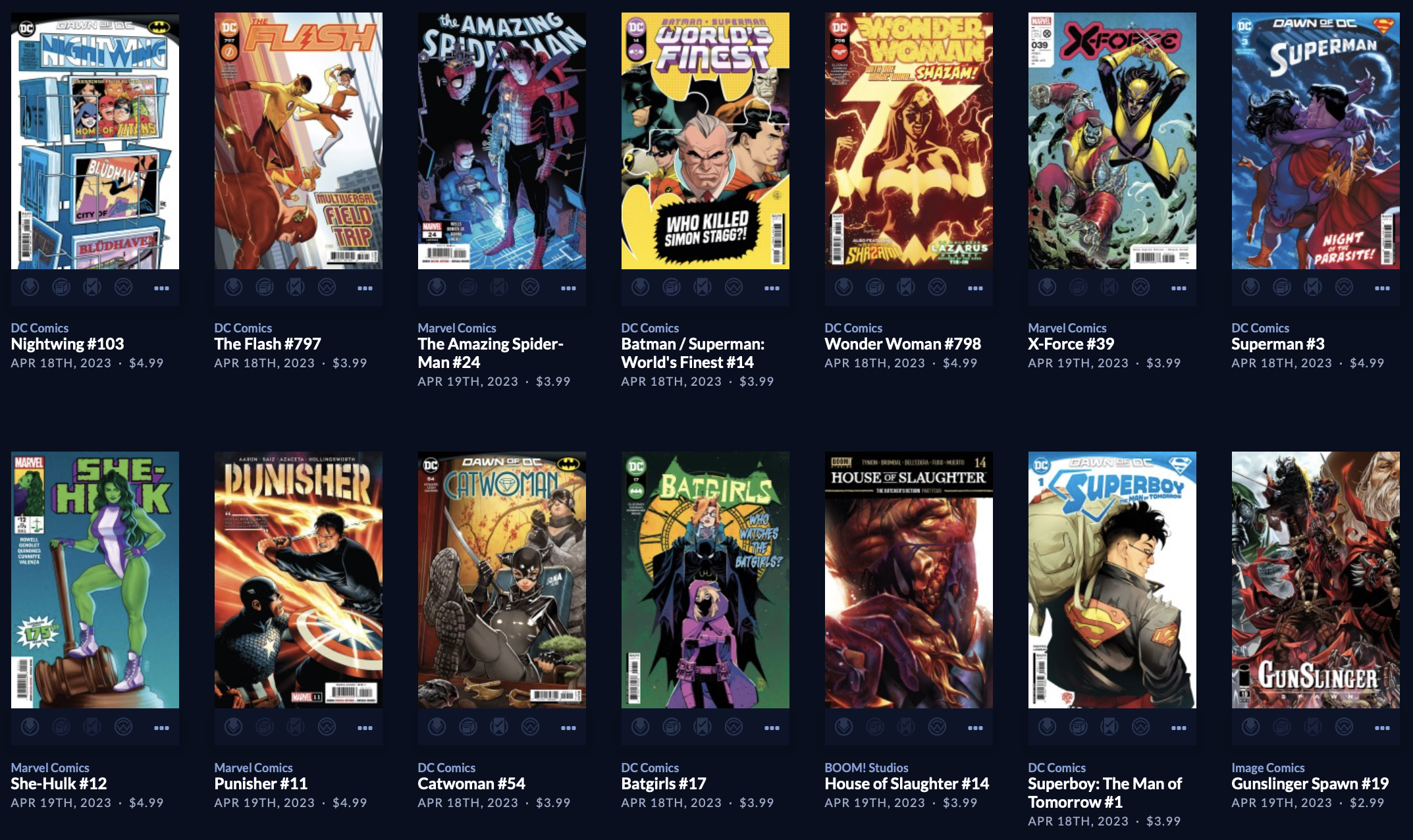 BLACK ADAM #10 (OF 12) CVR A GIANG $ 3.99
BLACK ADAM #10 (OF 12) CVR B BAYLISS CD STK VAR $ 4.99
BLACK ADAM #10 (OF 12) CVR C GARBETT CD STK VAR $ 4.99
CATWOMAN #54 CVR A NAKAYAMA $ 3.99
CATWOMAN #54 CVR B SWABY CD STK VAR $ 4.99
CATWOMAN #54 CVR C BOO CD STK VAR $ 4.99
CATWOMAN #54 CVR D INC 1:25 GONZALES CD STK VAR $ ???
DC SILENT TALES #1 (ONE SHOT) CVR A DUARTE $ 5.99
DC SILENT TALES #1 (ONE SHOT) CVR B MOON & BA CD STK VAR $ 6.99
DCEASED WAR/UNDEAD GODS #8 (OF 8) CVR A PORTER $ 4.99
DCEASED WAR/UNDEAD GODS #8 (OF 8) CVR B ANACLETO HOMAGE CD STK VAR $ 5.99
DCEASED WAR/UNDEAD GODS #8 (OF 8) CVR C NGU ACETATE CD STK VAR $ 5.99
DCEASED WAR/UNDEAD GODS #8 (OF 8) CVR D INC 1:25 MATTINA CD STK VAR $ ???
FLASH #797 CVR A TAURIN CLARKE $ ???
FLASH #797 CVR B DI NICUOLO CD STK VAR $ 4.99
FLASH #797 CVR C MONTANEZ CD STK VAR $ 4.99
FLASH #797 CVR D MANAPUL SUPERMAN CD STK VAR $ 4.99
NIGHTWING #103 CVR A REDONDO $ 4.99
NIGHTWING #103 CVR B MOORE CD STK VAR $ 5.99
NIGHTWING #103 CVR C CAMPBELL CD STK VAR $ 5.99
NIGHTWING #103 CVR D SCOTT SUPERMAN CD STK VAR $ 5.99
NIGHTWING #103 CVR E INC 1:25 GEORGIEV CD STK VAR $ ???
RIDDLER YEAR ONE #2 (OF 6) CVR A SIENKIEWICZ (MR) $ 4.99
RIDDLER YEAR ONE #3 (OF 6) CVR A SIENKIEWICZ (MR) $ 4.99
RIDDLER YEAR ONE #3 (OF 6) CVR C OLIVER VAR (MR) $ 4.99
STATIC SHADOWS OF DAKOTA #3 (OF 6) CVR A DRAPER-IVEY $ 3.99
STATIC SHADOWS OF DAKOTA #3 (OF 6) CVR B RAHZZAH CD STK VAR $ 4.99
SUPERBOY MAN/TOMORROW #1 (OF 6) CVR A JAHNOY LINDSAY $ 3.99
SUPERBOY MAN/TOMORROW #1 (OF 6) CVR B QUINONES CD STK VAR $ 4.99
SUPERBOY MAN/TOMORROW #1 (OF 6) CVR C KAMBADAIS SUPERMAN CD STK VAR $ 4.99
SUPERBOY MAN/TOMORROW #1 (OF 6) CVR D BLANK CD STK VAR $ 4.99
SUPERMAN #3 CVR A JAMAL CAMPBELL $ 4.99
SUPERMAN #3 CVR B DAVID NAKAYAMA CD STK VAR $ 5.99
SUPERMAN #3 CVR C FRANCESCO MATTINA CD STK VAR $ 5.99
SUPERMAN #3 CVR D HELENE LENOBLE CD STK VAR $ 5.99
SUPERMAN #3 CVR F STEVE RUDE SUPERMAN CD STK VAR $ 5.99
SUPERMAN #3 CVR G INC 1:25 MEGAN HUANG CD STK VAR $ ???
SUPERMAN #3 CVR H INC 1:50 SCOTT KOLINS CD STK VAR $ ???
WONDER WOMAN #798 CVR A PAQUETTE (REVENGE/GODS) $ 4.99
WONDER WOMAN #798 CVR B JONES CD STK VAR (REVENGE/GODS) $ 5.99
WONDER WOMAN #798 CVR C DEKAL CD STK VAR (REVENGE/GODS) $ 5.99
WONDER WOMAN #798 CVR D DANIEL SUPERMAN CD STK VAR (REVENGE/GODS) $ 5.99
Marvel Comics
AMAZING SPIDER-MAN #24 $ 3.99
AMAZING SPIDER-MAN #24 ALEX ROSS TIMELESS VULTURE VIRGIN VAR $ 3.99
AMAZING SPIDER-MAN #24 SANDOVAL VAR $ 3.99
AVENGERS ASSEMBLE OMEGA #1 $ 7.99
AVENGERS ASSEMBLE OMEGA #1 CASELLI MARVEL ICON VAR $ 7.99
AVENGERS ASSEMBLE OMEGA #1 ROSS TIMELESS GALACTUS VIRGIN VAR $ 7.99
AVENGERS ASSEMBLE OMEGA #1 SKROCE VAR $ 7.99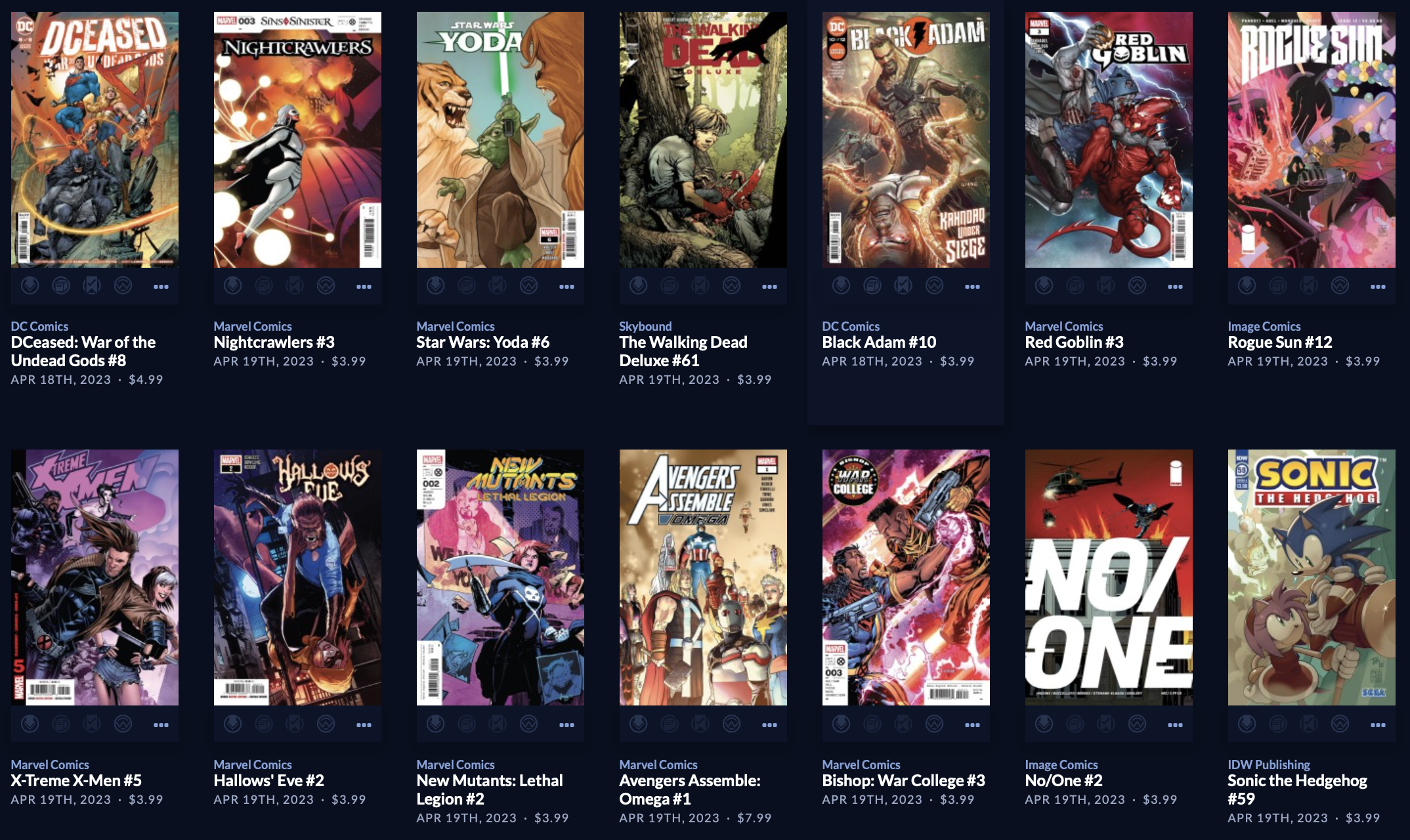 BISHOP WAR COLLEGE #3 $ 3.99
BISHOP WAR COLLEGE #3 GOMEZ VAR $ 3.99
CAPTAIN AMERICA UNFORGIVEN #1 $ 4.99
CAPTAIN AMERICA UNFORGIVEN #1 GIST VAR $ 4.99
HALLOWS EVE #2 $ 3.99
HALLOWS EVE #2 1/25 DODSON VAR $ ???
HALLOWS EVE #2 RYAN BROWN VAR $ 3.99
HELLCAT #2 (OF 5) $ 3.99
HELLCAT #2 (OF 5) NOTO VAR $ 3.99
HELLCAT #2 (OF 5) ZULLO VAR $ 3.99
MOON GIRL AND DEVIL DINOSAUR #5 (OF 5) $ 3.99
MOON GIRL AND DEVIL DINOSAUR #5 (OF 5) CASELLI MARVEL ICON V $ 3.99
NEW MUTANTS LETHAL LEGION #2 (OF 5) $ 3.99
NEW MUTANTS LETHAL LEGION #2 (OF 5) MCKONE VAR $ 3.99
NIGHTCRAWLERS #3 (OF 3) $ 3.99
NIGHTCRAWLERS #3 (OF 3) LARROCA SOS APRIL CONNECTING VAR $ 3.99
PREDATOR #1 2ND PTG BJORN BARENDS VAR $ 4.99
PUNISHER #11 $ 4.99
PUNISHER #11 SCALERA VAR $ 4.99
RED GOBLIN #3 $ 3.99
RED GOBLIN #3 ALEX ROSS TIMELESS SANDMAN VIRGIN VAR $ 3.99
RED GOBLIN #3 PHILIP TAN VAR $ 3.99
SHE-HULK #12 $ 4.99
SHE-HULK #12 JEEHYUNG LEE VAR $ 4.99
SHE-HULK #12 CASAGRANDE WOMEN OF MARVEL VAR $ 4.99
SHE-HULK #12 PATRICK GLEASON VAR $ 4.99
STAR WARS #33 1/25 QUAH VAR $ ???
STAR WARS SANA STARROS #3 $ 3.99
STAR WARS SANA STARROS #3 BARTEL VAR $ 3.99
STAR WARS YODA #6 $ 3.99
STAR WARS YODA #6 1/25 OKAZAKI VAR $ ???
STAR WARS YODA #6 GARBETT VAR $ 3.99
WARLOCK REBIRTH #1 (OF 5) $ 3.99
WARLOCK REBIRTH #1 (OF 5) 1/25 CHEUNG VAR $ ???
WARLOCK REBIRTH #1 (OF 5) ALEX ROSS TIMELESS THANOS VIRGIN VAR $ 3.99
WARLOCK REBIRTH #1 (OF 5) DAVIS VAR $ 3.99
WARLOCK REBIRTH #1 (OF 5) RON LIM HOWARD THE DUCK VAR $ 3.99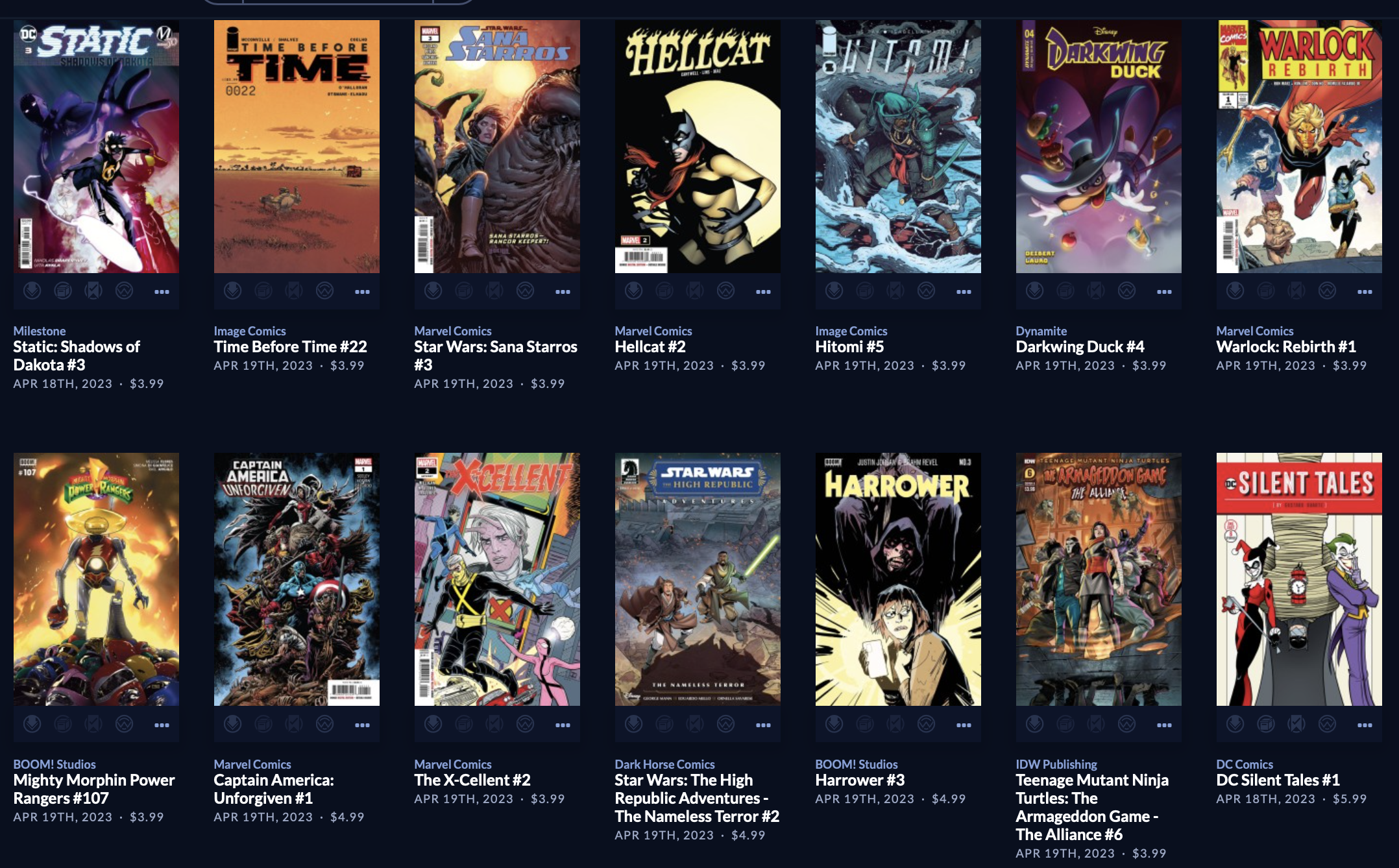 X-CELLENT #2 (OF 5) $ 3.99
X-CELLENT #2 (OF 5) CAMUNCOLI VAR $ 3.99
X-FORCE #39 $ 3.99
X-FORCE #39 SHAW VAR $ 3.99
X-TREME X-MEN #5 (OF 5) $ 3.99
X-TREME X-MEN #5 (OF 5) YOON HOMAGE VAR $ 3.99
Other Comics
ALL EIGHT EYES #1 (OF 4) CVR A KOWALSKI $ 3.99
ALL EIGHT EYES #1 (OF 4) CVR B STOKOE $ 3.99
CHICKEN DEVILS #3 $ 4.99
DARKWING DUCK #4 CVR A LEIRIX $ 3.99
DARKWING DUCK #4 CVR B ANDOLFO $ 3.99
DARKWING DUCK #4 CVR C EDGAR $ 3.99
DARKWING DUCK #4 CVR D FORSTNER $ 3.99
DEAD SEAS #5 CVR A BROKENSHIRE (MR) $ 3.99
DEJAH THORIS (2023) #2 CVR A YOON $ 3.99
DEJAH THORIS (2023) #2 CVR B LINSNER $ 3.99
DEJAH THORIS (2023) #2 CVR D SWAY $ 3.99
DEJAH THORIS (2023) #2 CVR E LEIRIX $ 3.99
DR ATOMIC PIPE & DOPE BOOK (1-SHOT) CVR A TODD (MR) $ 3.99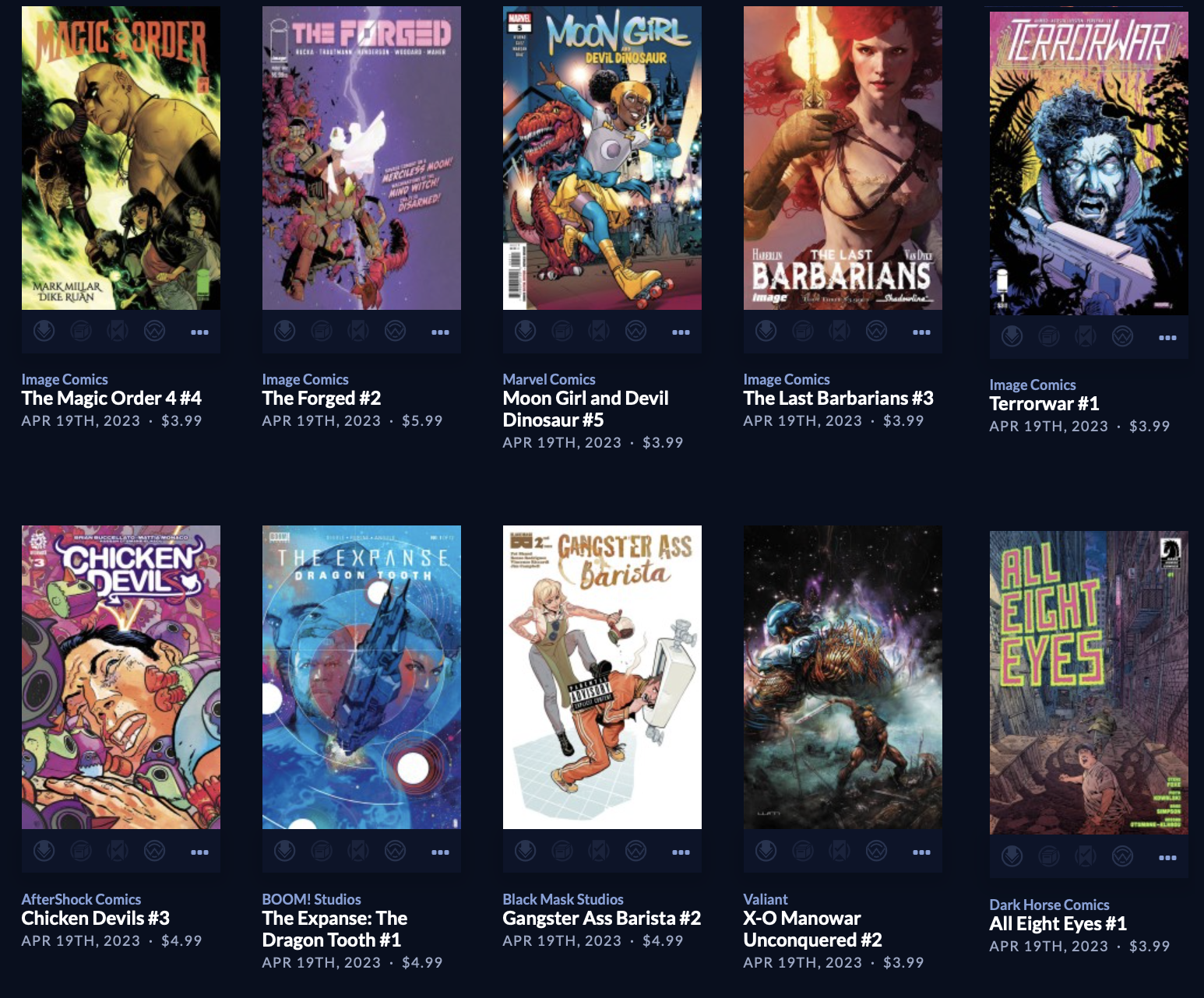 EXPANSE THE DRAGON TOOTH #1 (OF 12) CVR A WARD $ 4.99
EXPANSE THE DRAGON TOOTH #1 (OF 12) CVR B GIST VAR $ 4.99
EXPANSE THE DRAGON TOOTH #1 (OF 12) CVR C 1/10 VAR YOON $ ???
EXPANSE THE DRAGON TOOTH #1 (OF 12) CVR D 1/25 VAR LARRO $ ???
FORGED #2 (MR) $ 5.99
FRANK MILLERS PANDORA #4 CVR A EMMA KUBERT $ 3.99
FRANK MILLERS PANDORA #4 CVR B ANTHONY MARQUES VAR $ 3.99
GANGSTER ASS BARISTA #2 CVR A HUGHES & CRAMB (MR) $ 4.99
GANGSTER ASS BARISTA #2 CVR D COONEY & GONZALES (MR) $ 4.99
GUN HONEY BLOOD FOR BLOOD #1-4 VIRGIN COSPLAY PACK $ 19.99
GUNSLINGER SPAWN #19 CVR A BROOKS $ 2.99
GUNSLINGER SPAWN #19 CVR B TOMASELLI $ 2.99
HARROWER #3 (OF 4) CVR A REVEL (MR) $ 4.99
HITOMI #5 (OF 5) CVR A LOPEZ (MR) $ 3.99
HOUSE OF SLAUGHTER #14 CVR A MANHANINI $ 3.99
HOUSE OF SLAUGHTER #14 CVR B DELL EDERA $ 3.99
LAST BARBARIANS #3 CVR A HABERLIN $ 3.99
LAST BARBARIANS #3 CVR B HABERLIN $ 3.99
MAGIC ORDER 4 #4 (OF 6) CVR A RUAN (MR) $ 3.99
MIGHTY MORPHIN POWER RANGERS #107 CVR A CLARKE $ 3.99
MIGHTY MORPHIN POWER RANGERS #107 CVR B CORONA $ 3.99
MIGHTY MORPHIN POWER RANGERS #107 CVR C 1/10 VAR $ ???
MORIARTY CLOCKWORK EMPIRE #3 CVR A HARDING (MR) $ 4.99
MY LITTLE PONY BEST OF TWILIGHT SPARKLE CVR A HICKEY $ 6.99
NO ONE #2 (OF 10) CVR A BORGES MV (MR) $ 3.99
NO ONE #2 (OF 10) CVR B SABBATINI MV (MR) $ 3.99
ORDER AND OUTRAGE #2 (OF 4) CVR A MORALES $ 4.99
ORDER AND OUTRAGE #2 (OF 4) CVR B BROWN $ 4.99
RESIDENT EVIL INFINITE DARKNESS BEGINNING #2 CVR A (MR) $ 4.99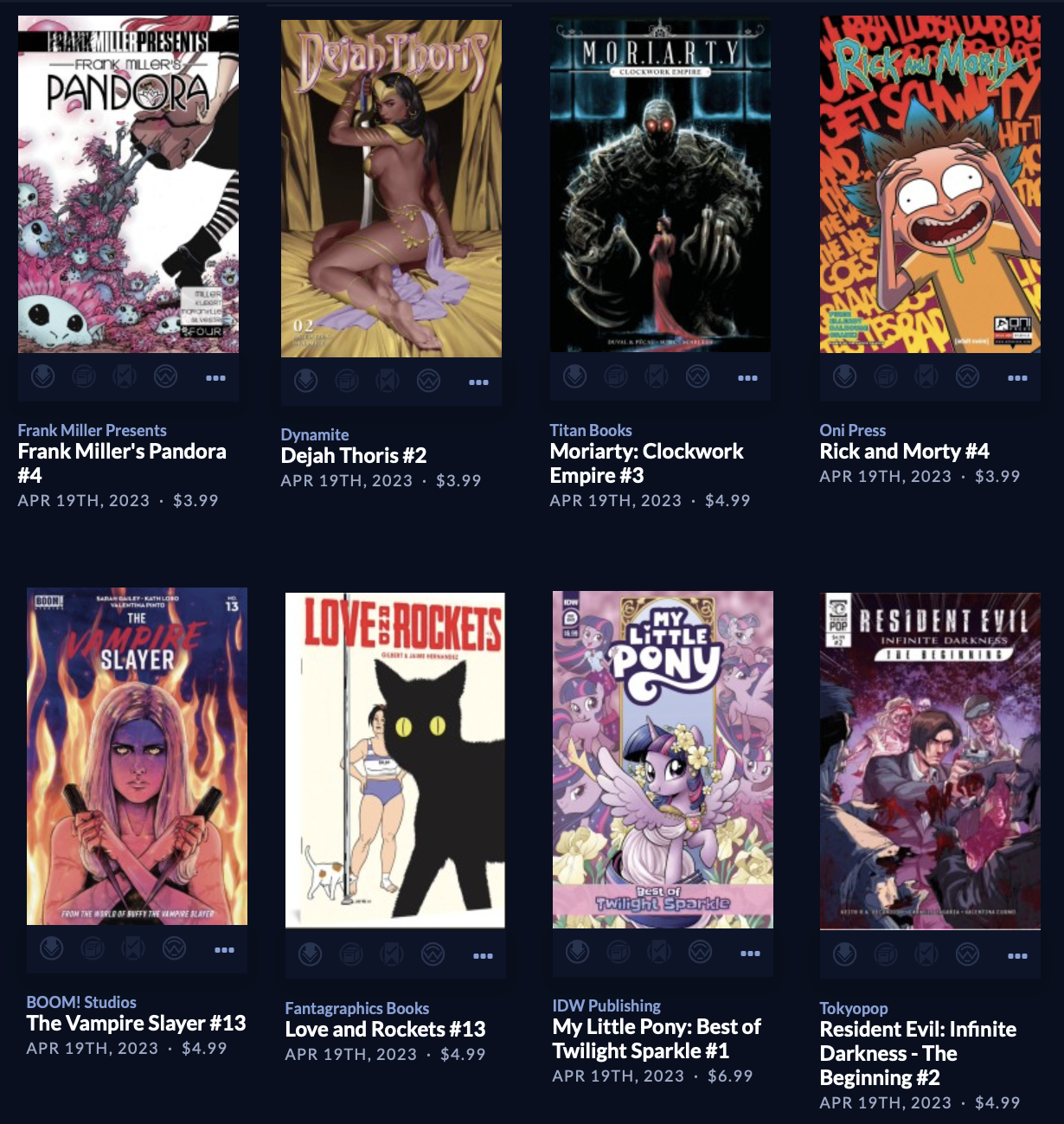 RICK AND MORTY #4 CVR A MARC ELLERBY (MR) (NOT from DCD) $ 3.99
RICK AND MORTY #4 CVR B FRED STRESING VAR (MR) (NOT from DCD) $ 3.99
ROGUE SUN #12 CVR A VECCHIO MV $ 3.99
SONIC THE HEDGEHOG #1 5TH ANNV ED CVR E 1/10 VAR THOMAS $ ???
SONIC THE HEDGEHOG #1 5TH ANNV ED CVR F 1/25 VAR STANLEY $ ???
SONIC THE HEDGEHOG #59 CVR A ROTHLISBERGER $ 3.99
SONIC THE HEDGEHOG #59 CVR B HAINES $ 3.99
SONIC THE HEDGEHOG #59 CVR C 1/10 VAR FOURDRAINE $ ???
STAR WARS THE NAMELESS TERROR #2 (OF 4) $ 4.99
TERRORWAR #1 CVR A ACOSTA (MR) $ 3.99
TERRORWAR #1 CVR B JOHNSON (MR) $ 3.99
TIME BEFORE TIME #22 CVR A SHALVEY (MR) $ 3.99
TMNT ARMAGEDDON GAME ALLIANCE #6 CVR A MERCADO $ 3.99
VAMPIRE SLAYER (BUFFY) #13 CVR A PATRIDGE $ 4.99
WALKING DEAD DLX #61 CVR A FINCH & MCCAIG (MR) $ 3.99
X-O MANOWAR UNCONQUERED #2 CVR A SHARP (MR) $ 3.99
News
COMIC SHOP NEWS #1861 $ FREE
COMIC SHOP NEWS FCBD SPECIAL $ FREE
DC Books
BATMAN FEAR STATE SAGA TP $ 29.99
BATMAN WHO LAUGHS THE DELUXE EDITION HC $ 39.99
GIRL TAKING OVER A LOIS LANE STORY TP $ 16.99
JURASSIC LEAGUE HC $ 24.99
JUSTICE LEAGUE (2021) TP VOL 01 PRISMS $ 19.99
LEGENDS OF THE DARK KNIGHT JOSE LUIS GARCIA LOPEZ HC $ 49.99
WONDER WOMAN WHO IS WONDER WOMAN THE DELUXE EDITION HC $ 29.99
Other Books
ASK FOR MERCY TP VOL 01 $ 29.99
BPRD OMNIBUS TP VOL 05 $ 29.99
CRITICAL ROLE VOX MACHINA COLORING BOOK TP $ 19.99
DEADLIEST BOUQUET TP (MR) $ 16.99
LIGHT CARRIES ON HC $ 19.99
LOVE & ROCKETS #13 (Magazine) $ 4.99
LOVES IN SIGHT GN VOL 01 $ 9.99
MIGHTY MORPHIN POWER RANGERS RECHARGED TP VOL 01 $ 16.99
SPAWN ORIGINS HC VOL 12 $ 39.99
TATSUKI FUJIMOTO BEFORE CHAINSAW MAN GN 22-26 (MR) $ 9.99
UNDISCOVERED COUNTRY TP VOL 04 (MR) $ 16.99
Toys
DEMON SLAYER Q POSKET TENGEN UZUI FIG $ 25.99
DRAGON BALL Z CLEARISE SUPER SAIYAN VEGETA FIG $ 25.99
DRAGON BALL Z GXMATERIA GOHAN II FIG $ 25.99
DRAGON BALL Z MATCH MAKERS SUPER SAIYAN 2 SON GOKU FIG $ 25.99
JUJUTSU KAISEN COMBINATION BATTLE YUJI ITADORI FIG $ 25.99
JUJUTSU KAISEN MAHITO FIG $ 25.99
JUJUTSU KAISEN Q POSKET PETIT VOL2 PANDA FIG $ 16.99
POP GAME COVER ASSASSINS CREED VIN FIG $ 17.99
POP MOMENTS DLX STRANGER THINGS S4 PHASE THREE VIN FIG $ 59.99
POP STAR WARS BOOK OF BOBA FETT GROGU W/ ARMOR VIN FIG $ 12.99
POP WWE THE ROCK 1996 VIN FIG $ 12.99
SAILOR MOON ETERNALS MOVIE Q POSKET PRINCESS VENUS VER A FIG $ 25.99
SAILOR MOON ETERNALS MOVIE Q POSKET PRINCESS VENUS VER B FIG $ 25.99
SW VINTAGE 3-3/4IN BOBA FETT STARSHIP CS $ 499
VINYL SODA DUCK DODGERS CADET W/ CHASE DGLT VIN FIG $ 15.99