Free Comic Book Day is back (fingers crossed – still)!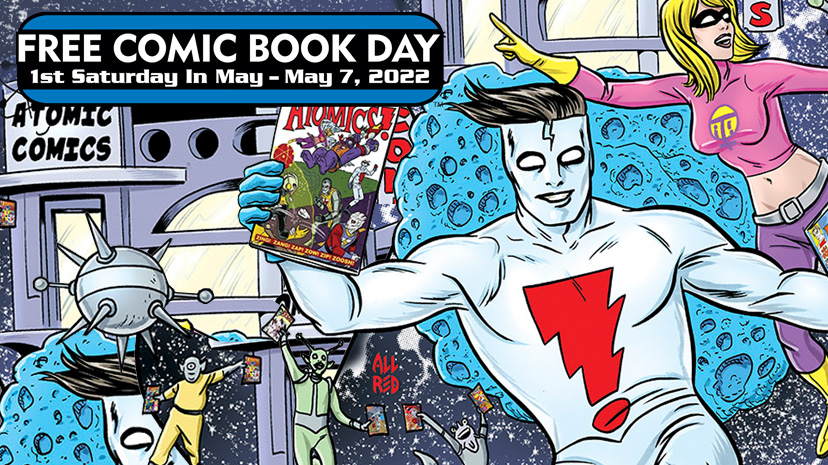 at Fantasy Books and Games in Livermore, May 7, 2022
We are hoping for the best and will follow good sense health guidelines, and play it by ear. Bring a mask, be ready to wait. Bring money. Watch the weather. Rain will change everything.
We are going to keep as much of the day outside as we can. Here is the current plan:
2022's Free Comics outside: 3 per person (see list way down below)
Other Years' Free Comics outside: 2 per person
Sale markdowns outside. Bring them inside to pay
Matching Books outside –
. . . bring your receipt outside and double the value.
Go home and read for days!!!
2022 Pandemic Update!
We are cautiously optimistic that we can get back to normal. We are still working on the details, but if you don't just grab and run and spend money (!) we plan to match your receipt with free books from the tables outside, as in years gone by. We plan to limit the number of people inside at any one time. We can't afford to lose any customers! No Super-Spreaders! So get ready to wait, if you decide to come between 11 and 4.
Don't forget. Don't miss out. Let us help. Choose one of the following. Actually, choose both!
Check in and Like Our Facebook page!
If you are planning to come make sure you read the Parking info below!
If you have more time, the following videos are fun and give you the overall idea. What is it? Watch this…
Another video….
We always have a big day on Free Comic Book Day. Everyone who shows up will have a choice  of up to 3 comics from a large selection of this year's special edition FCBD comics and a smattering of FCBD comics from years gone by. In the past, we've even given away posters, and who knows what Bob will find in the warehouse to add to the goodies this year?

has been on the first Saturday in May since it began – until 2020. The whole industry – from the dozens of the biggest publishers, to the distributors, to thousands of comic shops from coast to coast – gets together to  promote comics to everyone on one grand day.
Click here for the official list of all official FCBD comics from the various publishers who participating this year. Note, Bob did NOT order all of them. We slant toward the general audience and parent-friendly comics, so some of these may not be at our store.
Access the two largest parking lots from Railroad.
Good Luck. See you then!
Check in and Like our Facebook page!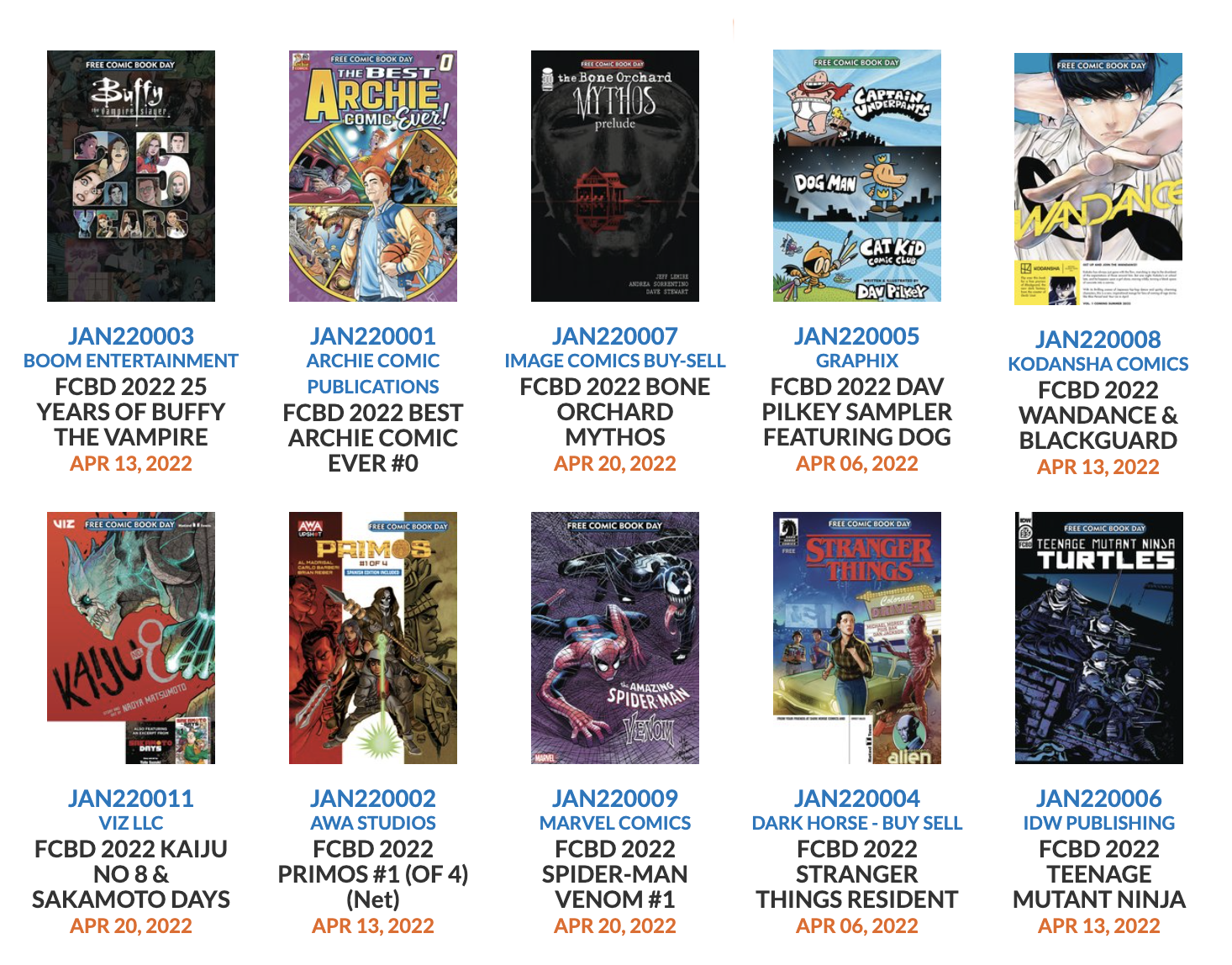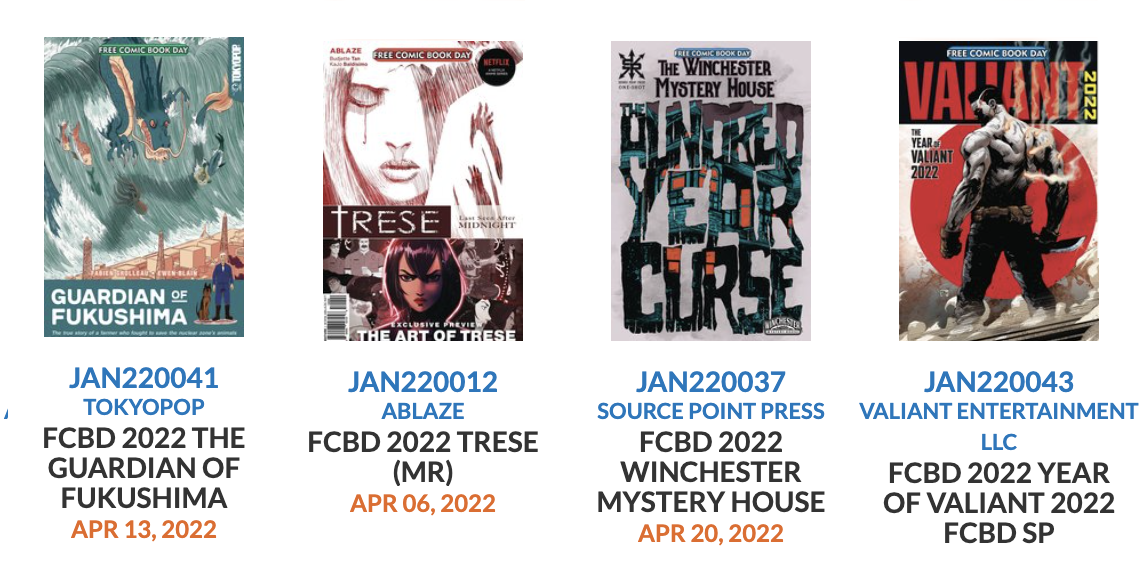 Your Choices for Free Comics at Fantasy Books and Games for 2022:
FCBD 2022 25 YEARS OF BUFFY THE VAMPIRE SLAYER SPECIAL $ FREE*
FCBD 2022 AVATAR LAST AIRBENDER LEGEND OF KORRA $ FREE*
FCBD 2022 AVENGERS X-MEN #1 $ FREE*
FCBD 2022 BEST ARCHIE COMIC EVER #0 $ FREE*
FCBD 2022 BEST OF 2000 AD ISSUE ZERO $ FREE*
FCBD 2022 BLOODBORNE #1 (MR) $ FREE*
FCBD 2022 BONE ORCHARD MYTHOS PRELUDE (MR) $ FREE*
FCBD 2022 BUNNY MASK TALES $ FREE*
FCBD 2022 CLEMENTINE #1 $ FREE*
FCBD 2022 DAV PILKEY SAMPLER FEATURING DOG MAN $ FREE*
FCBD 2022 DISNEY MASTERS DONALD DUCK & CO SPECIAL $ FREE*
FCBD 2022 ELECTRIC BLACK CHILDREN OF CAINE #0 $ FREE*
FCBD 2022 ENEMIES BY SVETLANA CHMAKOVA $ FREE*
FCBD 2022 HOLLOW #1 SPECIAL $ FREE*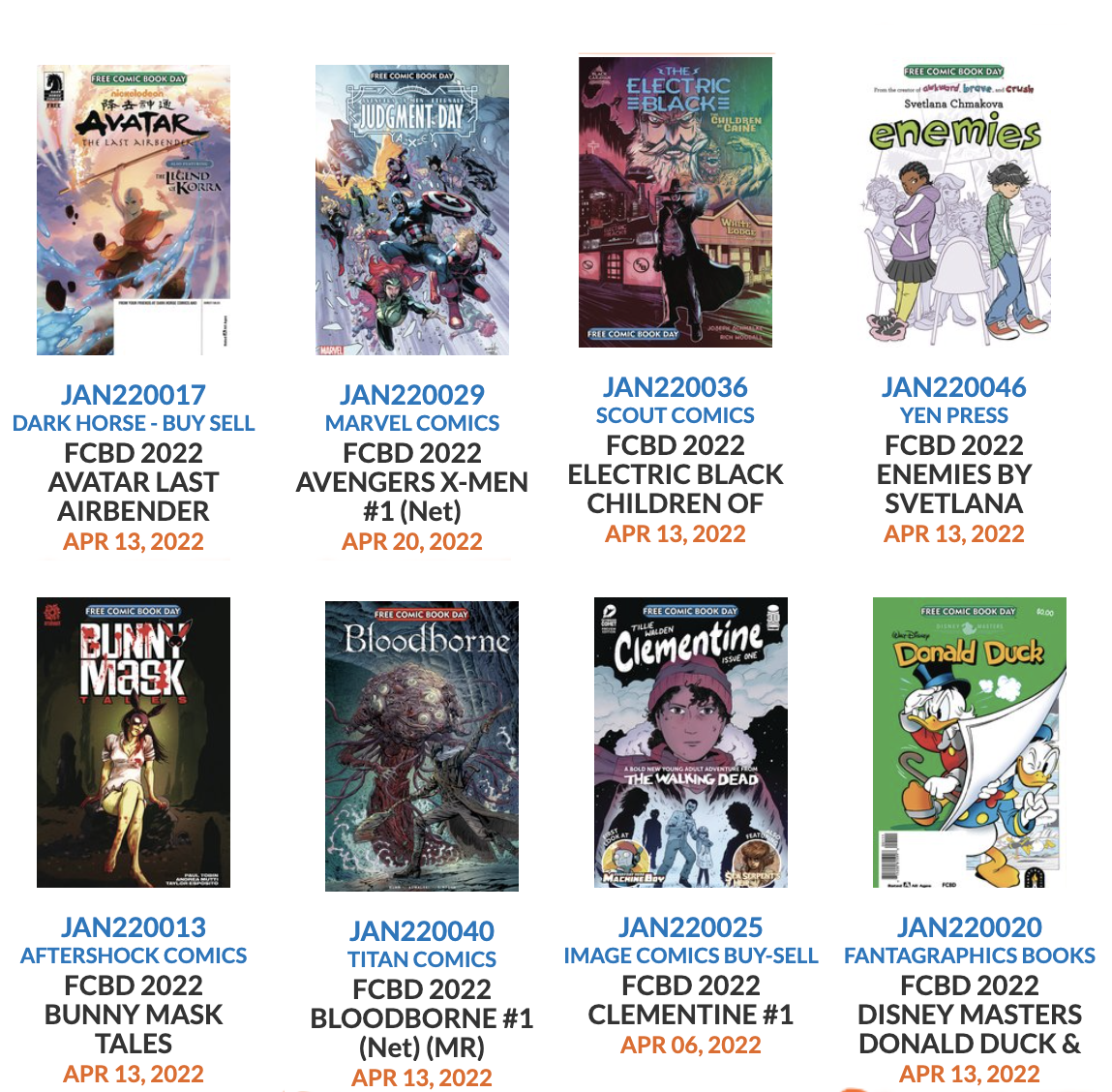 FCBD 2022 INCAL UNIVERSE $ FREE*
FCBD 2022 JONNA AND THE UNPOSSIBLE MONSTERS $ FREE*
FCBD 2022 KAIJU NO 8 & SAKAMOTO DAYS $ FREE*
FCBD 2022 MARVELS VOICES #1 $ FREE*
FCBD 2022 NEVERLANDERS PREVIEW $ FREE*
FCBD 2022 NOTTINGHAM SPECIAL (MR) $ FREE*
FCBD 2022 POKEMON JOURNEYS POKEMON ADVENTURES XY $ FREE*
FCBD 2022 PRIMOS #1 (OF 4) $ FREE*
FCBD 2022 REALM OF BLUE MIST REMA CHRONICLES $ FREE*
FCBD 2022 RED SONJA MARVEL FEATURE STORIES $ FREE*
FCBD 2022 SONIC THE HEDGEHOG $ FREE*
FCBD 2022 SPIDER-MAN VENOM #1 $ FREE*
FCBD 2022 STRANGER THINGS?RESIDENT ALIEN $ FREE*
FCBD 2022 TEENAGE MUTANT NINJA TURTLES $ FREE*
FCBD 2022 THE GUARDIAN OF FUKUSHIMA $ FREE*
FCBD 2022 TRESE (MR) $ FREE*
FCBD 2022 WANDANCE & BLACKGUARD FLIPBOOK SAMPLER $ FREE*
FCBD 2022 WINCHESTER MYSTERY HOUSE HUNDRED YEAR CURSE $ FREE*
FCBD 2022 YEAR OF VALIANT 2022 FCBD SP $ FREE*
FCBD 2022 MARVEL SPIDER-MAN 5PK SHORT COMIC STORAGE BOX $ 11.99 – Not Free
FCBD 2022 MARVEL X-MEN 5PK SHORT COMIC STORAGE BOX $ 11.99 – Not Free