Free Comic Book Day is coming!
at Fantasy Books and Games in Livermore, May 5, 2018
The first Saturday in May is always Free Comic Book Day in our store, and all over the country. For comic fans, it's really the biggest day of the year, and our favorite. We make sure it doesn't rain, then we put 9 big tables out on the sidewalk,  fill them with books and other merchandise, and get the whole downtown of Livermore to notice Comic Books! Don't forget. Don't miss out. Choose one of the following. Actually, choose both!
Check in and Like our Facebook page!
If you are planning to come make sure you read the Parking info below!
If you have more time, the following videos are fun and give you the overall idea. What is it? Watch this…
Last year's video….
We always have a big day on Free Comic Book Day. Everyone who shows up will have a choice  of up to 3 comics from a large selection of this year's special edition FCBD comics and a smattering of FCBD comics from years gone by. In the past, we've even given away posters, and who knows what Bob will find in the warehouse to add to the goodies this year?

has been on the first Saturday in May for over a decade. The whole industry – from the dozens of the biggest publishers, to the distributors, to thousands of comic shops from coast to coast – gets together to  promote comics to everyone on one grand day.
Fair Warning: The Livermore Wine Festival is the same day this year, so both of our cross streets will be closed Saturday and Sunday! It's a BIG deal and attracts up to 100, 000 people!)  See parking info below for parking ideas.
Click here for the official list of all official FCBD comics from the various publishers who participating this year. Note, Bob did NOT order all of them. We slant toward the general audience and parent-friendly comics, so some of these may not be at our store.
And here is the FCBD site's guide to appropriateness!
But it's NOT just about the Free Stuff! It's about MORE FREE STUFF!
Just like last year, you'll get Free Matching Merchandise equal to your paid receipt from that day, including SALES TAX. Go nuts, have a personal shopping spree, pay for it, get your receipt total, and take it outside to the Free Matching Merchandise tables and DOUBLE your take home, even including the sales tax! It's BOGO.09!! We'll have dozens of main stream Marvel, DC and other graphic novels, and other books to choose from! We might even come up with some more great surprises for the FBGFMM tables.
The picture below shows the map from the Livermore Wine Festival's site with our store added. Click the link above to see their map page for up to the minute info or click the picture itself to download a large version in high resolution to see more about the Festival.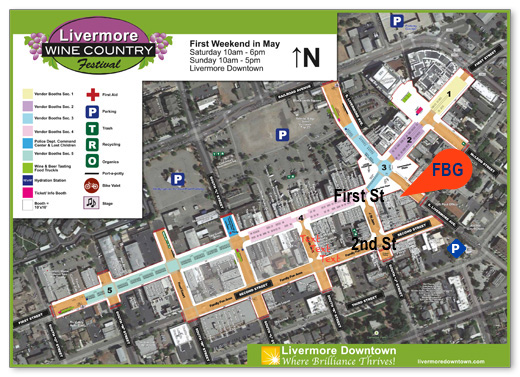 First Street will be closed from our front door at Livermore Av west to P Street and east past the theater. South Livermore Av will be closed from Railroad to 2nd St, so you can expect NO street parking near us both days. Please just accept that and park in the lots, OR try the numbered streets from 2nd and beyond to the south, or maybe beyond Maple and Church to the east. Access the two largest parking lots from Railroad.
IT WILL BE WORTH THE EFFORT!
Good Luck. See you then!
Check in and Like our Facebook page!