Free Comic Book

SUMMER

is here!

at Fantasy Books and Games in Livermore, July 15 – September 9, 2020
This is supposedly the last week of Free Comic Book Day Summer, but don' t count on it.
The first Saturday in May is always Free Comic Book Day in our store, and all over the country. In year Zero of the Covid Calendar, it's delayed and expanded to 57 days! I still have no idea right now how this is going to work. We have some free comics and after the first day, I'll check with Bob to see how it's going to work and edit this page to be up to date in a day or two. I'm also going to work on a list to post here and on Facebook and add to it as the list gets longer.
I'm going to leave the rest of this page to see what is still relevant, but for now, you can stop reading here! After the list so far…
2020 FREE COMIC BOOK SUMMER BOOKS
Wed 9/2/20 (Supposedly the last week, but we'll see next week!)
FCBD 2020 ENTER THE INCAL #1 $ ASK BOB
FCBD 2020 LEGEND ZELDA TWILIGHT PRINCESS SPLATOON SQUID KIDS $ ASK BOB
FCBD 2020 SUE & TAI-CHAN PREVIEW $ ASK BOB
Wed 9/2/20
FCBD 2020 JACK KIRBY EPIC LIFE KING OF COMICS ASK BOB
FCBD 2020 LADY MECHANIKA ASK BOB
FCBD 2020 NARUTO SAMURAI 8 VIZ MANGA ASK BOB
FCBD 2020 OWLY THE WAY HOME ASK BOB
FCBD 2020 USAGI YOJIMBO ASK BOB
Wed 8/26/20  (Actually missing in Action as of 4 pm when I left – we'll probably get them eventually)
FCBD 2020 BRANDON SANDERSON DARK ONE #1 – ASK BOB
FCBD 2020 DONUT THE DESTROYER – ASK BOB
FCBD 2020 ONLY MATTER OF SPACE TIME – ASK BOB
Wed 8/19/20
FCBD 2020 DISNEY MASTERS DONALD DUCK SPECIAL $ ASK BOB
FCBD 2020 LOUD HOUSE FCBD SPECIAL $ ASK BOB
Wed 8/12/20
FCBD 2020 BLADE RUNNER (MR) Ask Bob
FCBD 2020 CRITICAL ROLE & NORSE MYTHOLOGY (MR) Ask Bob
FCBD 2020 HILLBILLY LIZARD OF RUSTY CREEK CAVE Ask Bob
FCBD 2020 LITTLE LULU NO BOYS ALLOWED Ask Bob
Wed 8/5/20
FCBD 2020 INVINCIBLE #1 – ASK BOB
FCBD 2020 LUMBERJANES FAREWELL TO SUMMER – ASK BOB
FCBD 2020 RESISTANCE – ASK BOB
NOT FREE FCBD Mystery Boxes – Loki Theme – 1 of 3 Comics, 1 Pop, 1 of 3 shirts
FCBD 2020 FUNKO PX MARVEL MYSTERY BOX A SIZE LG $ 34.99
FCBD 2020 FUNKO PX MARVEL MYSTERY BOX A SIZE XXL $ 34.99
FCBD 2020 FUNKO PX MARVEL MYSTERY BOX B SIZE LG $ 34.99
FCBD 2020 FUNKO PX MARVEL MYSTERY BOX B SIZE XXL $ 34.99
FCBD 2020 FUNKO PX MARVEL MYSTERY BOX C SIZE LG $ 34.99
Wed 7/29/20
FCBD 2020 ARCHIE BLUE RIBBON PRESENTS – ASK BOB
FCBD 2020 BATMAN OVERDRIVE ONCE UPON A CRIME FLIPBOOK – ASK BOB
FCBD 2020 STRANGER THINGS & MINECRAFT – ASK BOB
Wed 7/22/20
FCBD 2020 DARK ARK INSTINCT – ASK BOB
FCBD 2020 HORIZON ZERO DAWN(MR) – ASK BOB
FCBD 2020 SPIDER-MAN VENOM #1 – ASK BOB
FCBD 2020 VALIANT 2020 YEAR OF HEROES SPECIAL – ASK BOB
Wed 7/15/20
FCBD 2020 ASTERIX FCBD SPECIAL – ASK BOB
FCBD 2020 MY LITTLE PONY FRIENDSHIP IS MAGIC – ASK BOB
FCBD 2020 POWER RANGERS RANGER SLAYER – ASK BOB
FCBD 2020 WEIRN BOOKS – ASK BOB
FCBD 2020 X-MEN #1 – ASK BOB
= = = = = = = = = = = = = = = = = = = = = = = = = = = = = = = = = = = = = =
For comic fans, it's really the biggest day of the year, and our favorite. We make sure it doesn't rain, then we put 9 big tables out on the sidewalk,  fill them with books and other merchandise, and get the whole downtown of Livermore to notice Comic Books! Here's our list for this year (bottom of this page).
Don't forget. Don't miss out. Let us help. Choose one of the following. Actually, choose both!
Check in and Like Our Facebook page!
If you are planning to come make sure you read the Parking info below!
If you have more time, the following videos are fun and give you the overall idea. What is it? Watch this…
Last year's video….
We always have a big day on Free Comic Book Day. Everyone who shows up will have a choice  of up to 3 comics from a large selection of this year's special edition FCBD comics and a smattering of FCBD comics from years gone by. In the past, we've even given away posters, and who knows what Bob will find in the warehouse to add to the goodies this year?

has been on the first Saturday in May for over a decade. The whole industry – from the dozens of the biggest publishers, to the distributors, to thousands of comic shops from coast to coast – gets together to  promote comics to everyone on one grand day.
For the second time in forever, the Livermore Wine Festival is NOT encroaching on our FCBD! Yay! But it is May 4th, almost Cinco de Mayo, so there may be a little extra activity, but as far as I can tell, there will be no street closures, just normal Saturday stuff. But WE expect to see several hundred people again this year, so we and ours may cause parking to be tight. See parking info below for parking ideas.
Click here for the official list of all official FCBD comics from the various publishers who participating this year. Note, Bob did NOT order all of them. We slant toward the general audience and parent-friendly comics, so some of these may not be at our store.
But it's NOT just about the Free Stuff! It's about MORE FREE STUFF!
If all goes well and there is no rain, just like last year, you'll get Free Matching Merchandise equal to your paid receipt from that day, including SALES TAX. Go nuts, have a personal shopping spree, pay for it, get your receipt total, and take it outside to the Free Matching Merchandise tables and DOUBLE your take home, even including the sales tax! It's BOGO.09!! We'll have dozens of main stream Marvel, DC and other graphic novels, and other books to choose from! We might even come up with some more great surprises for the FBGFMM tables.
I've included the picture below showing the map from the 2017 Wine Festival because it still works (the Festival is May 18, so parking on FCBD this years should be like a normal Saturday – no closed streets).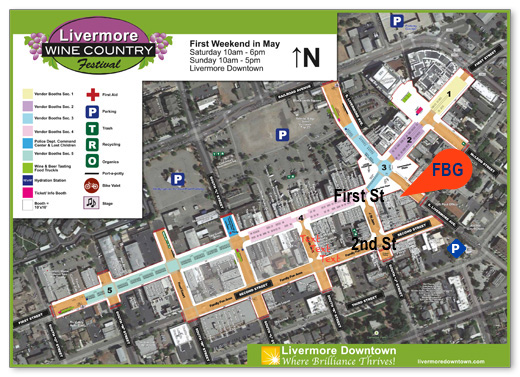 Access the two largest parking lots from Railroad.
Good Luck. See you then!
Check in and Like our Facebook page!

Your Choices for Free Comics at Fantasy Books and Games for 2019:
13TH DOCTOR FREE!*
A SHEETS STORY FREE!*
AVENGERS FREE!*
BLOODSHOT SPECIAL FREE!*
BOBS BURGERS FREE!*
CASPERS SPOOKVILLE FREE!*
DARK HORSE STRANGER THINGS & BLACK HAMMER FREE!*
DEADLY CLASS KILLER SET (ONE-SHOT) (MR) FREE!*
DEAR JUSTICE LEAGUE SPECIAL EDITION FREE!*
DRAGONFLY AND DRAGONFLYMAN FREE!*
GHOST HOG #1 FREE!*
GRUMBLE VS THE GOON FREE!*
HOPE #1 (MR) FREE!*
INTERCEPTOR #1 (MR) FREE!*
KODANSHA COMICS ALL AGES SAMPLER FREE!*
LADY MECHANIKA FREE!*
LITTLE LULU WORLDS BEST COMIC BOOK FREE!*
LUCY & ANDY NEANDERTHAL BIG & BOLDER FREE!*
LUMBERJANES SHAPE OF FRIENDSHIP FREE!*
MINECRAFT & INCREDIBLES 2 ED FREE!*
MY FAVORITE THING IS MONSTERS (MR) FREE!*
MY HERO ACADEMIA & PROMISED NEVERLAND FREE!*
POKEMON I CHOSE YOU & POKEMON ADVENTURES FREE!*
PUNCHLINE #1 FCBD ED FREE!*
RIVERDALE SEASON 3 SPECIAL FREE!*
ROBOTECH FREE!*
SPAWN #1 FREE!*
SPIDER-MAN FREE!*
STAR WARS ADVENTURES DROID HUNTERS FREE!*
THE TICK FREE!*
TMNT CASUALTY OF WAR FREE!*
UNDER THE MOON A CATWOMAN TALE SPECIAL EDITION FREE!*
VAMPIRELLA 50TH ANNIVERSARY FREE!*
WELCOME TO WHEDONVERSE FREE!*
WOLFIE MONSTER & BIG BAD PIZZA BATTLE FREE!*