Free Comic Book Day is coming!

at Fantasy Books and Games in Livermore, May 5, 2018
The first Saturday in May is always Free Comic Book Day in our store, and all over the country. For comic fans, it's really the biggest day of the year, and our favorite. We make sure it doesn't rain, then we put 9 big tables out on the sidewalk,  fill them with books and other merchandise, and get the whole downtown of Livermore to notice Comic Books! Here's our list for 2018 (bottom of this page).
Don't forget. Don't miss out. Let us help. Choose one of the following. Actually, choose both!
Check in and Like oOur Facebook page!
If you are planning to come make sure you read the Parking info below!
If you have more time, the following videos are fun and give you the overall idea. What is it? Watch this…
Last year's video….
We always have a big day on Free Comic Book Day. Everyone who shows up will have a choice  of up to 3 comics from a large selection of this year's special edition FCBD comics and a smattering of FCBD comics from years gone by. In the past, we've even given away posters, and who knows what Bob will find in the warehouse to add to the goodies this year?

has been on the first Saturday in May for over a decade. The whole industry – from the dozens of the biggest publishers, to the distributors, to thousands of comic shops from coast to coast – gets together to  promote comics to everyone on one grand day.
For the first time in forever, the Livermore Wine Festival is NOT encroaching on our FCBD! Yay! But it is May 5th, Cinco de Mayo, so there may be a little extra activity, but as far as I can tell, there will be no street closures, just normal Saturday stuff. But WE expect to see several hundred people again this year, so we and ours may cause parking to be tight. See parking info below for parking ideas.
Click here for the official list of all official FCBD comics from the various publishers who participating this year. Note, Bob did NOT order all of them. We slant toward the general audience and parent-friendly comics, so some of these may not be at our store.
But it's NOT just about the Free Stuff! It's about MORE FREE STUFF!
If all goes well and there is no rain, just like last year, you'll get Free Matching Merchandise equal to your paid receipt from that day, including SALES TAX. Go nuts, have a personal shopping spree, pay for it, get your receipt total, and take it outside to the Free Matching Merchandise tables and DOUBLE your take home, even including the sales tax! It's BOGO.09!! We'll have dozens of main stream Marvel, DC and other graphic novels, and other books to choose from! We might even come up with some more great surprises for the FBGFMM tables.
Even though we won't be competing for parking spaces this year, I've included the picture below showing the map from the 2017 Livermore Wine Festival's site with our store added. The Streets are all still there! But they won't be closed! Click the link above to see their map page for up to the minute info or click the picture itself to download a large version in high resolution to see more about the Festival.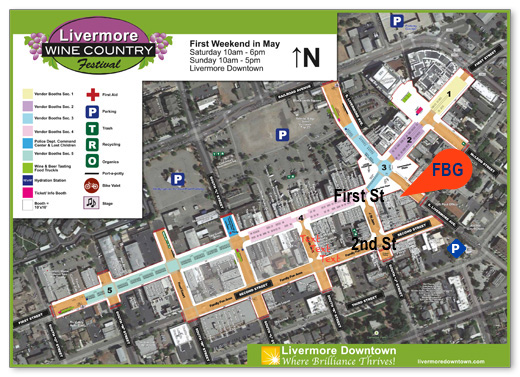 Access the two largest parking lots from Railroad.
Good Luck. See you then!
Check in and Like our Facebook page!

Your Choice for Free Comics at Fantasy Books and Games for 2018:
AVENGERS CAPTAIN AMERICA
BARRIER (Mature)
BERLIN BY JASON LUTES (Mature)
BOBS BURGERS
BONGO COMICS FREE-FOR-ALL
BOOM ADVENTURE TIME FIONNA & CAKE SPECIAL
BOOM MIGHTY MORPHIN POWER RANGERS SPECIAL SG
BRIEF HISTORY OF TANK GIRL
COMICS FRIENDS FOREVER
CRUSH
DARK HORSE OVERWATCH & BLACK HAMMER
DC COMICS DC SUPER HERO GIRLS #1
DEFEND COMICS
DIE KITTY DIE I LOVE YOU TO DEATH
DISNEY PRINCESS ARIEL SPOTLIGHT
DOCTOR WHO #0
FANTAGRAPHICS WORLDS GREATEST CARTOONISTS (Mature)
GHOST IN THE SHELL GLOBAL NEURAL NETWORK
GRAPHIX SPOTLIGHT SPARKS
HOWARD LOVECRAFTS BIG BOOK OF SUMMER FUN
INFINITY WATCH AMAZING SPIDER-MAN
INVADER ZIM FLOOPSY BLOOPS SHMOOPSY
JAMES BOND VARGAR
LADY MECHANIKA
LEGEND OF KORRA & NINTENDO ARMS
METABARON META GUARDIANESS AND TECHNO BARON
MIRACULOUS ADVENTURES
NIGHTMARE BEFORE CHRISTMAS ZEROS JOURNEY #0
POKEMON SUN & MOON & HORIZON
RELAY #0
RIVERDALE (ONGOING)
SHADOW ROADS #1
SHADOWMAN SPECIAL
SPONGEBOB FREESTYLE FUNNIES
STAR WARS ADVENTURES
STRANGERS IN PARADISE XXV #1 (Mature)
STREET ANGELS DOG
TICK 2018 FREE COMIC BOOK DAY
TRANSFORMERS UNICRON #0
ULTRA STREET FIGHTER II #1
VIZ MY HERO ACADEMIA & RWBY
WORLDS OF ASPEN ANNIV ED
WORM WORLD SAGA