New on October 7, 2015
Minneapolis is really beautiful in the fall. And much of the rest of the year. The Twin Cities Marathon was on Thursday, and I parked my car on Oakland St, so I could remember where it was parked, in St. Paul near the course to watch the leaders run past at mile 25.
As usual, a big thanks to GoCollect.com for making a list each week so we can borrow it, in all it's imperfections. Click here to see their list.  So NOT being in the store to see, these may or may not be available today…
New #1's this week:
(The Marvel Onslaught begins in earnest.)
Batman and Robin Eternal, Survivors' Club, Paper Girls, Axcend, CodenameBaboushka: Conclave of Death, Lara Croft Frozen Omen, Amazing Spider-Man, Contest of Champions, Doctor Strange, MU Guardians of Galaxy, Invincible Iron Man, Dear Vengeance, Saints, All New All Different Point One,  Heroes (TV): Vengeance, Kung Fu Panda, Jughead, 11th Dr Who Year Two, and I skipped a bunch. And then there's these…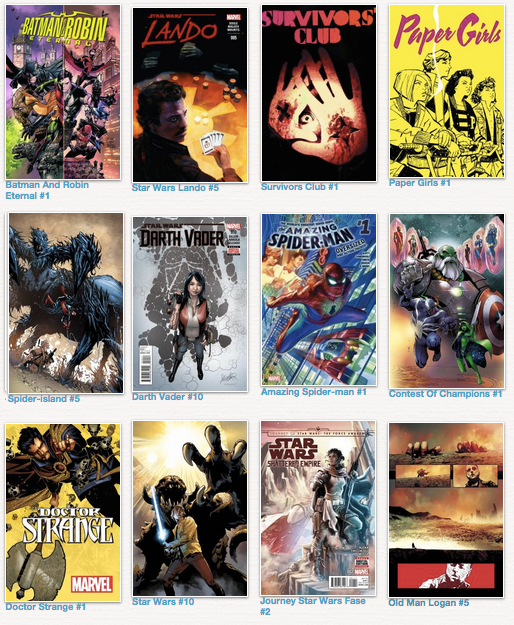 NOT #1's, yet new nonetheless:
Star Wars #10, Darth Vader #10, Lando #5, and Journey…Fase #2, Spider Island #5, Old Man Logan #5, Groot #5, Batman Beyond #5, Batmite #5, Omega Man #5, ( I guess there were a lot of #1′ 5 months ago, too!), And THEN there's one more  and a bunch more.
Here are 12 more covers …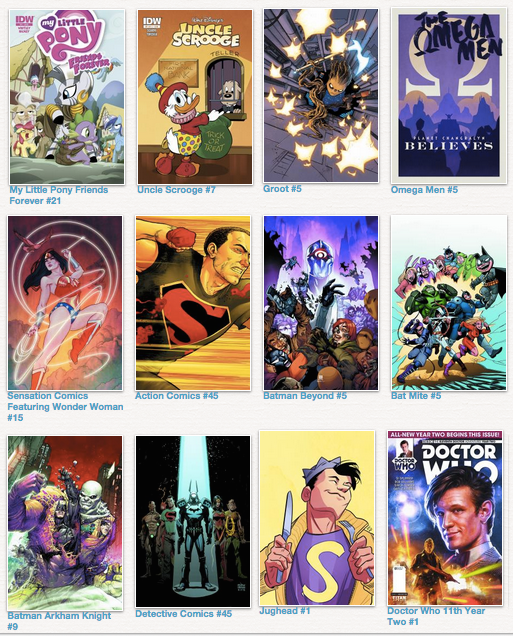 (We don't always order every single comic shown on their site, but if it's a DC,  Marvel,or Image [and a lot of others], we probably did. But, we may have only gotten 1 or 2, so we could easily sell out. If you are driving in from far away, call first.)