What's new on the first Wednesday of the year, Jan 6, 2016? 
Here's a hint: 4 letters, often describing an abrupt sound; a not scary, but surprising little explosion.
Besides the 99 comics and dozens of books, action figures and other new items from Diamond, we are also getting about 100 (one hundred!) new Funko POPS today, as in new to us, ones we don't have already, haven't had for a long time, etc. You should come in the afternoon just to see the massive piles, or marvel at our ability to shoehorn 400 cubic feet of shipping boxes into about 30 feet of shelf space! Or just laugh (with us) at the futility.
For the young Star Wars fans, really young, we now have a total of 9 different Little Golden Books covering all 6 pre-Awakens movies, and 3 more in the "I Am…" series.
One more thing: If you like coloring books for grown-ups, we've got 2 new DC titles with "sketch" covers that are already sketched, inked and ready for your very-well-sharpened crayons and creativity, with an emphasis on green – Green Arrow and Green Lantern.
As usual, thanks  to GoCollect.com for putting out their list each week so we can (ahem) borrow the images. Click here to see their list. As usual, the accuracy of the pictures is a little suspect because they might use early art, or choose one variant to represent a title that has 5. This list was what we expected before checking in everything, and we may have sold out of a few things by the time you read this. 
Here's the list…
ACTION COMICS #48 3.99
ACTION COMICS #48 ADULT COLORING BOOK VAR ED 3.99
A-FORCE #1 3.99
A-FORCE #1 CAMPBELL MARVEL 92 VAR (1/20) ???
A-FORCE #1 COSPLAY VAR 3.99
A-FORCE #1 HUGHES HIP HOP VAR 3.99
A-FORCE #1 IBANEZ VAR (1/25) ???
AMAZING SPIDER-MAN #1.2 3.99
AMAZING SPIDER-MAN #1.2 OTTLEY VAR 3.99
ANGEL AND FAITH SEASON 10 #22 MAIN CVR 3.99
ANGRY BIRDS COMICS (2016) #1 3.99
ARCHIE #5 PITILLI VAR CVR B 3.99
BARB WIRE #7 3.99
BATMAN AND ROBIN ETERNAL #14 2.99
BATMAN BEYOND #8 2.99
BITCH PLANET #6 (RES) (MR) 3.99
CONTEST OF CHAMPIONS #4 3.99
CONTEST OF CHAMPIONS #4 LIM CONNECTING D VAR 3.99
DARTH VADER #15 VDWN 3.99
DARTH VADER #15 FRANCAVILLA VAR VDWN (1/25) ???
DARTH VADER #15 MANN CONNECTING F VAR VDWN 3.99
DC COMICS BOMBSHELLS #8 3.99
DEAD VENGEANCE #4 (OF 4) 3.99
DEADPOOL #5 3.99
DEADPOOL #5 KOBLICH SECRET COMIC VAR 3.99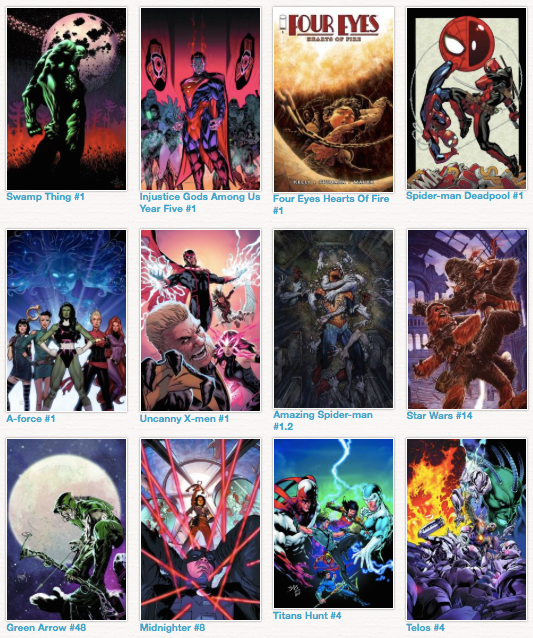 DETECTIVE COMICS #48 3.99
DETECTIVE COMICS #48 ADULT COLORING BOOK VAR ED 3.99
DOCTOR STRANGE #4 3.99
DOCTOR STRANGE #4 DEADPOOL VAR (1/10) ???
DOCTOR WHO 12TH YEAR TWO #1 BROOKS SUBSCRIPTION PHOTO 3.99
EIGHTH SEAL #2 (OF 5) 3.99
FADE OUT #12 (MR) 3.99
FOUR EYES HEARTS OF FIRE #1 (OF 4) 2.99
GIANT DAYS #10 3.99
GRAMPA SIMPSONS UNBELIEVABLE ADVENTURES #1 3.99
GREEN ARROW #48 2.99
GREEN ARROW #48 ADULT COLORING BOOK VAR ED 2.99
GREEN LANTERN #48 3.99
GREEN LANTERN #48 ADULT COLORING BOOK VAR ED 3.99
GUARDIANS OF INFINITY #2 4.99
HARLEYQUINN POWER GIRL #6
INJUSTICE GODS AMONG US YEAR FIVE #1 2.99
INVADER ZIM #6 (C: 1-0-0) 3.99
INVADER ZIM #6 INCV VAR 3.99
INVINCIBLE IRON MAN #5 3.99
JOE GOLEM OCCULT DETECTIVE #3 3.5
JOHNNY RED #3 (OF 8) SUBSCRIPTION RONALD (MR) 3.99
JUSTICE LEAGUE #47
JUSTICE LEAGUE OF AMERICA #6
LARA CROFT FROZEN OMEN #4 (OF 5) 3.99
MARVELS CAPTAIN AMERICA CIVIL WAR PRELUDE #3 (OF 4) 2.99
MIDNIGHTER #8 2.99
MIRACLEMAN BY GAIMAN AND BUCKINGHAM #6 (MR) 4.99
MY LITTLE PONY FRIENDS FOREVER #24 3.99
MY LITTLE PONY FRIENDS FOREVER #24 SUBSCRIPTION VAR 3.99
MYSTERY GIRL #2 3.99
MYTHIC #6 CVR A MCCREA & HUGHES (MR) 3.99
NAILBITER #19 (MR) 2.99
OCTOBER FACTION #12 3.99
PACIFIC RIM TALES FROM THE DRIFT #3 3.99
PAPER GIRLS #4 2.99
POWER CUBED #4 (OF 4) 3.99
REGULAR SHOW #31 3.99
SAINTS #4 (MR) 2.99
SHERIFF OF BABYLON #2 (OF 8) (MR) 3.99
SPIDER-GWEN #4 3.99
SPIDER-GWEN #4 NAUCK DEADPOOL VAR (1/10) ???
SPIDER-MAN DEADPOOL #1 3.99
SPIDER-MAN DEADPOOL #1 ACTION FIGURE PHOTO VAR 3.99
SPIDER-MAN DEADPOOL #1 CHRISTOPHER ACTION FIGURE VAR 3.99
SPIDER-MAN DEADPOOL #1 DEADPOOL VAR (1/10) ???
SPIDER-MAN DEADPOOL #1 DEL MUNDO VAR (1/25) ???
SPIDER-MAN DEADPOOL #1 JOHNSON HIP HOP VAR 3.99
STAR TREK NEW VISIONS MISTER CHEKOV 7.99
STAR TREK STARFLEET ACADEMY #2 (OF 5) 3.99
STAR WARS #14 VDWN 3.99
STAR WARS #14 CHRISTOPHER ACTION FIGURE VAR VDWN 3.99
STAR WARS #14 MANN CONNECTING E VAR VDWN 3.99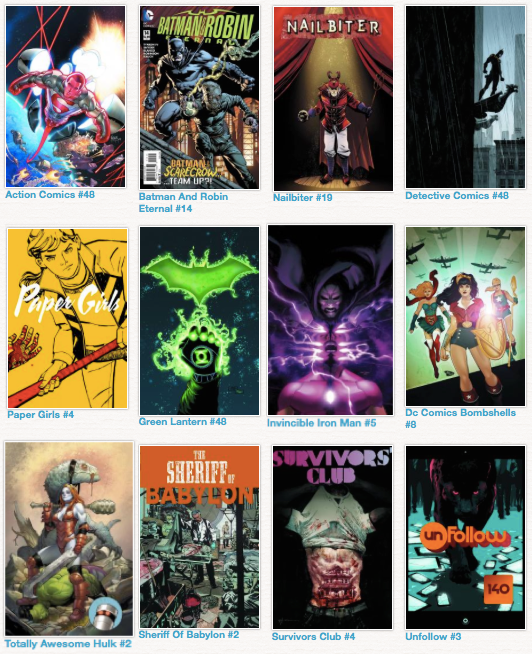 SURVIVORS CLUB #4 (MR) 3.99
SWAMP THING #1 (OF 6) 2.99
TELOS #4 2.99
THIS DAMNED BAND #6 (OF 6) 3.99
TOIL & TROUBLE #5 (OF 6) 3.99
TOTALLY AWESOME HULK #2 3.99
TOTALLY AWESOME HULK #2 RICHARDSON VAR (1/25) ???
TRUE BELIEVERS DEADPOOL #1 1
ULTIMATES #3 3.99
UNCANNY X-MEN #1 3.99
UNCANNY X-MEN #1 LAND HIP HOP VAR 3.99
UNCANNY X-MEN #1 LASHLEY VAR (1/25) 3.99
UNCLE SCROOGE #10 3.99
UNFOLLOW #3 (MR) 3.99
VISION #3 3.99
WEIRDWORLD #2 3.99
WOODS #19 3.99
X-O MANOWAR #43 CVR A JIMENEZ (NEW ARC) 3.99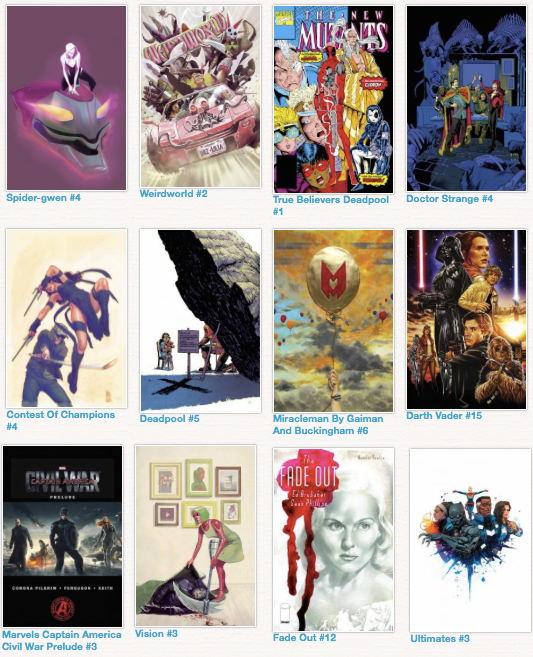 ARCHIE #5 VERONICA FISH REG CVR A 3.99
JUGHEAD & ARCHIE WINTER ANNUAL DIGEST #18 5.99
MYTHIC #6 CVR B HA (MR) 3.99
SPIDER-GWEN #0 RODRIGUEZ 2ND PTG VAR 4.99
STAR TREK STARFLEET ACADEMY #2 (OF 5) SUBSCRIPTION VAR 3.99
UNCLE SCROOGE #10 SUBSCRIPTION VAR 3.99
ALTER EGO #137 8.95
STAR TREK STARSHIPS FIG MAG #55 VULCAN DKYR 20
AMAZING SPIDER-MAN HC VOL 01 34.99
ART OF MAGIC THE GATHERING HC VOL 01 ZENDIKAR 39.99
BATMAN ARKHAM KNIGHT TP VOL 01 14.99
BATMAN DETECTIVE COMICS HC VOL 07 ANARKY 24.99
BATMAN DETECTIVE COMICS TP VOL 06 ICARUS 16.99
BLUE EXORCIST GN VOL 14 9.99
COLOR YOUR OWN DEADPOOL TP 9.99
DEADPOOLS SECRET SECRET WARS TP 15.99
FBP FEDERAL BUREAU OF PHYSICS TP VOL 04 END TIMES (MR) 14.99
GIRL CRAZY HC 17.99
GUARDIANS OF GALAXY HC VOL 02 34.99
MICKEY MOUSE GIFT OF THE SUN LORD TP 12.99
MUNCHKIN TP VOL 01 14.99
NARUTO 3IN1 TP VOL 13 14.99
NARUTO GN BOX SET 3 VOLS 49-72 185.99
NARUTO SEVENTH HOKAGE SCARLET SPRING GN 9.99
ONE PUNCH MAN GN VOL 04 9.99
RED HOOD AND THE OUTLAWS TP VOL 07 LAST CALL 14.99
SILVER SURFER TP VOL 03 LAST DAYS 17.99
STAR WARS LITTLE GOLDEN BOOK I AM DROID 4.99
STAR WARS LITTLE GOLDEN BOOK I AM JEDI 4.99
STAR WARS LITTLE GOLDEN BOOK I AM PILOT 4.99
ULTIMATE END TP 16.99
BTTF BACK TO THE FUTURE 1 TUMBLER 9.99
BTTF BACK TO THE FUTURE 2 TUMBLER 9.99
BTTF BACK TO THE FUTURE 3 TUMBLER 9.99
FEMME FATALES JLA TAS WONDER WOMAN PVC FIGURE 44.99
KID ROBOT X LOONEY TUNES MINI-FIG SERIES BMB DISP
LIVING DEAD DOLLS SERIES 30 28.99
MARVEL MINIMATES SER 65 DEADPOOL ASST 9.99
OBI-WAN AND ANAKIN #1 (OF 5) BLANK VAR 3.99
POP WALKING DEAD ABRAHAM VINYL FIG 10.99
TMP NBA GOLDEN STATE CHAMPIONSHIP AF 3-PK CS 44.99