New Arrivals, Dec 9, 2015
Small week in terms of total comics to make room for, compared to last week.
As per usual, thanks  to GoCollect.com for making their list each week so we can (ahem) borrow the pictures. Click here to see their list. As usual, the accuracy of the pictures is a little suspect because they often use early art, or choose 1 variant to represent a title that has 6. This list WAS what we expected before checking in everything, and we may have sold out of a few things by the time you read this.
ABE SAPIEN #29 3.5
ADVENTURE TIME #47 3.99
ALABASTER THE GOOD THE BAD & THE BIRD #1 3.99
ALICE COOPER VS CHAOS #4 (OF 6) CVR A CHIN 3.99
AMAZING SPIDER-MAN #4 3.99
ARCHIE COMICS DOUBLE DIGEST #264 4.99
ASSASSINS CREED #3 REG CALERO (MR) 3.99
ASSASSINS CREED #3 SUBSCRIPTION MOONEY (MR) 3.99
BACK TO THE FUTURE #1 (OF 5) 2ND PTG 3.99
BACK TO THE FUTURE #3 (OF 4) 3.99
BACK TO THE FUTURE #3 (OF 4) ARCHIE 75TH ANNV VAR 3.99
BACK TO THE FUTURE #3 (OF 4) SUBSCRIPTION VAR 3.99
BATMAN #47 3.99
BATMAN #47 VAR ED 3.99
BATMAN AND ROBIN ETERNAL #10 2.99
BATMAN SUPERMAN #27 3.99
BATMAN TEENAGE MUTANT NINJA TURTLES #1 (OF 6) 3.99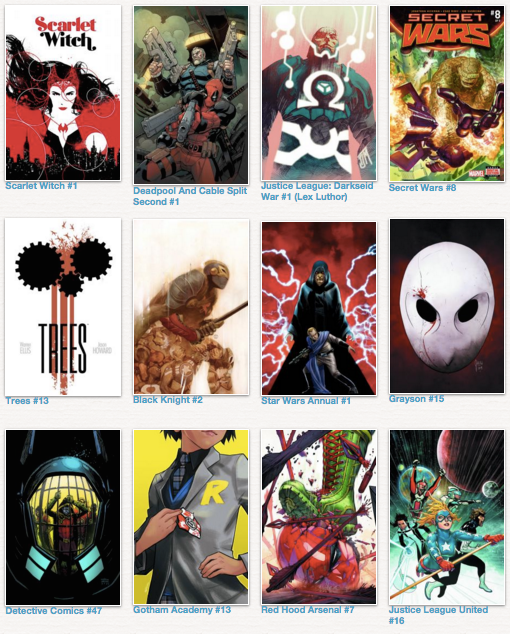 BIRTHRIGHT #12 CVR A BRESSAN & LUCAS 2.99
BIRTHRIGHT #12 CVR B DEWEY 2.99
BLACK KNIGHT #2 3.99
BLACKLIST #5 REG LOBEL 3.99
BLACKLIST #5 SUBSCRIPTION PHOTO 3.99
BOMBSHELLS #6 3.99
CATWOMAN #47 2.99
CODENAME BABOUSHKA CONCLAVE OF DEATH #3 CVR A CHANKHAMMA 3.99
CONSTANTINE THE HELLBLAZER #7 2.99
CONTEST OF CHAMPIONS #3 3.99
CONTEST OF CHAMPIONS #3 LIM CONNECTING C VAR 3.99
DARK KNIGHT III MASTER RACE #1 (OF 8) COLLECTORS ED 12.99
DEADPOOL #3 3.99
DEADPOOL #3 KOBLISH SECRET COMIC VAR 3.99
DEADPOOL #3 LIEFELD MARVEL 92 VAR ???
DETECTIVE COMICS #47 (ROBIN WAR) 3.99
DOCTOR WHO 11TH YEAR TWO #3 REG CASSARA 3.99
DOCTOR WHO 11TH YEAR TWO #3 SUBSCRIPTION PHOTO 3.99
DOCTOR WHO 12TH #16 BROOKS SUBSCRIPTION PHOTO 3.99
DOCTOR WHO 12TH #16 REG RONALD 3.99
DOCTOR WHO 8TH #2 (OF 5) REG STOTT 3.99
DOCTOR WHO 8TH #2 (OF 5) SUBSCRIPTION PHOTO 3.99
EARTH 2 SOCIETY #7 2.99
EERIE COMICS #8 3.99
EIGHTH SEAL #1 (OF 5) 3.99
FABLES THE WOLF AMONG US #12 (MR) 3.99
FASTER THAN LIGHT #4 2.99
GOTHAM ACADEMY #13 (ROBIN WAR) 2.99
GRAYSON #15 (ROBIN WAR) 3.99
GREEN ARROW #47 2.99
GREEN ARROW #47 VAR ED 2.99
GRUMPY CAT #3 (OF 3) CVR A UY 3.99
GRUMPY CAT #3 (OF 3) CVR B HUNTING 3.99
GRUMPY CAT #3 (OF 3) CVR C NGUYEN 3.99
GUARDIANS OF GALAXY #3 3.99
GWENPOOL SPECIAL #1 5.99
GWENPOOL SPECIAL #1 DEADPOOL VAR 5.99
GWENPOOL SPECIAL #1 LUPACCHINO MS MARVEL VAR 5.99
GWENPOOL SPECIAL #1 RODRIGUEZ GWENPOOL VAR 5.99
HARROW COUNTY #8 3.99
HAWKEYE #2 3.99
HEAD LOPPER #2 CVR A MACLEAN 5.99
HERCULES #2 3.99
MARVEL UNIVERSE GUARDIANS OF GALAXY #3 2.99
MASSIVE NINTH WAVE #1 3.99
MAX RIDE #2 (OF 5) ULTIMATE FLIGHT 3.99
MICKEY & DONALD CHRISTMAS PARADE 5.99
MICKEY MOUSE #7 3.99
MICKEY MOUSE #7 SUBSCRIPTION VAR 3.99
MONSTRESS #1 2ND PTG (MR) 4.99
MONSTRESS #2 (MR) 3.99
MUNCHKIN DECK THE DUNGEONS #1 4.99
MY LITTLE PONY HOLIDAY SPECIAL 3.99
MY LITTLE PONY HOLIDAY SPECIAL SUBSCRIPTION VAR 3.99
NEW ROMANCER #1 (OF 12) (MR) 3.99
NINJAK #10 CVR A BRAITHWAITE (NEW ARC) 3.99
NINJAK #10 CVR B MULLER (NEW ARC) 3.99
NO MERCY #5 3.99
REBELS #9 3.99
RED HOOD ARSENAL #7 (ROBIN WAR) 2.99
SAINTS #3 (MR) 2.99
SCARLET WITCH #1 3.99
SCARLET WITCH #1 MARVEL 92 RANEY VAR ???
SCARLET WITCH #1 SIENKIEWICZ HIP HOP VAR 3.99
SCARLET WITCH #1 WADA VAR ???
SECRET WARS #8 (OF 9) SWA 3.99
SECRET WARS #8 (OF 9) BIANCHI CONNECTING VAR SWA ???
SECRET WARS #8 (OF 9) CHRISTOPHER ACTION FIGURE VAR SWA 3.99
SECRET WARS #8 (OF 9) COKER VAR SWA ???
SECRET WARS #8 (OF 9) HILDEBRANDT CLASSIC VAR SWA 3.99
SHADOW VOL 2 #5 3.99
SHERLOCK HOLMES 7 PER-CENT SOLUTION #5 (OF 5) 3.99
SLASH & BURN #2 (MR) 3.99
SPIDER-GWEN #3 3.99
SPIDER-GWEN #3 LATOUR VAR ???
SPIDER-MAN 2099 #4 3.99
SPONGEBOB COMICS #51 2.99
STAR TREK GREEN LANTERN #6 (OF 6) 3.99
STAR TREK GREEN LANTERN #6 (OF 6) SUB VAR A STAGGS 3.99
STAR TREK GREEN LANTERN #6 (OF 6) SUB VAR B BROWN 3.99
STAR TREK ONGOING #52 3.99
STAR TREK ONGOING #52 ARCHIE 75TH ANNV VAR 3.99
STAR WARS ANNUAL #1 4.99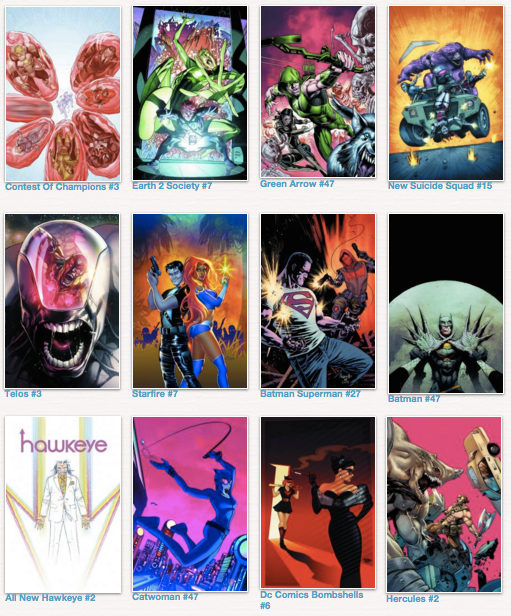 STARFIRE #7 2.99
STRAY BULLETS SUNSHINE & ROSES #10 (MR) 3.5
SUICIDE SQUAD #15 2.99
SYMMETRY #1 CVR A IENCO 3.99
SYMMETRY #1 CVR B IENCO 3.99
TELOS #3 2.99
TMNT AMAZING ADVENTURES #5 (C: 1-0-0) 3.99
TOTALLY AWESOME HULK #1 CHEOL VAR (1/25) ???
TREES #13 (MR) 2.99
TWILIGHT CHILDREN #3 (OF 4) (MR) 4.99
ULTIMATES #2 3.99
UNCANNY AVENGERS #3 3.99
UNCANNY AVENGERS #3 MOORE VAR ???
UNCANNY AVENGERS #3 PORTACIO MARVEL 92 VAR ???
UNITY #25 CVR A KANO (48 PAGES) 4.99
VIOLENT #1 2.99
WALKING DEAD #149 (MR) 2.99
WE STAND ON GUARD #6 (OF 6) (MR) 2.99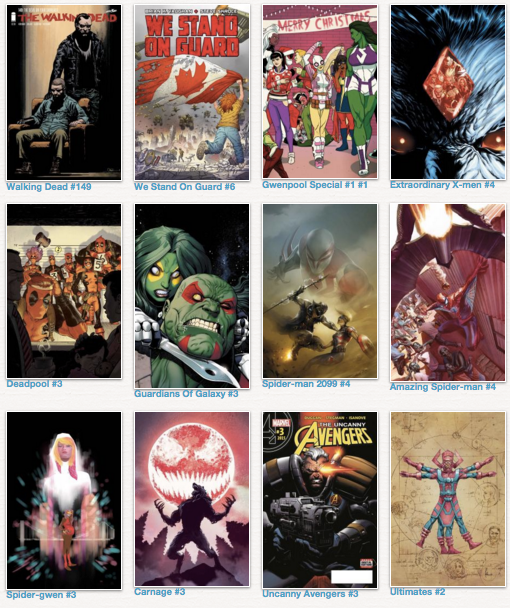 DC BATMAN AUTO FIG MAG #70 BATMAN RETURNS MOVIE SUB 21
DC SUPERHERO CHESS FIG COLL MAG #96 YOUNG SUPERMAN WHITE KIN 16
FAMOUS MONSTERS OF FILMLAND #283 9.99
ARE YOU ALICE GN VOL 10 13
BLACK BUTLER TP VOL 21 13
BLACK PANTHER BY PRIEST TP COMPLETE COLLECTION 34.99
DEADMAN WONDERLAND GN VOL 12 (MR) 9.99
DENNIS THE MENACE HC VOL 01 CLASSIC COMICBOOKS 19.99
DISNEY GRAPHIC NOVELS GN VOL 01 PLANES 7.99
DRIFTER TP VOL 02 (MR) 9.99
ESCAPE FROM NEW YORK TP VOL 01 14.99
FLINCH TP BOOK 01 (MR) 16.99
GRINDHOUSE MIDNIGHT TP VOL 04 LADY DANGER & NEBULINA (A) 17.99
HARLEY QUINN HC VOL 03 KISS KISS BANG STAB 24.99
HARLEY QUINN TP VOL 02 POWER OUTAGE 16.99
HAWKEYE HC VOL 02 34.99
INFINITY GAUNTLET TP WARZONES 16.99
KID ETERNITY DELUXE ED HC (MR) 24.99
MAGI GN VOL 15 9.99
NEVERBOY TP 19.99
PLANETES OMNIBUS TP VOL 01 19.99
RUNAWAYS BATTLEWORLD TP 15.99
SANDMAN GALLERY ED HC (MR) 175
SQUADRON SINISTER TP 16.99
SUICIDE SQUAD TP VOL 02 THE NIGHTSHADE ODYSSEY 19.99
TEEN TITANS GO TRUTH JUSTICE AND PIZZA TP 12.99
LITTLE BOOK OF BATMAN FLEXICOVER (MR) 9.99
LITTLE BOOK OF WONDER WOMAN FLEXICOVER 9.99
TOPPS 2015 DR WHO T/C BOX (NET) (PP #1192) 72.77
MUPPETS TRUST ME IM ASCIENTIST CHARCOAL T/S S-XXL 18.99
DC COMICS DESIGNER DODSON EARTH 1 TT STARFIRE AF 25
NINTENDO LOZ LINK UDF SER 1 12.99
NINTENDO NEW SUPER MARIO BROS WII MARIO UDF SER 1 12.99
NINTENDO SUPER MARIO BROS MARIO UDF SER 1 12.99
POP GOTG HOLIDAY DANCING GROOT VINYL FIG 10.99
COMIC SHOP NEWS #1486 NA
COMIC SHOP NEWS WINTER 2016 PREVIEW NA
STAR WARS MOVIE SAMPLERS #1 NA