Four games, 4 field goals, one OT – What a Weekend – Wednesday, January 26th, 2022
Four amazing games, decided by 3 field goals in 12 seconds, and one OT. The 49-ers need to bring their absolute best to LA to continue their unlikely run.  My dad used to say "It's a shame one of them had to lose." The really Super game was Sunday night. KC and Buffalo were the best in the league in that game. Patrick Mahomes is on the way to a dynasty.
Very long day of new comics, cleaning up Pops and restocking. I have sore feet and back, and slept really late. I'm calling this done.
If you are a regular weekly new comic buyer, you will find we tweaked the arrangement on the shelves again. All the Marvels are still on the left wall, as they have been for months now, but the DCs are all together on the right, and then the Not Marvels and Not DCs start on the second comic shelf and continue down the wall. There was a good reason at the time, and Bob says he likes it, so it will probably stay that way, unless we get a bunch of complaints.
Five #1's from Marvel. Arrowsmith #1 from Image looks interesting. I worked on my feet for 13 hours Wednesday, overslept, and now it's already lunch time, so I'm just going to stop and post this.
Thanks to League Of Comic Geeks for this week's images, which are in some unusual, non-alphabetical order, and 8 across. So it's a somewhat random sample. I'll keep searching. Use the list, and MAYBE the pictures will be useful.
We are enforcing a Mask Rule. We are concerned and frankly afraid of the Desantis Variant's effectiveness and apparent success in younger people and children. So, please, take one for team America and get a vaccine.
Wednesday is Normally New Comic Day, no matter what you read on the internets. We can't clear the new rack to just have 10 DC's  surrounded by empty space.  We do it once, Wednesday morning. We encourage everyone to be careful, make your trip to our store quick and efficient, and try to come in to shop in smaller groups, and reduce your own exposure to ALL public places indoors, including ours. Watch this space and our Facebook page for latest news about the rest of the month, season, year, millenium, etc. (And text messages from 5-Star.) The complete list is found below. If you want to know about the next sale or store event, or whether or not WE ARE EVEN OPEN click here. Sign in here to get an email reminder for ALL sales and other events. Also, you can go to     fb.fantasybooksandgames.com and you'll be taken to our Facebook page. We also use our in-store 5-Star Rewards system to text similar announcements to your phone.
ACTION COMICS #1039 CVR A DANIEL SAMPERE $ 4.99
ACTION COMICS #1039 CVR B JULIAN TOTINO TEDESCO CARD STOCK VAR $ 5.99
AQUAMAN GREEN ARROW DEEP TARGET #4 (OF 7) CVR A MARCO SANTUCCI $ 3.99
AQUAMAN GREEN ARROW DEEP TARGET #4 (OF 7) CVR B KAEL NGU CARD STOCK VAR $ 4.99
BATMAN CATWOMAN SPECIAL #1 (ONE SHOT) CVR A JOHN PAUL LEON $ 9.99
BATMAN CATWOMAN SPECIAL #1 (ONE SHOT) CVR B LEE WEEKS VAR $ 9.99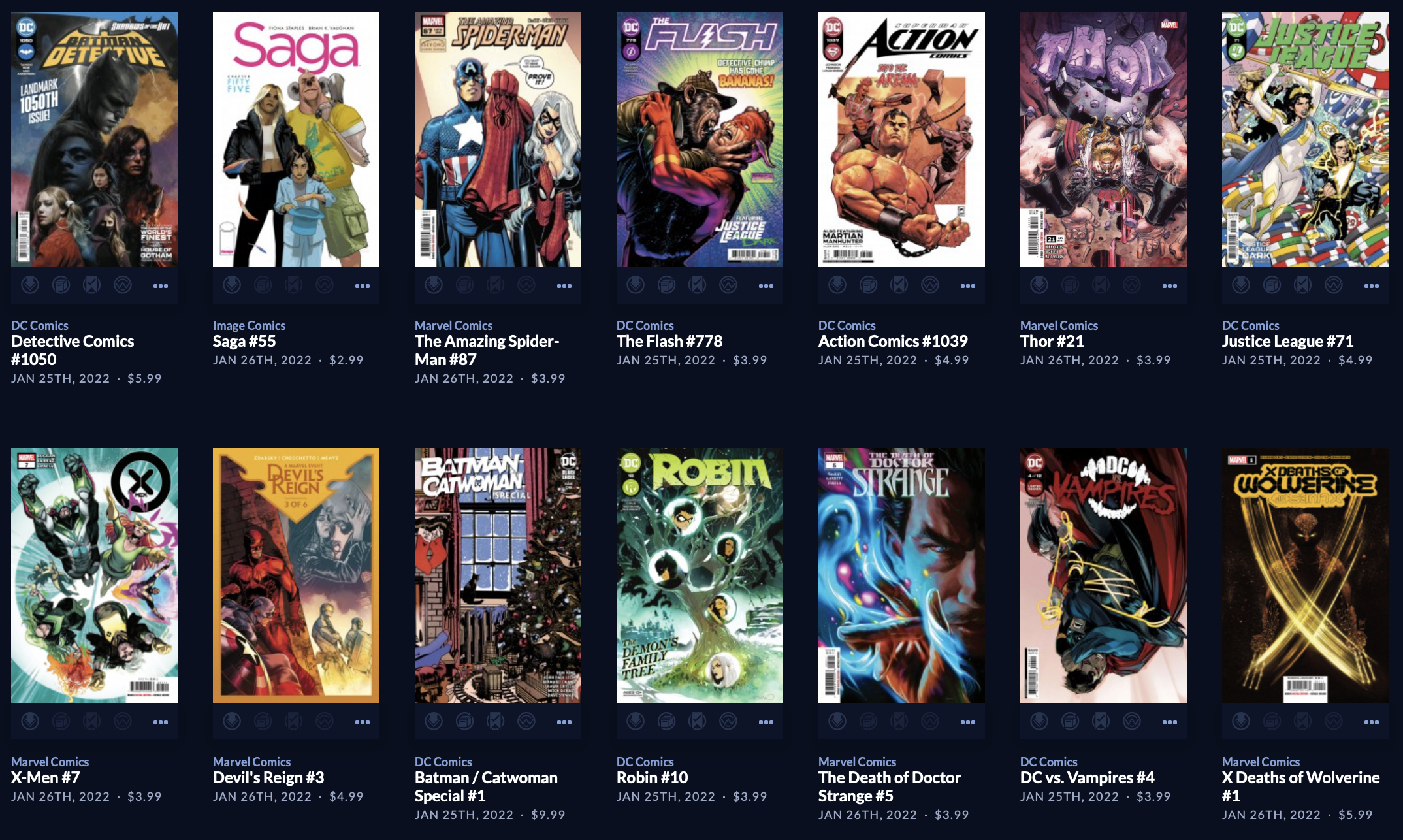 DC VS VAMPIRES #4 (OF 12) CVR A OTTO SCHMIDT $ 3.99
DC VS VAMPIRES #4 (OF 12) CVR B FRANCESCO MATTINA CARD STOCK VAR $ 4.99
DEATHSTROKE INC #5 CVR A HOWARD PORTER $ 3.99
DEATHSTROKE INC #5 CVR B IVAN TAO CARD STOCK VAR $ 4.99
DEATHSTROKE INC #5 CVR C LUCIO PARRILLO PEACEMAKER CARD STOCK VAR $ 4.99
DETECTIVE COMICS #1046 CVR A DAN MORA $ 4.99
DETECTIVE COMICS #1048 CVR A IRVIN RODRIGUEZ $ 4.99
DETECTIVE COMICS #1050 CVR A IRVIN RODRIGUEZ $ 5.99
DETECTIVE COMICS #1050 CVR B LEE BERMEJO CARD STOCK VAR $ 6.99
DETECTIVE COMICS #1050 CVR C JORGE MOLINA CONNECTING LEGACY THOMAS MARTHA BRUCE CARD STOCK VAR $ 6.99
DETECTIVE COMICS #1050 CVR D JORGE MOLINA CONNECTING LEGACY ALFRED GORDON YOUNG BRUCE CARD STOCK VAR $ 6.99
DETECTIVE COMICS #1050 CVR E JORGE MOLINA CONNECTING LEGACY BATMAN ROBIN BATGIRL CARD STOCK VAR $ 6.99
DETECTIVE COMICS #1050 CVR F JORGE MOLINA CONNECTING LEGACY JOKER CARD STOCK VAR $ 6.99
DETECTIVE COMICS #1050 CVR H JORGE FORNES CARD STOCK 1:25 VAR $ ???
FLASH #778 CVR A BRANDON PETERSON $ 3.99
FLASH #778 CVR B JORGE CORONA CARD STOCK VAR $ 4.99
HARLEY QUINN #11 CVR A RILEY ROSSMO $ 3.99
HARLEY QUINN #11 CVR B DERRICK CHEW CARD STOCK VAR $ 4.99
HARLEY QUINN #11 CVR C DIMA IVANOV PEACEMAKER CARD STOCK VAR $ 4.99
HUMAN TARGET #4 (OF 12) CVR A GREG SMALLWOOD (MR) $ 4.99
HUMAN TARGET #4 (OF 12) CVR B DAVE JOHNSON VAR (MR) $ 4.99
JUSTICE LEAGUE #71 CVR A YANICK PAQUETTE & NATHAN FAIRBAIRN $ 4.99
JUSTICE LEAGUE #71 CVR B ALEXANDER LOZANO CARD STOCK VAR $ 5.99
PEACEMAKER DISTURBING THE PEACE #1 (ONE SHOT) CVR A JUAN FERREYRA (MR) $ 5.99
PEACEMAKER DISTURBING THE PEACE #1 (ONE SHOT) CVR B GARRY BROWN VAR (MR) $ 5.99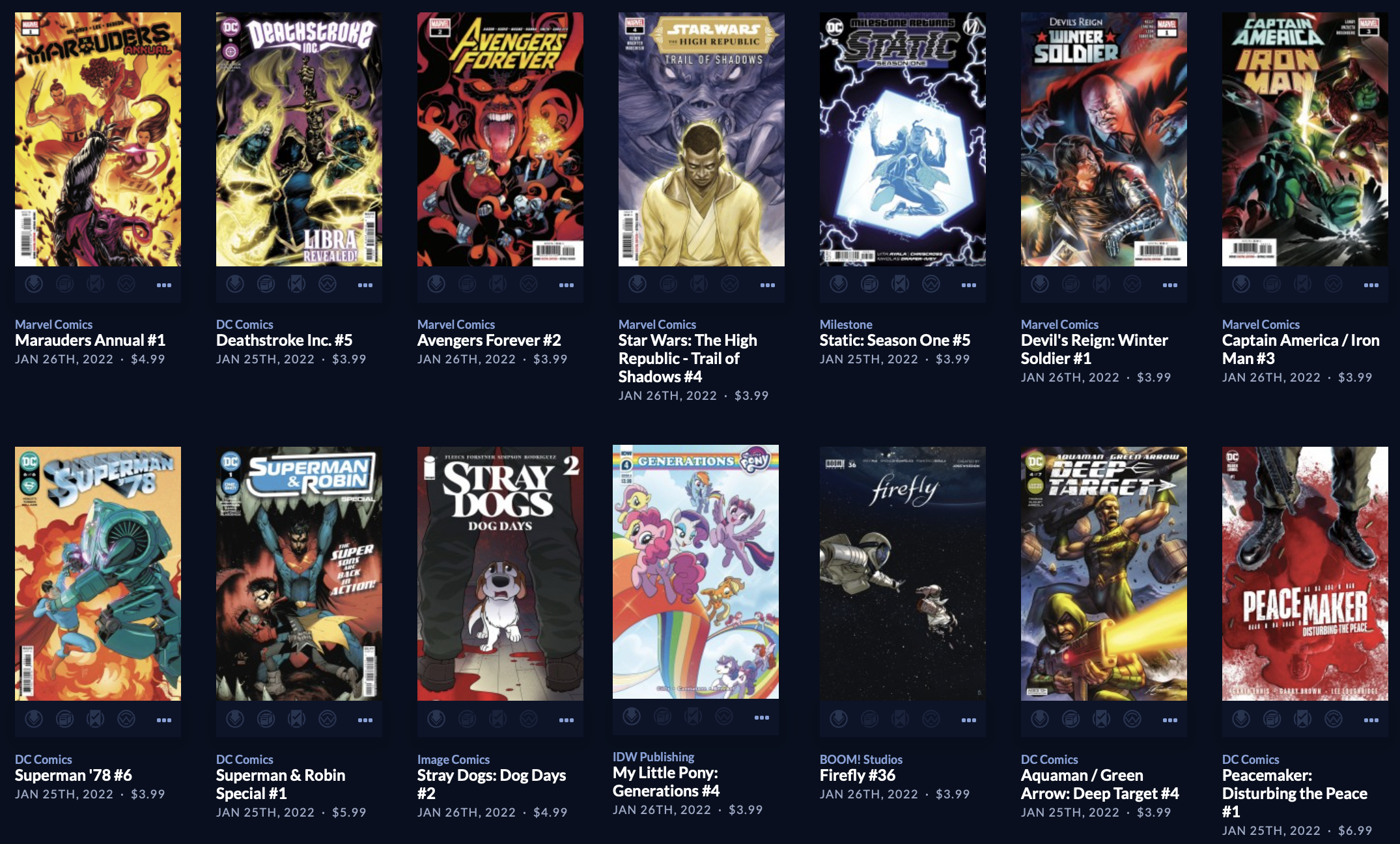 ROBIN #10 CVR A SIMONE DI MEO $ 3.99
ROBIN #10 CVR B FRANCIS MANAPUL CARD STOCK VAR $ 4.99
STATIC SEASON ONE #5 (OF 6) CVR A KHARY RANDOLPH $ 3.99
STATIC SEASON ONE #5 (OF 6) CVR B NIKOLAS DRAPER-IVEY CARD STOCK VAR $ 4.99
SUPERMAN & ROBIN SPECIAL #1 (ONE SHOT) CVR A VIKTOR BOGDANOVIC $ 5.99
SUPERMAN & ROBIN SPECIAL #1 (ONE SHOT) CVR B JORGE JIMENEZ CARD STOCK VAR $ 6.99
SUPERMAN 78 #6 (OF 6) CVR A MIKEL JANIN $ 3.99
SUPERMAN 78 #6 (OF 6) CVR B RAFA SANDOVAL CARD STOCK VAR $ 4.99
SWAMP THING GREEN HELL #1 (OF 3) CVR C INC 1:25 FRANCESCO FRANCAVILLA VAR (MR) (Jason) $ ???
TASK FORCE Z #4 CVR A EDDY BARROWS & EBER FERREIRA $ 3.99
TASK FORCE Z #4 CVR B RILEY ROSSMO CARD STOCK VAR $ 4.99
TASK FORCE Z #4 CVR C DAN MORA PEACEMAKER CARD STOCK VAR $ 4.99
TEEN TITANS ACADEMY #11 CVR A RAFA SANDOVAL $ 3.99
TEEN TITANS ACADEMY #11 CVR B FICO OSSIO CARD STOCK VAR $ 4.99
WONDER GIRL #7 CVR A MATTEO SCALERA $ 3.99
WONDER GIRL #7 CVR B JULIAN TOTINO TEDESCO CARD STOCK VAR $ 4.99
ARCHIE MILESTONES JUMBO DIGEST #13 BEST OF 60S $ 8.99
ARMY OF DARKNESS 1979 #5 CVR A MATTINA $ 3.99
ARMY OF DARKNESS 1979 #5 CVR B SUYDAM $ 3.99
ARMY OF DARKNESS 1979 #5 CVR C YOON $ 3.99
BLACK HAMMER REBORN #8 (OF 12) CVR A YARSKY $ 3.99
COWBOY BEBOP #1 CVR A LAU $ 3.99
COWBOY BEBOP #1 CVR B PHOTO $ 3.99
COWBOY BEBOP #1 CVR C IANNICIELLO $ 3.99
COWBOY BEBOP #1 CVR D CHAN $ 3.99
COWBOY BEBOP #1 CVR E LI $ 3.99
COWBOY BEBOP #1 CVR F LAU B&W $ 3.99
COWBOY BEBOP #1 CVR G COLORED BLANK SKETCH $ 3.99
COWBOY BEBOP #1 FOC YOSHITANI VIRGIN $ 3.99
CYBERPUNK 2077 YOU HAVE MY WORD #3 (OF 4) CVR A HERVAS $ 3.99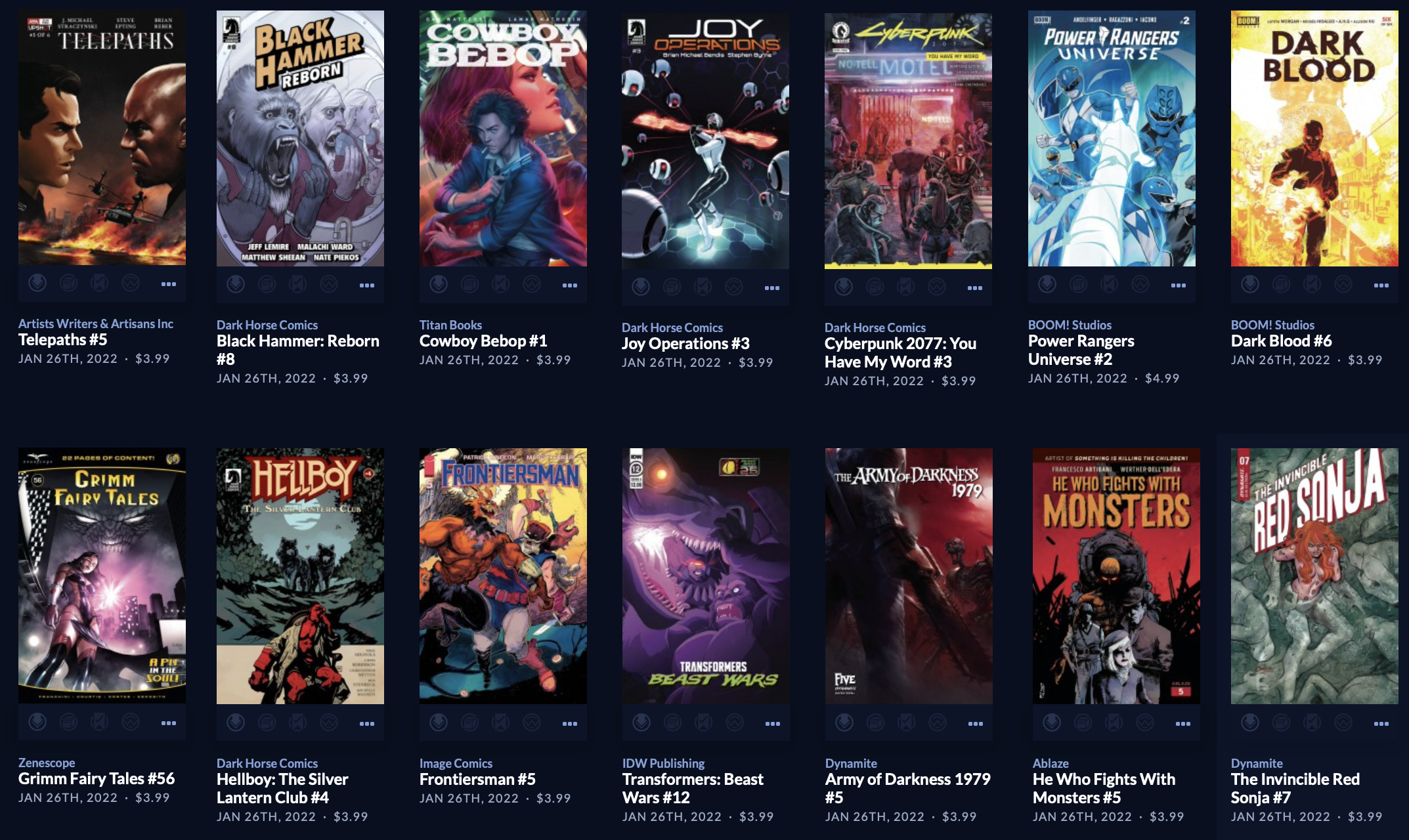 DARK BLOOD #6 (OF 6) CVR A DE LANDRO $ 3.99
DARK BLOOD #6 (OF 6) CVR B BA $ 3.99
DEADLY CLASS #50 CVR A CRAIG (MR) $ 3.99
DEADLY CLASS #50 CVR B FEGREDO (MR) $ 3.99
FIREFLY #36 CVR A BENGAL $ 3.99
FIREFLY #36 CVR B CARPENTER $ 3.99
FIREFLY #36 CVR C 1/10 VARBENGAL $ ???
FRONTIERSMAN #5 (MR) $ 3.99
GETTING DIZZY #3 (OF 4) CVR A MOSCOTE $ 4.99
GETTING DIZZY #3 (OF 4) CVR B MCGEE $ 4.99
GRIMM FAIRY TALES #56 CVR A CHEN $ 3.99
GRIMM FAIRY TALES #56 CVR B VITORINO $ 3.99
GRIMM FAIRY TALES #56 CVR C GARVEY $ 3.99
GRRL SCOUTS STONE GHOST #3 (OF 6) CVR A MAHFOOD (MR) $ 3.99
GUNSLINGER SPAWN #4 CVR A BOOTH $ 2.99
GUNSLINGER SPAWN #4 CVR B MATTINA $ 2.99
HARBINGER (2021) #4 CVR A RODRIGUEZ $ 3.99
HE WHO FIGHTS WITH MONSTERS #5 CVR A DELLEDERA (MR) $ 3.99
HELLBOY SILVER LANTERN CLUB #4 (OF 5) $ 3.99
HOUSE OF SLAUGHTER #4 CVR A SHEHAN $ 3.99
HOUSE OF SLAUGHTER #4 CVR B DELL EDERA $ 3.99
HOUSE OF SLAUGHTER #4 CVR C BLANK SKETCH VAR $ 3.99
ICE CREAM MAN #28 CVR A MORAZZO & OHALLORAN (MR) $ 3.99
ICE CREAM MAN #28 CVR B ECKMAN-LAWN (MR) $ 3.99
INVINCIBLE RED SONJA #7 CVR B LINSNER $ 3.99
INVINCIBLE RED SONJA #7 CVR C CELINA $ 3.99
INVINCIBLE RED SONJA #7 CVR E COSPLAY $ 3.99
INVINCIBLE RED SONJA #7 CVR N FOC MCFARLANE HOMAGE BIGGS ORI $ 3.99
JOY OPERATIONS #3 (OF 5) CVR A BYRNE $ 3.99
JOY OPERATIONS #3 (OF 5) CVR B SHALVEY $ 3.99
MONSTRESS #36 (MR) $ 3.99
MY LITTLE PONY GENERATIONS #4 CVR A CACCIATORE $ 3.99
MY LITTLE PONY GENERATIONS #4 CVR C 1/10 VARWHITTEN $ ???
ONCE & FUTURE #24 CVR A MORA $ 3.99
POWER RANGERS UNIVERSE #2 (OF 6) CVR A MORA $ 4.99
SAGA #55 (MR) $ 2.99
SAGA #55 (MR) (30 % free copies) $ 2.99
SHEENA QUEEN JUNGLE #3 CVR A PARRILLO $ 3.99
SHEENA QUEEN JUNGLE #3 CVR B BESCH $ 3.99
SHEENA QUEEN JUNGLE #3 CVR C SUYDAM $ 3.99
SHEENA QUEEN JUNGLE #3 CVR E COSPLAY $ 3.99
SLEEPING BEAUTIES #9 (OF 10) CVR A ABIGAIL HARDING $ 3.99
SOMETHING IS KILLING THE CHILDREN SLAUGHTER PACK (BUNDLE) #1 $ 39.99
SPACE BASTARDS SPECIAL DELIVERY (MR) $ 7.99
STRAY DOGS DOG DAYS #2 (OF 2) CVR A FORSTNER & FLEECS $ 4.99
STRAY DOGS DOG DAYS #2 (OF 2) CVR B HORROR MOVIE VAR $ 4.99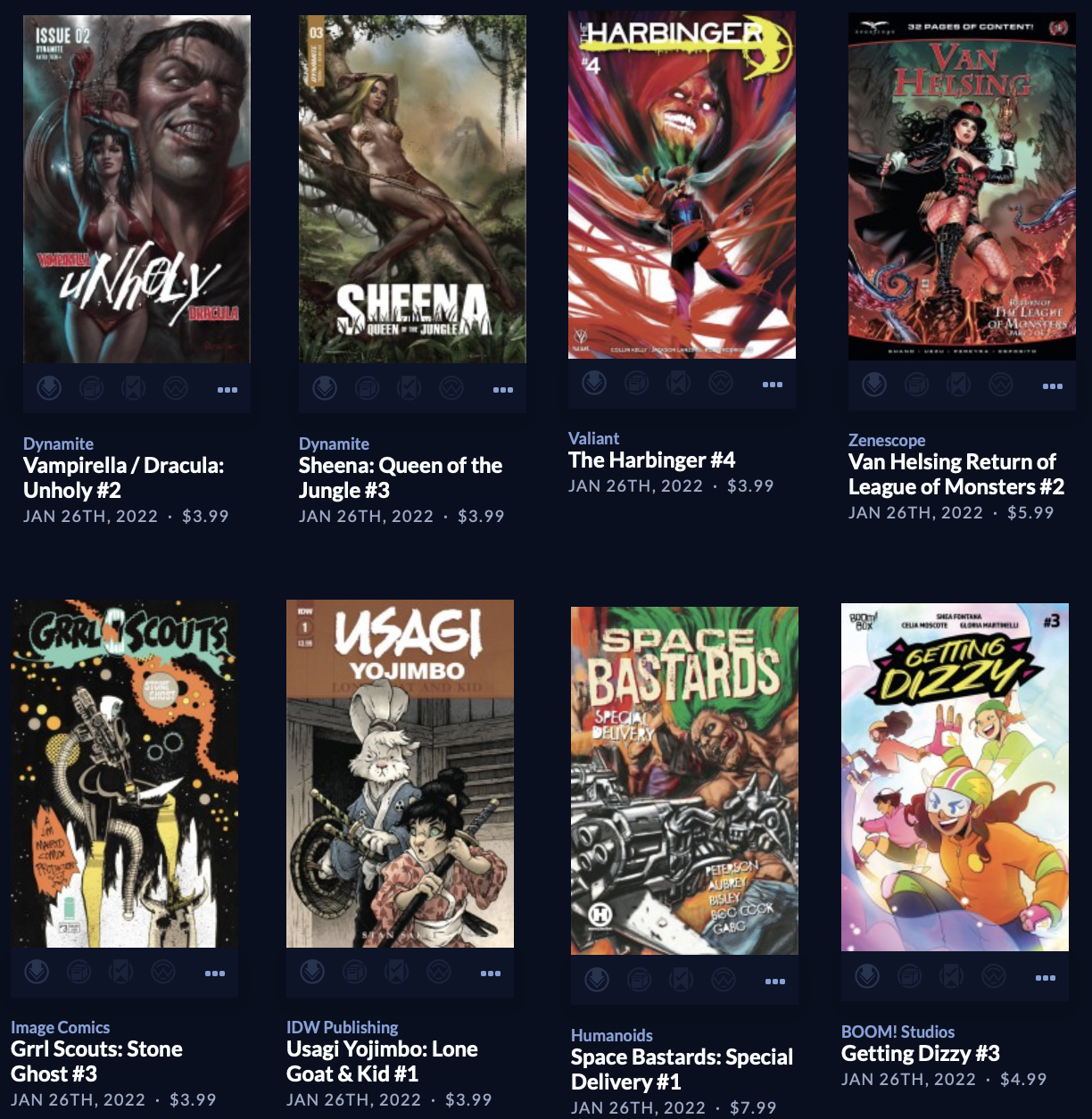 TELEPATHS #5 (OF 6) $ 3.99
TRANSFORMERS BEAST WARS #12 CVR A YURCABA $ 3.99
TWO MOONS #9 CVR A GIANGIORDANO & NIRO (MR) $ 3.99
TWO MOONS #9 CVR B FIUMARA (MR) $ 3.99
USAGI YOJIMBO LONE GOAT & KID #1 $ 3.99
VAMPIRELLA DRACULA UNHOLY #2 CVR A PARRILLO $ 3.99
VAMPIRELLA DRACULA UNHOLY #2 CVR B BESCH $ 3.99
VAMPIRELLA DRACULA UNHOLY #2 CVR C MAER $ 3.99
VAMPIRELLA DRACULA UNHOLY #2 CVR D ARTGERM $ 3.99
VAMPIRELLA DRACULA UNHOLY #2 CVR E COSPLAY $ 3.99
VAMPIRELLA DRACULA UNHOLY #2 CVR T 1/11 VAR FOC MOMOKO $ ???
VAMPIRELLA DRACULA UNHOLY #2 CVR U 1/20 VAR FOC MOMOKO $ ???
VAN HELSING RETURN OF LEAGUE OF MONSTERS #2 CVR A KROME $ 5.99
VAN HELSING RETURN OF LEAGUE OF MONSTERS #2 CVR B VITORINO $ 5.99
VAN HELSING RETURN OF LEAGUE OF MONSTERS #2 CVR C ANACLETO $ 5.99
PREVIEWS #401 FEBRUARY 2022 $3.99
DC CONNECT #21 $ FREE
MARVEL PREVIEWS VOL 06 #5 FEBRUARY 2022 $ FREE
Marvels
AMAZING SPIDER-MAN #87 $ 3.99
AMAZING SPIDER-MAN #87 SMITH VAR $ 3.99
AVENGERS FOREVER #2 $ 3.99
AVENGERS FOREVER #2 DAUTERMAN VAR $ 3.99
BLACK PANTHER #3 $ 5.99
BLACK PANTHER #3 CLARKE VAR $ 5.99
BLACK PANTHER #3 FRANK VAR $ 5.99
CAPTAIN AMERICA IRON MAN #3 (OF 5) $ 3.99
CAPTAIN AMERICA IRON MAN #3 (OF 5) TAN CLASSIC HOMAGE VAR $ 3.99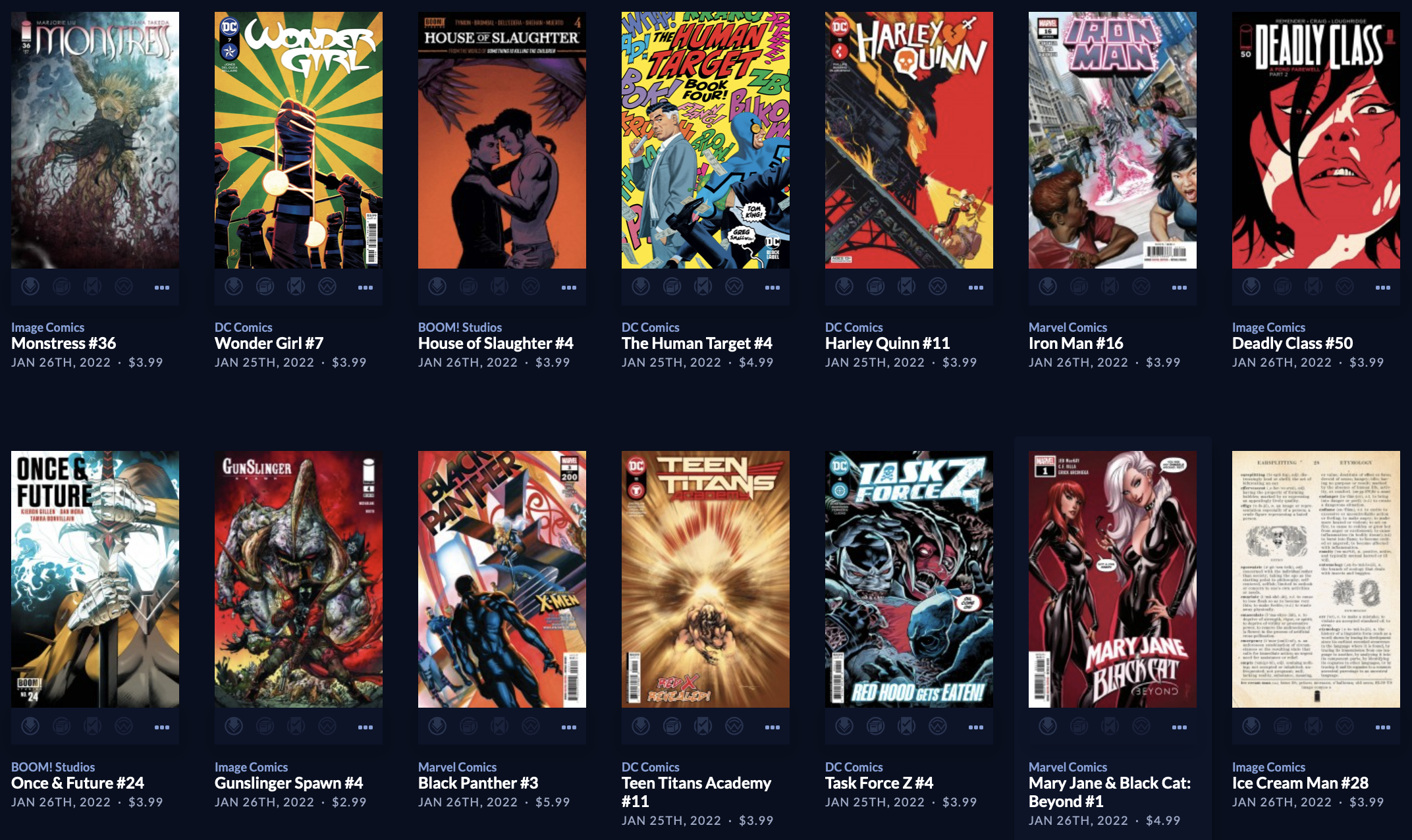 DAREDEVIL WOMAN WITHOUT FEAR #1 (OF 3) HITCH VAR $ 4.99
DEATH OF DOCTOR STRANGE #5 (OF 5) $ 3.99
DEATH OF DOCTOR STRANGE #5 (OF 5) LOPEZ VAR $ 3.99
DEATH OF DOCTOR STRANGE #5 (OF 5) MOONEY CLASSIC HOMAGE VAR $ 3.99
DEVILS REIGN #3 (OF 6) $ 4.99
DEVILS REIGN #3 (OF 6) BAGLEY CONNECTING VAR $ 4.99
DEVILS REIGN #3 (OF 6) CHEUNG HEADSHOT SKETCH VAR $ 4.99
DEVILS REIGN WINTER SOLDIER #1 $ 4.99
DEVILS REIGN WINTER SOLDIER #1 OKAZAKI VAR $ 4.99
IRON MAN #16 $ 3.99
IRON MAN #16 WOODS CLASSIC HOMAGE VAR $ 3.99
MARAUDERS ANNUAL #1 $ 4.99
MARAUDERS ANNUAL #1 LUPACCHINO VAR $ 4.99
MARY JANE BLACK CAT BEYOND #1 $ 4.99
MARY JANE BLACK CAT BEYOND #1 HUGHES VAR (1/50) $ ???
MARY JANE BLACK CAT BEYOND #1 JIMENEZ VAR $ 4.99
MARY JANE BLACK CAT BEYOND #1 MOMOKO VAR $ 4.99
MARY JANE BLACK CAT BEYOND #1 RAMOS VAR $ 4.99
MARY JANE BLACK CAT BEYOND #1 VILLA VAR $ 4.99
MARY JANE BLACK CAT BEYOND #1 ZITRO VAR (1/25) $ ???
STAR WARS #20 $ 3.99
STAR WARS HIGH REPUBLIC TRAIL SHADOWS #4 (OF 5) $ 3.99
STAR WARS HIGH REPUBLIC TRAIL SHADOWS #4 (OF 5) FERRY VAR $ 3.99
STAR WARS HIGH REPUBLIC TRAIL SHADOWS #4 (OF 5) WIJNGAARD VA (1/25) $ ???
THOR #21 $ 3.99
THOR #21 CHEUNG HEADSHOT SKETCH VAR $ 3.99
THOR #21 CREEES LEE CLASSIC HOMAGE VAR $ 3.99
THOR #21 KLEIN VAR (1/25) $ ???
X DEATHS OF WOLVERINE #1 $ 5.99
X DEATHS OF WOLVERINE #1 ASRAR VAR (1/50) $ ???
X DEATHS OF WOLVERINE #1 BAGLEY TRADING CARD VAR $ 5.99
X DEATHS OF WOLVERINE #1 CABAL STORMBREAKERS VAR $ 5.99
X DEATHS OF WOLVERINE #1 GARCIN VAR $ 5.99
X DEATHS OF WOLVERINE #1 HANS VAR $ 5.99
X DEATHS OF WOLVERINE #1 JURGENS VAR $ 5.99
X DEATHS OF WOLVERINE #1 KUBERT OMEGA WOLVERINE SPOILER VAR $ 5.99
X DEATHS OF WOLVERINE #1 PAREL VAR $ 5.99
X DEATHS OF WOLVERINE #1 YAGAWA ANIME STYLE VAR (1/25) $ ???
X-MEN #7 $ 3.99
X-MEN #7 CHEUNG HEADSHOT SKETCH VAR $ 3.99
X-MEN #7 DAUTERMAN NEW LINEUP TRADING CARD VAR $ 3.99
ALTER EGO #173 $ 10.95
BACK ISSUE #132 $ 9.95
COMIC SHOP NEWS #1797 $ FREE
ALL STAR SUPERMAN THE DELUXE EDITION HC $ 34.99
BLADE RUNNER 2029 TP VOL 02 ECHOES $ 17.99
BUFFY THE VAMPIRE SLAYER TP VOL 08 $ 14.99
CRISIS ON MULTIPLE EARTHS TP BOOK 02 CRISIS CROSSED $ 39.99
CRUEL SUMMER TP (MR) $ 24.99
FLASH BY GEOFF JOHNS OMNIBUS HC VOL 03 $ 99.99
GARFIELD CAT SHOW LITTLE GOLDEN BOOK $ 5.99
GEN 13 STARTING OVER THE DELUXE EDITION HC $ 49.99
INVADER ZIM BEST OF SKOOL GN $ 9.99
JOJOS BIZARRE ADVENTURE MANGAS REFINED ODDBALL HC $ 39.95
MADE IN KOREA TP (MR) $ 16.99
MILO MANARAS THE GOLDEN ASS (MR) $ 24.99
MISTER MIRACLE THE GREAT ESCAPE TP $ 16.99
MY LITTLE PONY FRIENDSHIP IS MAGIC SEASON 10 TP VOL 02 $ 17.99
OWLY COLOR ED GN VOL 04 TIME TO BE BRAVE $ 10.99
PS ARTBOOKS CLASSIC ADVENTURE COMICS SOFTEE VOL 01 $ 24.99
SEVEN DEADLY SINS FOUR KNIGHTS OF APOCALYPSE GN $ 10.99
SONIC THE HEDGEHOG TP VOL 09 CHAO RACES & BADNIK BASES $ 15.99
STAR WARS ADVENTURES WEAPON OF A JEDI GN $ 9.99
TEEN TITANS GO DC SUPER HERO GIRLS EXCHANGE STUDENTS TP $ 9.99
USAGI YOJIMBO ORIGINS TP VOL 02 WANDERERS ROAD $ 19.99
USAGI YOJIMBO ORIGINS TP VOL 02 WANDERERS ROAD $ 19.99
WINGS OF FIRE SC GN VOL 05 BRIGHTEST NIGHT $ 12.99
WYNONNA EARP ALL IN TP $ 39.99
DEMON SLAYER KIMETSU DEMON SERIES V3 ENMU FIG $ 24.99
DRAGONBALL Z SER02 24PC 3D FOAM BAG CLIP BMB DS $ 6.99
FRIENDS SER03 24PC 3D FOAM BAG CLIP BMB DS $ 6.99
LF POP PINS LPP MARVEL XMEN ROGUE $ 15.99
LF POP PINS LPP MARVEL XMEN WOLVERINE W/ CHASE GROUP $ 15.99
MARVEL AVENGERS WHAT IF 24PC 3D FOAM BAG CLIP BMB DS $ 6.99
MARVEL CONTEST OF CHAMPIONS THANOS 1:10 SCALE PVC STATUE $ 39
ONE PIECE WANO COUNTRY KAISOUHEN 2 COLL 12PC BMB FIG ASST $ 9.99
ONE PIECE WORLD COLLECTIBLE NEW SER 1 12PC BMB FIG ASST $ 9.99
POCKET POP TCM LEATHERFACE CLASSIC KEYCHAIN $ 4.99
POP & BUDDY MARVEL X-MEN KATE PRYDE W/LOCKHEED PX VIN FIG $ ???
POP AD ICONS PAN AM STEWARDESS WITHOUT BAG VINYL FIG $ 11.99
POP ANIMATION JOHNNY BRAVO JOHNNY W /MIRROR & COM VINYL FIG $ 11.99
POP ANIMATION POWERPUFF GIRLS FUZZY LUMPKINS VINYL FIG $ 11.99
POP COMICS TMNT DONATELLO PX VINYL FIGURE W/B&W CHASE $ ???
POP DISNEY MONSTERS INC 20TH SULLEY W/ LID VINYL FIG $ 11.99
POP HEROES BC AWARENESS BOMBSHELL SUPERGIRL VINYL FIG $ 11.99
POP HEROES WONDER WOMAN 80TH WW SUPERMAN RED SON VIN FIG $ 11.99
POP MARVEL HOLIDAY IRON MAN VIN FIG $ 11.99
POP MARVEL HOLIDAY SCARLET WITCH VINYL FIG $ 11.99
POP MARVEL HOLIDAY SPIDER MAN VIN FIG $ 11.99
POP MARVEL HOLIDAY THOR VIN FIG $ 11.99
POP MARVEL SPIDER-MAN NO WAY HOME SPIDER-MAN BLACK&GOLD FIG $ 11.99
POP NBA LAKERS ANTHONY DAVIS PURPLE JERSEY VIN FIG $ 11.99
POP NFL BENGALS JOE BURROW HOME UNIFORM VIN FIG $ 11.99
POP NFL BUCS TOM BRADY HOME UNIFORM VIN FIG $ 11.99
STAR WARS MANDALORIAN SER02 24PC 3D FOAM BAG CLIP BMB DS $ 6.99
VINYL SODA NBX BARREL W/ CHASE $ 13.99