And Now We Are Whole – Betsy Braddock Is Here – Wednesday, March 1st, 2023
Not really picking on Betsy for yucks, She's just near the top of the list. Last week's Marvels found us and caught up with this week's pile, so there are a lot. Of Marvels. DC is normal, but many of the Others took the week off, so there's room at the bottom. Since Bob will be putting the late Marvels on the bottom two shelves on the wall, I'm going to arrange the list here in that fashion,  to help the ONE person who used this list to decide how many pennies to drag along. So, probably, for this week only, the List will start with Current Marvels, followed by the Wall from top to bottom, DC's, Others, Last Week's Marvels, Books, other stuff, and Toys. If all you want is Marvels, start scrolling. Small toy week, so good timing for the extra work on half of last week's books!  Nothing on any list is slapping me for attention, so that's it.
And now I find the headline isn't true, Just like Fox News.
Apparently, some other titles fell into the same black hole as last week's Marvels. They're just spread out all over the place and often "late" anyway, so not as noticeable.  They will also straggle in over the next couple weeks, and the pictures won't be there as much. Ehh? What can you do?
We are still encouraging and welcoming masks, but not requiring them. You are only in our enclosed space for minutes, but Bob is there all day. We still need to be careful, people. I am going to talk to the one person reading this. We have put a TON of effort into clearing out the aisles and getting things in order, especially the books and Pops. Please tell Bob you appreciate how the store looks and feels. And help us keep them in order.
Thanks to League Of Comic Geeks for this week's images, which are in some unusual, non-alphabetical order, and 8 across. So it's a somewhat random sample. I'll keep searching. Use the list, and MAYBE the pictures will be useful.
Wednesday is still New Comic Day, no matter what you read on the internets. Watch this space and our Facebook page for the latest news about the rest of the month, season, year, millennium, etc. (And text messages from 5-Star.) The complete list is found below. If you want to know about the next sale or store event, or whether or not WE ARE EVEN OPEN click here. Sign in here to get an email reminder for ALL sales and other events. Also, you can go to     fb.fantasybooksandgames.com and you'll be taken to our Facebook page. We also use our in-store 5-Star Rewards system to text similar announcements to your phone.
Marvel Comics Arriving March 1
CAPTAIN AMERICA SENTINEL OF LIBERTY #10 $ 3.99
CAPTAIN AMERICA SENTINEL OF LIBERTY #10 MACK VAR $ 3.99
COSMIC GHOST RIDER #1 $ 4.99
COSMIC GHOST RIDER #1 NAUCK HEADSHOT VAR $ 4.99
COSMIC GHOST RIDER #1 SMITH HOWARD THE DUCK VAR $ 4.99
COSMIC GHOST RIDER #1 STEGMAN VAR $ 4.99
GHOST RIDER #12 $ 3.99
GHOST RIDER #12 RAPOZA VAR $ 3.99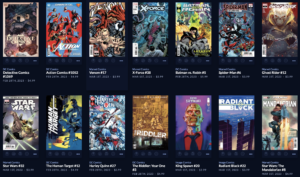 HALLOWS EVE #1 $ 3.99
HALLOWS EVE #1 1/100 VAR ROSS GREEN GOBLIN VIR SKETCH $ ???
HALLOWS EVE #1 ALLEN STORMBREAKER VAR $ 3.99
HALLOWS EVE #1 ARTGERM VAR $ 3.99
HALLOWS EVE #1 BESCH VAR $ 3.99
HALLOWS EVE #1 ROSS TIMELESS GREEN GOBLIN VIRGIN VAR $ 3.99
HALLOWS EVE #1 STEPHANIE HANS VAR $ 3.99
I AM IRON MAN #1 $ 3.99
I AM IRON MAN #1 WOODS VAR $ 3.99
INVINCIBLE IRON MAN #2 2ND PTG JUAN FRIGERI VAR $ 3.99
JOE FIXIT #1 (OF 5) 2ND PTG YILDIRAY CINAR VAR $ 3.99
MARY JANE AND BLACK CAT #2 (OF 5) 2ND PTG CAMPBELL VAR $ 3.99
MILES MORALES SPIDER-MAN #2 2ND PTG FEDERICO VICENTINI VAR $ 3.99
MURDERWORLD GAME OVER #1 $ 3.99
MURDERWORLD GAME OVER #1 GONZALES VAR $ 3.99
ROGUE AND GAMBIT #1 $ 3.99
ROGUE AND GAMBIT #1 !/25 VAR ORZU VAR $ ???
ROGUE AND GAMBIT #1 ASPINALL PULP VAR $ 3.99
ROGUE AND GAMBIT #1 ROSS TIMELESS MYSTIQUE VIRGIN VAR $ 3.99
ROGUE AND GAMBIT #1 WERNECK STORMBREAKER VAR $ 3.99
SPIDER-MAN #6 $ 3.99
SPIDER-MAN #6 GOMEZ VAR $ 3.99
SPIDER-GWEN SHADOW CLONES #1 $ 4.99
SPIDER-GWEN SHADOW CLONES #1 1/10 VAR MOMOKO DESIGN VAR $ ???
SPIDER-GWEN SHADOW CLONES #1 BENGAL VAR $ 4.99
SPIDER-GWEN SHADOW CLONES #1 CASAGRANDE WOMEN OF MARVEL VAR $ 4.99
SPIDER-GWEN SHADOW CLONES #1 LAND VAR $ 4.99
SPIDER-GWEN SHADOW CLONES #1 PINK BLANK VAR $ 4.99
SPIDER-GWEN SHADOW CLONES #1 VILLA STORMBREAKER VAR $ 4.99
SPIDER-MAN UNFORGIVEN #1 $ 4.99
SPIDER-MAN UNFORGIVEN #1 KLEIN STORMBREAKER VAR $ 4.99
SPIDER-MAN UNFORGIVEN #1 KLEIN VAR $ 4.99
STAR WARS #32 $ 3.99
STAR WARS #32 !/25 VAR ROSS VAR $ ???
STAR WARS #32 CHRISTOPHER ACTION FIGURE VAR $ 3.99
STAR WARS #32 MOMOKO WOMANS HISTORY MONTH VAR $ 3.99
STAR WARS #32 SPROUSE RETURN JEDI 40TH ANNIVERSARY VAR $ 3.99
STAR WARS HAN SOLO CHEWBACCA #10 $ 3.99
STAR WARS HAN SOLO CHEWBACCA #10 CUMMINGS VAR $ 3.99
STAR WARS HAN SOLO CHEWBACCA #10 MOMOKO WOMENS HISTORY MONTH $ 3.99
STAR WARS HIDDEN EMPIRE #4 (OF 5) $ 3.99
STAR WARS HIDDEN EMPIRE #4 (OF 5) !/25 VAR LOPEZ VAR $ ???
STAR WARS HIDDEN EMPIRE #4 (OF 5) CUMMINGS CONNECTING VAR $ 3.99
STAR WARS HIDDEN EMPIRE #4 (OF 5) SHALVEY BATTLE VAR $ 3.99
STAR WARS HIDDEN EMPIRE #4 (OF 5) WOMANS HISTORY MONTH VAR $ 3.99
STAR WARS HIGH REPUBLIC BLADE #3 (OF 4) $ 3.99
STAR WARS HIGH REPUBLIC BLADE #3 (OF 4) !/25 VAR YU VAR $ ???
STAR WARS HIGH REPUBLIC BLADE #3 (OF 4) GIANGIORDANO VAR $ 3.99
STAR WARS MANDALORIAN #8 $ 4.99
STAR WARS MANDALORIAN #8 !/25 VAR ASRAR VAR $ ???
STAR WARS MANDALORIAN #8 !/50 VAR DODSON VAR $ ???
STAR WARS MANDALORIAN #8 CONCEPT ART VAR $ 4.99
STAR WARS MANDALORIAN #8 MANHANINI BLACK HISTORY MONTH VAR $ 4.99
VENOM #17 $ 3.99
VENOM #17 PANOSIAN VAR $ 3.99
X-FORCE #38 $ 3.99
X-FORCE #38 NAUCK VAR $ 3.99
DC Comics Arriving March 1st
ACTION COMICS #1051 Second Printing $ 4.99
ACTION COMICS #1052 CVR A STEVE BEACH $ 4.99
ACTION COMICS #1052 CVR B CLAYTON HENRY & MAIOLO CD STK VAR $ 5.99
ACTION COMICS #1052 CVR C RAFA SANDOVAL & HERMS CD STK VAR $ 5.99
ACTION COMICS #1052 CVR D LEE WEEKS CD STK VAR $ 5.99
ACTION COMICS #1052 CVR E KHARY RANDOLPH BLACK HIST MO CD STK VAR $ 5.99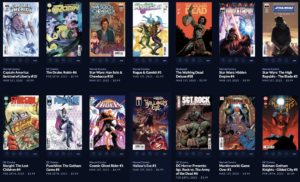 BATMAN GOTHAM KNIGHTS GILDED CITY #5 (OF 6) CVR A CAPULLO $ 4.99
BATMAN GOTHAM KNIGHTS GILDED CITY #5 (OF 6) CVR B TEMPLESMITH CD STK VAR $ 5.99
BATMAN GOTHAM KNIGHTS GILDED CITY #5 (OF 6) CVR C VID GM CD STK VAR $ 5.99
BATMAN SUPERMAN WORLDS FINEST #11 Second Printing $ 4.99
BATMAN THE AUDIO ADVENTURES #5 (OF 7) CVR A JOHNSON $ 3.99
BATMAN THE AUDIO ADVENTURES #5 (OF 7) CVR B ALLRED CD STK VAR $ 4.99
BATMAN VS ROBIN #5 (OF 5) CVR A ASRAR (LAZARUS PLANET) $ 5.99
BATMAN VS ROBIN #5 (OF 5) CVR B JONES CD STK VAR (LAZARUS PLANET) $ 6.99
BATMAN VS ROBIN #5 (OF 5) CVR C SANDOVAL CD STK VAR (LAZARUS PLANET) $ 6.99
BLUE BEETLE GRADUATION DAY #4 (OF 6) CVR A GUTIERREZ $ 3.99
BLUE BEETLE GRADUATION DAY #4 (OF 6) CVR B ACUNA CD STK VAR $ 4.99
DC PRES SGT ROCK V ARMY / DEAD #6 (OF 6) CVR A GARY FRANK (MR) $ 3.99
DC PRES SGT ROCK V ARMY / DEAD #6 (OF 6) CVR B FRANCAVILLA CD STK VAR (MR) $ 4.99
DC PRES SGT ROCK V ARMY / DEAD #6 (OF 6) CVR C INC 1:25 TORQUE CD STK VAR (MR) $ ???
DC RWBY #1 (OF 7) CVR A MEGHAN HETRICK $ 3.99
DC RWBY #1 (OF 7) CVR B MIRKA ANDOLFO CD STK VAR $ 4.99
DETECTIVE COMICS #1069 CVR A EVAN CAGLE $ 4.99
DETECTIVE COMICS #1069 CVR B JH WILLIAMS III CD STK VAR $ 5.99
DETECTIVE COMICS #1069 CVR C IVAN REIS CD STK VAR $ 5.99
DETECTIVE COMICS #1069 CVR D INC 1:25 DORAN CD STK VAR $ ???
HARLEY QUINN #27 CVR A JONBOY MEYERS $ 3.99
HARLEY QUINN #27 CVR B ALEX GARNER CD STK VAR $ 4.99
HARLEY QUINN #27 CVR C JENNY FRISON CD STK VAR $ 4.99
HARLEY QUINN #27 CVR D INC 1:25 BEN OLIVER CD STK VAR $ ???
HARLEY QUINN #27 CVR F MATTEO LOLLI CD STK VAR $ 4.99
HUMAN TARGET #12 (OF 12) CVR A GREG SMALLWOOD (MR) $ 4.99
HUMAN TARGET #12 (OF 12) CVR B DAVID NAKAYAMA VAR (MR) $ 4.99
HUMAN TARGET #12 (OF 12) CVR C INC 1:25 JORGE MOLINA VAR (MR) $ ???
PUNCHLINE THE GOTHAM GAME #5 (OF 6) CVR A GLEB MELNIKOV $ 3.99
PUNCHLINE THE GOTHAM GAME #5 (OF 6) CVR B DERRICK CHEW CD STK VAR $ 4.99
PUNCHLINE THE GOTHAM GAME #5 (OF 6) CVR C CRYSTAL KUNG CD STK VAR $ 4.99
RIDDLER YEAR ONE #2 (OF 6) CVR A BILL SIENKIEWICZ (MR) $ 4.99
RIDDLER YEAR ONE #3 (OF 6) CVR A BILL SIENKIEWICZ (MR) $ 4.99
RIDDLER YEAR ONE #3 (OF 6) CVR B STEVAN SUBIC VAR (MR) $ 4.99
RIDDLER YEAR ONE #3 (OF 6) CVR C BEN OLIVER VAR (MR) $ 4.99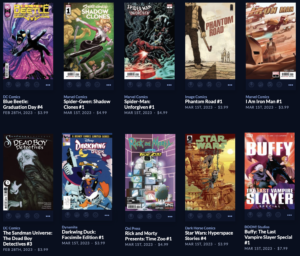 SANDMAN UNIV DEAD BOY DETECTIVES #3 (OF 6) CVR A MALAVIA (MR) $ 3.99
SANDMAN UNIV DEAD BOY DETECTIVES #3 (OF 6) CVR B ECKMAN-LAWN CD STK VAR (MR) $ 4.99
SHAZAM FURY / GODS SPEC SHAZAMILY MATTERS #1 (1-SHOT) CVR A LEE & WILLIAMS $ 9.99
SHAZAM FURY / GODS SPEC SHAZAMILY MATTERS #1 (1-SHOT) CVR D PHOTO VAR $ 9.99
STARGIRL THE LOST CHILDREN #4 (OF 6) CVR A TODD NAUCK $ 3.99
STARGIRL THE LOST CHILDREN #4 (OF 6) CVR B MARIA LAURA SANAPO CD STK VAR $ 4.99
TIM DRAKE ROBIN #6 CVR A RICARDO LOPEZ ORTIZ $ 3.99
TIM DRAKE ROBIN #6 CVR B DAN MORA CD STK VAR $ 4.99
WONDER WOMAN HISTORIA THE AMAZONS #3 (OF 3) CVR A NICOLA SCOTT (MR) $ 7.99
Other Comics Arriving March 1st Retail $
BUFFY THE LAST VAMPIRE SLAYER SPECIAL #1 CVR A ANINDITO $ 7.99
CASTLE FULL OF BLACKBIRDS #4 (OF 4) CVR A BECKERT $ 3.99
DARKWING DUCK #1 CVR A FACSIMILE $ 3.99
DARKWING DUCK #1 CVR C FACSIMILE 1/10 VAR MOORE $ ???
DEAD LUCKY #6 CVR A CARLOMAGNO MV $ 3.99
KING SPAWN #20 CVR A SPEARS $ 2.99
KING SPAWN #20 CVR B TOMASELLI $ 2.99
KING SPAWN #20 CVR C BLANK SKETCH $ 2.99
KOSHCHEI IN HELL #3 (OF 4) $ 3.99
MY LITTLE PONY CLASSICS REIMAGINED LITTLE FILLIES #4 CVR A ( $ 3.99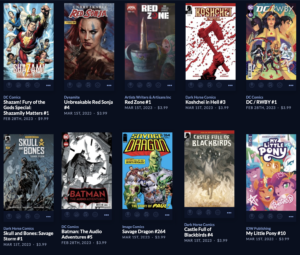 PHANTOM ROAD #1 CVR A WALTA (MR) $ 3.99
PHANTOM ROAD #1 CVR B LEMIRE (MR) $ 3.99
RADIANT BLACK #22 CVR A FERIGATO MV $ 3.99
RADIANT BLACK #22 CVR B MANNA MV $ 3.99
RED ZONE #1 (OF 4) CVR A RAHZZAH (NET) (MR) $ 1.59
RED ZONE #1 (OF 4) CVR B DEODATO JR (NET) (MR) $ 1.59
RICK AND MORTY PRESENTS TIME ZOO #1 CVR A MURPHY $ 4.99
RICK AND MORTY PRESENTS TIME ZOO #1 CVR B FRIDOLFS $ 4.99
SAGA #61 2ND PTG (MR) $ 3.99
SAVAGE DRAGON #264 CVR A LARSEN (RES) (MR) $ 3.99
SAVAGE DRAGON #264 CVR B RETRO 70S TRADE DRESS (RES) (MR) $ 3.99
SKULL & BONES #1 (OF 3) (RES) $ 3.99
STAR WARS HYPERSPACE STORIES #4 (OF 12) CVR A $ 3.99
STAR WARS HYPERSPACE STORIES #4 (OF 12) CVR B NORD $ 3.99
UNBREAKABLE RED SONJA #4 CVR A PARRILLO $ 3.99
UNBREAKABLE RED SONJA #4 CVR B CELINA $ 3.99
UNBREAKABLE RED SONJA #4 CVR E COSPLAY $ 3.99
WALKING DEAD DLX #58 CVR A FINCH & MCCAIG (MR) $ 3.99
Marvel Comics Scheduled for Feb 22 but arrived 3/1
Amazing Spider-Man 129 Facsimile $ 3.99
Amazing Spider-Man 20 $ 3.99
Amazing Spider-Man 20 Bazaldua $ 3.99
Amazing Spider-Man 20 Lupacchino $ 3.99
Betsy Braddock Captain Britain 1 $ 4.99
Betsy Braddock Captain Britain 1 D'Urso $ 4.99
Betsy Braddock Captain Britain 1 Momoko $ 4.99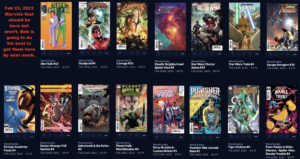 Carnage 10 $ 3.99
Carnage 10 Von Eeden $ 3.99
Deadpool 4 $ 3.99
Deadpool 4 Klein $ 3.99
Deadpool 4 McKone $ 3.99
Deadpool 4 Nauck $ 3.99
Deadly Neighborhood Spider-Man 5 $ 3.99
Doctor Strange Fall Sunrise 4 $ 4.99
Doctor Strange Fall Sunrise 4 $ 4.99
Immoral X-Men 1 $ 4.99
Immoral X-Men 1 Brooks $ 4.99
Immoral X-Men 1 Connecting $ 4.99
Immoral X-Men 1 Noto $ 4.99
Marvel Previews $ FREE
Parker Miles Spider-Man Double Trouble 4 $ 3.99
Parker Miles Spider-Man Double Trouble 4 Fugi $ 3.99
Planet Hulk Worldbreaker 4 $ 3.99
Planet Hulk Worldbreaker 4 Lashley $ 3.99
Punisher War Journal Base 1 $ 4.99
Punisher War Journal Base 1 romero $ 4.99
Sabretooth Exiles 4 $ 3.99
Sabretooth Exiles 4 Okazak $ 3.99
Savage Avengers 10 $ 3.99
Savage Avengers 10 Shaw $ 3.99
She Hulk 10 $ 3.99
She Hulk 10 Talaski $ 3.99
Star Wars Doctor Aphra 29 $ 3.99
Star Wars Doctor Aphra 29 Black History Month $ 3.99
Star Wars Doctor Aphra 29 ROTJ $ 3.99
Star Wars Yoda 4 $ 3.99
Star Wars Yoda 4 Manhanini $ 3.99
Star Wars Yoda 4 Stott $ 3.99
Strange Academy Finals 4 $ 3.99
Strange Academy Finals 4 Weaver $ 3.99
Thor 31 $ 4.99
Thor 31 Asrar $ 4.99
Thor 31 Bradshaw $ 4.99
Thor 31 Momoko $ 4.99
Tiger Division 4 $ 3.99
Tiger Division 4 Momoko $ 3.99
DC Books Arriving March 1st
AQUAMAN & THE FLASH VOIDSONG TP $ 19.99
BATMAN THE IMPOSTER TP $ 19.99
BATMAN YEAR ONE DELUXE SC $ 14.99
DOOM PATROL BY GERARD WAY AND NICK DERINGTON THE DELUXE EDITION HC $ 49.99
FABLES 20TH ANNIVERSARY BOX SET (MR) $ 240
SHAZAM THUNDERCRACK TP $ 9.99
SUPERMAN ACTION COMICS (2021) TP VOL 03 WARWORLD REVOLUTION $ 19.99
Other Books March 1
BIG NATE NAILED IT TP $ 12.99
DEMON SLAYER KIMETSU NO YAIBA ONE-WINGED BUTTERFLY GN $ 10.99
DO A POWERBOMB TP $ 24.99
JOJOS BIZARRE ADV PT 5 GOLDEN WIND HC VOL 07 $ 19.99
MARVEL STUDIOS SPIDER-MAN NO WAY HOME SP HC $ 24.99
ROCKETEER GREAT RACE TP (RES) $ 17.99
URUSEI YATSURA GN VOL 17 (MR) $ 19.99
WE LIVE HC VOL 01 $ 24.99
News on March 1
COMIC SHOP NEWS #1854 $ FREE
Gaming On or Around March 1st
MARVEL HEROCLIX SPIDER-MAN BEYOND PLAY AT HOME PARKER $ 19.99
March 1st Toys
DEMON SLAYER KIMETSU GIYU TOMIOKA SPM FIG $ 27.99
DEMON SLAYER KIMETSU Q-POSKET MUICHIRO TOKITO FIG VER A (NET $ 34.99
DEMON SLAYER KIMETSU ZENITSU AGATSUMA HOLD FIG $ 24.99
FUNKO FIVE NIGHTS AT FREDDYS REVERS HEADS BONNIE 4IN PLUSH ( $ 12.99
LILO & STITCH ANNOYED STITCH VINYL POP FIGURE (NET) $ 16.99
MARVEL GALLERY COMIC DOCTOR OCTOPUS PVC STATUE $ 59.99
NARUTO SHIPPUDEN Q-POSKET KAKASHI HATAKE FIG $ 25.99
NARUTO SHIPPUDEN Q-POSKET MINATO NAMIKAZE FIG VER A (NET) $ 34.99
ONE PIECE SP WORLD COLLECTABLE V1 TBA 12PC BMB DS $ ???
ONE PIECE WCF GREAT PIRATES 100 LANDSCAPES V10 12PC BMB DS ( $ ???
PIXAR WOODY CORE FIG CS (NET) $ ???
POCKET POP MARVEL BLACK PANTHER WF KEYCHAIN MBAKU $ 5.99
POP MARVEL DOCTOR STRANGE MOM DEFENDER STRANGE VIN FIG (NET) $ 12.99
TRANSFORMERS GEN STUDIO SER DLX TF7 BUMBLEBEE AF CS (NET) $ ???
TRANSFORMERS GEN STUDIO SER VOY TF7 BATTLETRAP AF CS (NET) ( $ ???
VINYL SODA UMBRELLA ACADEMY LUTHER W/ CHASE VIN FIG $ 15.99