Under Stormy Skies Again – Wednesday, March 15th, 2023
Just going to ignore the weather and international and domestic intrigue and list some notable titles: Superman Lost, Lazarus somethinfg something,  Shazamily, Bishop War College, Hellcat, Immoral X-Men, Star Wars Yoda, X-Cellent, Brzrkr, Darkwing Duck, Fairyland, and Masterverse.
We are still encouraging and welcoming masks, but not requiring them. You are only in our enclosed space for minutes, but Bob is there all day. We still need to be careful, people. I am going to talk to the one person reading this. We have put a TON of effort into clearing out the aisles and getting things in order, especially the books and Pops. Please tell Bob you appreciate how the store looks and feels. And help us keep them in order.
Thanks to League Of Comic Geeks for this week's images, which are in some unusual, non-alphabetical order, and 8 across. So it's a somewhat random sample. I'll keep searching. Use the list, and MAYBE the pictures will be useful.
Wednesday is still New Comic Day, no matter what you read on the internets. Watch this space and our Facebook page for the latest news about the rest of the month, season, year, millennium, etc. (And text messages from 5-Star.) The complete list is found below. If you want to know about the next sale or store event, or whether or not WE ARE EVEN OPEN click here. Sign in here to get an email reminder for ALL sales and other events. Also, you can go to     fb.fantasybooksandgames.com and you'll be taken to our Facebook page. We also use our in-store 5-Star Rewards system to text similar announcements to your phone.
DC Comics
BATGIRLS #16 CVR A JORGE CORONA $ 3.99
BATGIRLS #16 CVR B DAVID MARQUEZ CD STK VAR $ 4.99
BATGIRLS #16 CVR C 1:25 RODRIGUEZ CD STK VAR $ ???
BATGIRLS #16 CVR D YOSHI INT'L WOMENS DAY CD STK VAR $ 4.99
BATMAN #133 CVR C STANLEY ARTGERM LAU CD STK VAR $ 5.99
BATMAN & SCOOBY-DOO MYSTERIES #6 $ 2.99
BATMAN & JOKER DEADLY DUO ENEMY OF MY ENEMY ED (MR) $ 8.99
BATMAN INCORPORATED #6 CVR A IMMS $ 3.99
BATMAN INCORPORATED #6 CVR B MOLINA CD STK VAR $ 4.99
BATMAN ADVENTURES CONT SEAS 3 #3 (OF 7) CVR A RIVAS $ 3.99
BATMAN ADVENTURES CONT SEAS 3 #3 (OF 7) CVR B SCALERA CD STK VAR $ 4.99
BATMAN ADVENTURES CONT SEAS 3 #3 (OF 7) CVR D 1:25 SHERMAN TITLE CARD CD STK VAR $ ???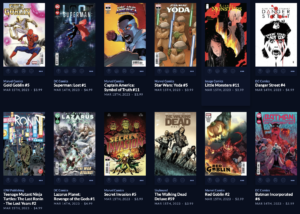 DANGER STREET #4 (OF 12) CVR A JORGE FORNES (MR) $ 4.99
DANGER STREET #4 (OF 12) CVR B JOELLE JONES CD STK VAR (MR) $ 5.99
DC POWER A CELEBRATION #1 (1-SHOT) Second Printing $ 9.99
FLASH #794 CVR A TAURIN CLARKE (1-MINUTE WAR) $ 3.99
GCPD THE BLUE WALL #5 (OF 6) CVR B FORNES CD STK VAR $ 4.99
JUSTICE SOCIETY OF AMERICA #3 (OF 12) CVR A JANIN $ 3.99
JUSTICE SOCIETY OF AMERICA #3 (OF 12) CVR B PAQUETTE CD STK VAR $ 4.99
JUSTICE SOCIETY OF AMERICA #3 (OF 12) CVR C 1:25 SADOWSKI CD STK VAR $ ???
JUSTICE SOCIETY OF AMERICA #3 (OF 12) CVR E SANAPO INT'L WOMENS DAY CD STK VAR $ 4.99
LAZARUS PLANET OMEGA #1 (1-SHOT) CVR B GARBETT CD STK VAR $ 6.99
LAZARUS PLANET REVENGE/GODS #1 (OF 4) CVR A GUILLEM MARCH $ 4.99
LAZARUS PLANET REVENGE/GODS #1 (OF 4) CVR B DI MEO CD STK VAR $ 5.99
LAZARUS PLANET REVENGE/GODS #1 (OF 4) CVR C 1:25 CHO CD STK VAR $ ???
LOONEY TUNES #271 $ 2.99
SHAZAM FURY/GODS SPEC SHAZAMILY MATTERS #1 (1-SHOT) CVR C FAERBER VAR $ 9.99
SUPERMAN LOST #1 (OF 10) CVR A PAGULAYAN & PAZ $ 4.99
SUPERMAN LOST #1 (OF 10) CVR B QUESADA CD STK VAR $ 5.99
SUPERMAN LOST #1 (OF 10) CVR C WEEKS CD STK VAR $ 5.99
SUPERMAN LOST #1 (OF 10) CVR D 1:25 QUESADA B & W CD STK VAR $ ???
SUPERMAN LOST #1 (OF 10) CVR E 1:50 PAGULAYAN & PAZ FOIL VAR $ ???
MULTIVERSITY HARLEY SCREWS UP DCU #1 (OF 6) CVR A CONNER $ 4.99
MULTIVERSITY HARLEY SCREWS UP DCU #1 (OF 6) CVR B FAERBER CD STK VAR $ 5.99
MULTIVERSITY HARLEY SCREWS UP DCU #1 (OF 6) CVR C 1:25 ROSSMO CD STK VAR $ ???
WILDCATS #5 CVR A SEGOVIA $ 3.99
WILDCATS #5 CVR B HIPP CD STK VAR $ 4.99
WILDCATS #5 CVR C 1:25 CHUMA HILL CD STK VAR $ ???
WILDCATS #5 CVR D ISAACS INT'L WOMENS DAY CD STK VAR $ 4.99
Marvel
AMAZING SPIDER-MAN #18 2ND PTG MCGUINNESS VAR $ 3.99
AVENGERS FOREVER #15 $ 3.99
AVENGERS FOREVER #15 ALEX ROSS TIMELESS KANG VIRGIN VAR $ 3.99
AVENGERS FOREVER #15 HAINSWORTH CONNECTING WRAPAROUND VAR $ 3.99
AVENGERS FOREVER #15 PAST FUTURE AVENGERS ASSEMBLE CONNECTIN $ 3.99
AVENGERS WAR ACROSS TIME #3 $ 3.99
AVENGERS WAR ACROSS TIME #3 CASELLI VAR $ 3.99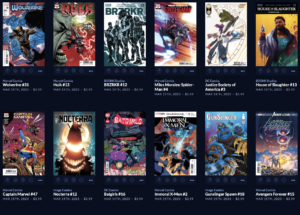 BISHOP WAR COLLEGE #2 $ 3.99
BISHOP WAR COLLEGE #2 RANDOLPH VAR $ 3.99
BISHOP WAR COLLEGE #2 RON LIM VAR $ 3.99
CAPTAIN AMERICA SYMBOL OF TRUTH #11 $ 3.99
CAPTAIN AMERICA SYMBOL OF TRUTH #11 ROSS RED SKULL VIR VAR $ 3.99
CAPTAIN MARVEL #47 $ 3.99
CAPTAIN MARVEL #47 ALEX ROSS TIMELESS JUGGERNAUT VIRGIN VAR $ 3.99
CAPTAIN MARVEL #47 LUPACCHINO WOMENS HISTORY MONTH VAR $ 3.99
CAPTAIN MARVEL #47 MOMOKO INFINITY SAGA PHASE 3 VAR $ 3.99
DARK WEB FINALE #1 2ND PTG ADAM KUBERT VAR $ 4.99
GOLD GOBLIN #5 (OF 5) $ 3.99
HELLCAT #1 (OF 5) $ 4.99
HELLCAT #1 (OF 5) INHYUK LEE VAR $ 4.99
HELLCAT #1 (OF 5) MOMOKO VAR $ 4.99
HELLCAT #1 (OF 5) YOUNG VAR $ 4.99
HULK #13 $ 3.99
HULK #13 1/25 VAR MOMOKO VAR $ ???
HULK #13 ALEX ROSS TIMELESS LEADER VIRGIN VAR $ 3.99
HULK #13 MCNIVEN CLASSIC HOMAGE VAR $ 3.99
IMMORAL X-MEN #2 (OF 3) $ 4.99
IMMORAL X-MEN #2 (OF 3) MAHMUD ASRAR VAR $ 4.99
IMMORAL X-MEN #2 (OF 3) NAUCK SOS MARCH CONNECTING VAR $ 4.99
MILES MORALES SPIDER-MAN #3 2ND PTG DIKE RUAN VAR $ 3.99
MILES MORALES SPIDER-MAN #4 $ 3.99
MILES MORALES SPIDER-MAN #4 ALEX ROSS TIMELESS SCORPION VIR $ 3.99
MILES MORALES SPIDER-MAN #4 BACHALO VAR $ 3.99
MOON GIRL AND DEVIL DINOSAUR #4 (OF 5) $ 3.99
RED GOBLIN #2 $ 3.99
RED GOBLIN #2 STEGMAN VAR $ 3.99
SCARLET WITCH #2 2ND PTG SARA PICHELLI VAR $ 4.99
SECRET INVASION #5 (OF 5) $ 3.99
SILVER SURFER GHOST LIGHT #1 2ND PTG VALENTINE DE LANDRO VAR $ 4.99
SINS OF SINISTER #1 2ND PTG LEINIL YU VAR $ 5.99
STAR WARS HIGH REPUBLIC BLADE #2 (OF 4) 2ND PTG MORALES VAR $ 3.99
STAR WARS MANDALORIAN #8 CONCEPT ART VAR $ 4.99
STAR WARS YODA #5 $ 3.99
STAR WARS YODA #5 1/25 VAR DAVID LOPEZ VAR $ ???
STAR WARS YODA #5 MESSINA VAR $ 3.99
STAR WARS YODA #5 MOMOKO WOMENS HISTORY MONTH VAR $ 3.99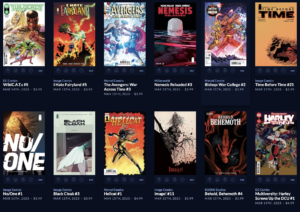 WOLVERINE #31 $ 3.99
WOLVERINE #31 1/25 VAR WOODS VAR $ ???
WOLVERINE #31 ALEX ROSS TIMELESS WHITE QUEEN VIRGIN VAR $ 3.99
WOLVERINE #31 CASELLI MARVEL ICON VAR $ 3.99
X-CELLENT #1 (OF 5) $ 3.99
X-CELLENT #1 (OF 5) R1C0 VAR $ 3.99
X-CELLENT #1 (OF 5) ROMERO VAR $ 3.99
X-CELLENT #1 (OF 5) R1C0 VAR $ 3.99
X-CELLENT #1 (OF 5) ROMERO VAR $ 3.99
Other Comics
ALL AGAINST ALL #4 (OF 5) CVR A WIJNGAARD (MR) $ 3.99
ANCIENT ENEMIES THE DJINNI #1 $ 3.99
ANCIENT ENEMIES THE DJINNI #1 MONSTER VAR $ 3.99
ART BRUT #4 (OF 4) CVR A MORAZZO & LOPES (MR) $ 3.99
BEHOLD BEHEMOTH #4 (OF 5) CVR A ROBLES $ 3.99
BLACK CLOAK #3 CVR A MCCLAREN $ 3.99
BRZRKR (BERZERKER) #12 (OF 12) CVR A GARNEY (MR) $ 6.99
BRZRKR (BERZERKER) #12 (OF 12) CVR B KINDT (MR) $ 6.99
BRZRKR (BERZERKER) #12 (OF 12) CVR C FOIL GARNEY (MR) $ 8.99
BRZRKR (BERZERKER) #12 (OF 12) CVR D FOIL KINDT (MR) $ 8.99
BRZRKR (BERZERKER) #12 (OF 12) CVR E 1/10 VAR MALEEV (MR $ ???
BRZRKR (BERZERKER) #12 (OF 12) CVR I FOC REVEAL (MR) $ 6.99
BRZRKR (BERZERKER) #12 (OF 12) CVR J FOC REVEAL (MR) $ 6.99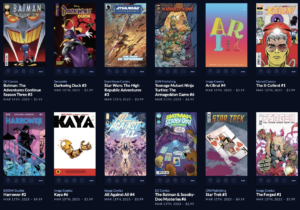 DARKWING DUCK #3 CVR A LEIRIX $ 3.99
DARKWING DUCK #3 CVR B ANDOLFO $ 3.99
DARKWING DUCK #3 CVR C EDGAR $ 3.99
DARKWING DUCK #3 CVR D FORSTNER $ 3.99
DEAD LUCKY #6 CVR A CARLOMAGNO MV $ 3.99
DRACULINA BLOOD SIMPLE #2 CVR A ANACLETO $ 3.99
DRACULINA BLOOD SIMPLE #2 CVR B LINSNER $ 3.99
DRACULINA BLOOD SIMPLE #2 CVR D DIAZ $ 3.99
DRACULINA BLOOD SIMPLE #2 CVR E COSPLAY $ 3.99
FORGED #1 (MR) $ 5.99
FRANK FRAZETTA DEATH DEALER #10 CVR A BIANCHI $ 4.99
FRANK FRAZETTA DEATH DEALER #10 CVR B FRAZETTA $ 4.99
FRANK FRAZETTA DEATH DEALER #10 CVR C 1/5 VAR CALERO $ ???
FRANK FRAZETTA DEATH DEALER #10 CVR D 1/10 VAR MUTTI $ ???
FRANK MILLERS PANDORA #3 CVR A EMMA KUBERT $ 3.99
FRANK MILLERS PANDORA #3 CVR B THERESEA KUBERT VAR $ 3.99
GUNSLINGER SPAWN #18 CVR A SPEARS $ 2.99
GUNSLINGER SPAWN #18 CVR B KEANE $ 2.99
GUNSLINGER SPAWN #18 CVR C BLANK SKETCH $ 2.99
HARROWER #2 (OF 4) CVR A REVEL (MR) $ 4.99
HEXWARE #4 (OF 6) CVR A LAVINA (MR) $ 3.99
HOUSE OF SLAUGHTER #13 CVR A MANHANINI $ 3.99
HOUSE OF SLAUGHTER #13 CVR B DELL EDERA $ 3.99
I HATE FAIRYLAND #5 CVR A YOUNG (MR) $ 3.99
I HATE FAIRYLAND #5 CVR B YOUNG (MR) $ 3.99
I HATE FAIRYLAND #5 CVR C BEAN (MR) $ 3.99
I HATE FAIRYLAND #5 CVR D MOMOKO (MR) $ 3.99
IMAGE 30TH ANNV ANTHOLOGY #11 (OF 12) (MR) $ 5.99
KAYA #6 CVR A CRAIG $ 3.99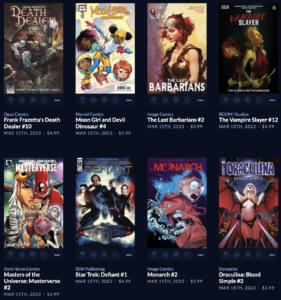 LAST BARBARIANS #2 CVR A HABERLIN $ 3.99
LAST BARBARIANS #2 CVR B HABERLIN $ 3.99
LAST BARBARIANS #2 CVR C HABERLIN $ 3.99
LAST BARBARIANS #2 CVR D HABERLIN $ 3.99
LITTLE MONSTERS #11 CVR A NGUYEN (MR) $ 3.99
LITTLE MONSTERS #11 CVR B GARBOWSKA (MR) $ 3.99
MASTERS OF UNIVERSE MASTERVERSE #2 (OF 4) CVR A NUNEZ $ 3.99
MASTERS OF UNIVERSE MASTERVERSE #2 (OF 4) CVR B SU $ 3.99
MASTERS OF UNIVERSE MASTERVERSE #2 (OF 4) CVR C SANTOS $ 3.99
MONARCH #2 CVR A LINS $ 3.99
NEMESIS RELOADED #3 (OF 5) CVR A JIMENEZ (MR) $ 3.99
NEMESIS RELOADED #3 (OF 5) CVR C SOOK (MR) $ 3.99
NO ONE #1 (OF 10) CVR A BORGES MV (MR) $ 3.99
NO ONE #1 (OF 10) CVR B MONTES MV (MR) $ 3.99
NO ONE #1 (OF 10) CVR D 1/10 VAR WHALEN MV (MR) $ ???
NOCTERRA #12 CVR A DANIEL & MAIOLO (MR) $ 3.99
NOCTERRA #12 CVR B LEE & CHUNG (MR) $ 3.99
NOCTERRA #12 CVR C EDWARDS (MR) $ 3.99
NOCTERRA #12 CVR D 1/10 VAR EDWARDS VIRG (MR) $ ???
SPY SUPERB #3 (OF 3) CVR A KINDT $ 7.99
STAR TREK #5 CVR A ROSANAS $ 4.99
STAR TREK #5 CVR B MARRON $ 4.99
STAR TREK DEFIANT #1 CVR A UNZUETA $ 4.99
STAR TREK DEFIANT #1 CVR B WARD $ 4.99
STAR TREK DEFIANT #1 CVR C SHALVEY $ 4.99
STAR TREK DEFIANT #1 CVR D AJA $ 4.99
STAR TREK RESURGENCE #5 CVR A HOOD (MR) $ 3.99
STAR TREK RESURGENCE #5 CVR B GRAY (MR) $ 3.99
STAR WARS HIGH REPUBLIC ADVENTURES #3 (OF 8) $ 3.99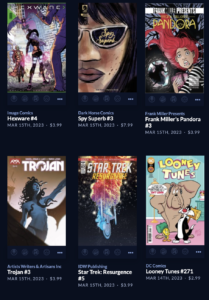 TIME BEFORE TIME #21 CVR A SHALVEY (MR) $ 3.99
TMNT ARMAGEDDON GAME #6 CVR A FEDERICI $ 4.99
TMNT LAST RONIN LOST YEARS #2 CVR A GALLANT (RES) $ 4.99
TMNT LAST RONIN LOST YEARS #2 CVR B EASTMAN & BISHOP (RES) $ 4.99
TMNT LAST RONIN LOST YEARS #2 CVR C BARRAVECCHIA $ 4.99
TMNT LAST RONIN LOST YEARS #2 CVR D 1/25 VAR (RES) $ ???
TMNT LAST RONIN LOST YEARS #2 CVR E 1/50 VAR (RES) $ ???
TROJAN #3 (OF 4) (MR) $ 3.99
VAMPIRE SLAYER (BUFFY) #12 CVR A FIUMARA $ 4.99
WALKING DEAD DLX #59 CVR A FINCH & MCCAIG (MR) $ 3.99
WALKING DEAD DLX #59 CVR E ADAMS & MCCAIG (MR) $ 3.99
DC Books
ADAM STRANGE BETWEEN TWO WORLDS THE DELUXE EDITION HC $ 49.99
BRUCE WAYNE NOT SUPER TP $ 12.99
DEATHSTROKE INC HC VOL 02 YEAR ONE $ 24.99
JSA BY GEOFF JOHNS TP BOOK 05 $ 39.99
DAWN OF DC Promo Poster Pack (16 Posters) $-
Other Books
AMERICAN JESUS TP VOL 03 REVELATION (MR) $ 9.99
DEAR BODY TP $ 24.99
FLAVOR GIRLS HC $ 24.99
SEVEN SONS TP (MR) $ 19.99
TOKYO GHOST DLX ED HC (MR) $ 39.99
Toys
DEMON SLAYER KIMETSU V7 Q-POSKET PETIT NEZUKO KAMADO FIG (NE $ 21.99
DRAGON BALL SUPER SOLID EDGE WORKS V7 SS GOGETA FIG $ 27.99
DRAGON BALL SUPER SOLID EDGE WORKS V7 SSGSS GOGETA FIG $ 27.99
DRAGON BALL Z HISTORY BOX V3 SON GOKU FIG $ 27.99
FUNKO LOUNGEFLY POP SIZED PIN STAR WARS GENERAL GRIEVOUS CHA $ 15.99
JUJUTSU KAISEN JUKON NO KATA SUGURU GETO FIG $ 27.99
JUJUTSU KAISEN JUKON NO KATA TOGE INUMAKI FIG II $ 27.99
MARVEL SELECT SKRULL ACTION FIGURE $ 29.99
MY HERO ACADEMIA BREAK TIME COLL V3 SHOTO TODOROKI FIG $ 27.99
MY HERO ACADEMIA EVIL VILLAINS V4 TOMURA SHIGARAKI FIG $ 27.99
POP MARVEL LOKI MOBIUS VINYL FIG $ 12.99
POP MOVIE LUCK JEFF VIN FIG $ 12.99
POP MOVIE LUCK SAM VIN FIG $ 12.99
PRETTY GUARD SAILOR MOON MOVIE Q-POSKET PRINCESS MARS FIG A $ 27.99
PRETTY GUARD SAILOR MOON MOVIE Q-POSKET PRINCESS MARS FIG B $ 27.99
PRETTY GUARD SAILOR MOON Q-POSKET PRINCESS JUPITER FIG A $ 27.99
PRETTY GUARD SAILOR MOON Q-POSKET PRINCESS JUPITER FIG B $ 27.99
VINYL SODA FELIX THE CAT FELIX W/ CHASE VIN FIG $ 14.99
Supplies
MARVEL WOLVERINE & DEADPOOL SHORT COMIC STORAGE BOX $ 12.99