Purdy is Human After All – Wednesday, October 18th, 2023
49-ers were undefeated, and now they aren't. New comics came in this morning, I assume, and this is late Wednesday night, so everything is normal here. Long list of comics, but that's because everything has 4 or 6 covers. Only TWO Pops on the list, but lots of Star Wars, Transformers, and WWE action figures.
Thanks to League Of Comic Geeks for this week's images, which are in some unusual, non-alphabetical order, and 8 across. So it's a somewhat random sample. I'll keep searching. Use the list, and MAYBE the pictures will be useful.
Wednesday is still New Comic Day, no matter what you read on the internets. Watch this space and our Facebook page for the latest news about the rest of the month, season, year, millennium, etc. (And text messages from 5-Star.) The complete list is found below. If you want to know about the next sale or store event, or whether or not WE ARE EVEN OPEN click here. Sign in here to get an email reminder for ALL sales and other events. Also, you can go to     fb.fantasybooksandgames.com and you'll be taken to our Facebook page. We also use our in-store 5-Star Rewards system to text similar announcements to your phone.
DC COMICS
BATMAN DAY 2023 – BATMAN #608 FOIL VAR SPEC ED 2nd Pr (Corrected) $ 9.99
BATMAN SUPERMAN WORLDS FINEST #20 CVR A DAN MORA $ 3.99
BATMAN SUPERMAN WORLDS FINEST #20 CVR B BARENDS CD STK VAR $ 4.99
BATMAN SUPERMAN WORLDS FINEST #20 CVR C HELMET EMBOSSED FOIL VAR $ 7.99
BATMAN SUPERMAN WORLDS FINEST #20 CVR D INC 1:25 NAKAYAMA CD STK VAR $ ???
BATMAN SUPERMAN WORLDS FINEST #20 CVR E INC 1:50 SAMPERE CD STK VAR $ ???
BATMAN SUPERMAN WORLDS FINEST #20 CVR F ZULLO TRICK OR TREAT CD STK VAR $ 4.99
BATMAN WHT KNT PRES GENERATION JOKER #6 (OF 6) CVR A MURPHY (MR) $ 4.99
BATMAN WHT KNT PRES GENERATION JOKER #6 (OF 6) CVR B ANDOLFO VAR (MR) $ 4.99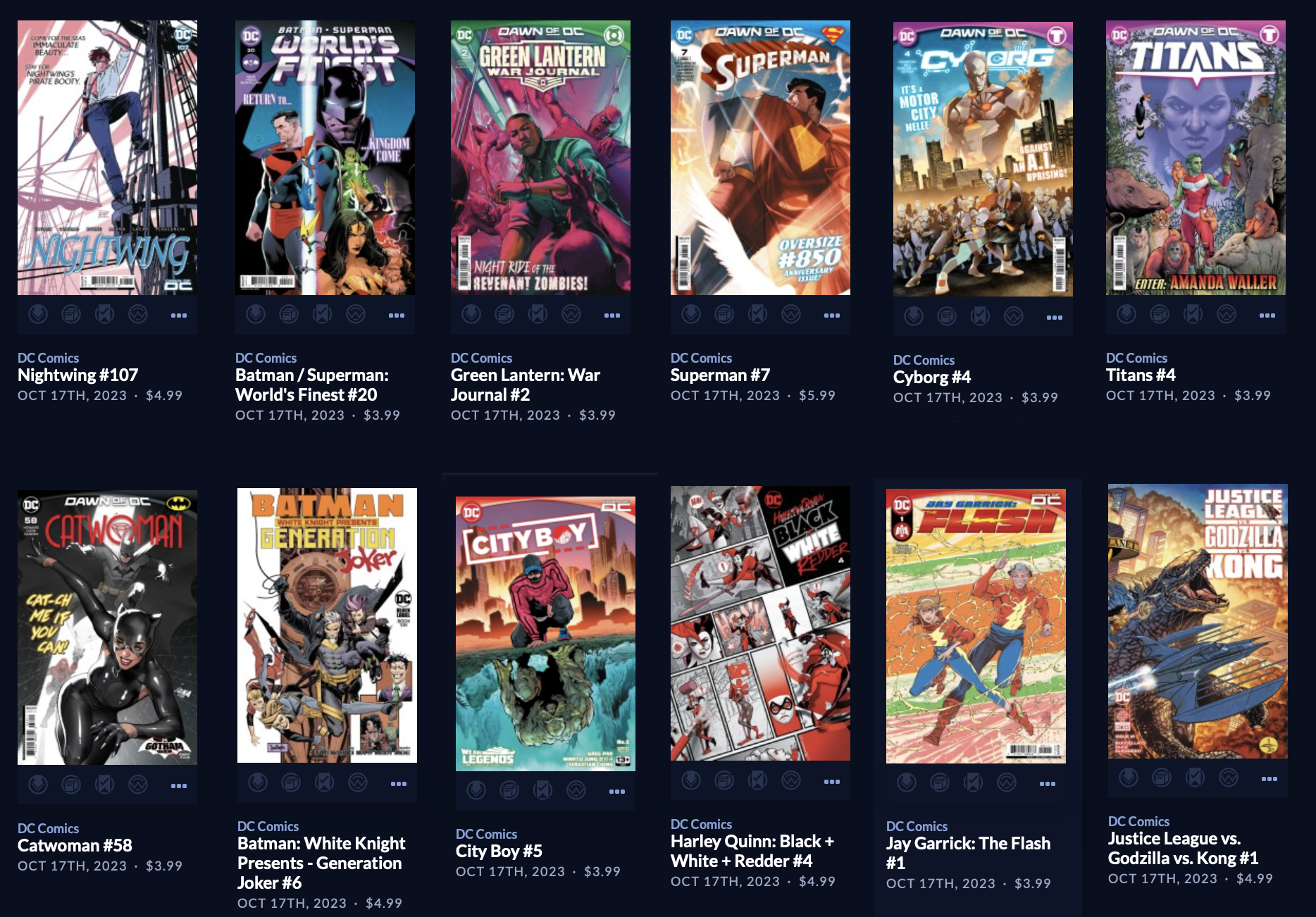 CATWOMAN #58 CVR A DAVID NAKAYAMA (BAT CAT GOTHAM WAR) $ 3.99
CATWOMAN #58 CVR B TIRSO CONS CD STK VAR (BAT CAT GOTHAM WAR) $ 4.99
CATWOMAN #58 CVR C JOSHUA SWAY SWABY CD STK VAR (BAT CAT GOTHAM WAR) $ 4.99
CATWOMAN #58 CVR D DELL OTTO ART SPOT CD STK VAR (BAT CAT GOTHAM WAR) $ 4.99
CITY BOY #5 (OF 6) CVR A MINKYU JUNG $ 3.99
CITY BOY #5 (OF 6) CVR B INHYUK LEE CD STK VAR $ 4.99
CYBORG #4 (OF 6) CVR A EDWIN GALMON $ 3.99
CYBORG #4 (OF 6) CVR B TAURIN CLARKE CD STK VAR $ 4.99
FABLES #160 (OF 162) CVR A CORINNE REID (MR) $ 3.99
FABLES #160 (OF 162) CVR B MARK BUCKINGHAM CD STK VAR (MR) $ 4.99
GREEN LANTERN WAR JOURNAL #2 CVR A TAJ TENFOLD $ 3.99
GREEN LANTERN WAR JOURNAL #2 CVR B MIRKO COLAK CD STK VAR $ 4.99
GREEN LANTERN WAR JOURNAL #2 CVR C JOHN GIANG CD STK VAR $ 4.99
GREEN LANTERN WAR JOURNAL #2 CVR D DELL OTTO ART SPOT CD STK VAR $ 4.99
HARLEY QUINN BLACK WHITE REDDER #4 (OF 6) CVR A QUINONES $ 4.99
HARLEY QUINN BLACK WHITE REDDER #4 (OF 6) CVR B BACHALO VAR $ 4.99
HAWKGIRL #4 (OF 6) CVR A NAHUELPAN $ 3.99
HAWKGIRL #4 (OF 6) CVR B CHEW CD STK VAR $ 4.99
JAY GARRICK FLASH #1 (OF 6) CVR A CORONA $ 3.99
JAY GARRICK FLASH #1 (OF 6) CVR B MANAPUL CD STK VAR $ 4.99
JAY GARRICK FLASH #1 (OF 6) CVR C ACUNA CD STK VAR $ 4.99
JAY GARRICK FLASH #1 (OF 6) CVR D CORONA GOLDEN AGE FOIL VAR $ 5.99
JUSTICE LEAGUE VS GODZILLA VS KONG #1 (OF 7) CVR A JOHNSON WRAPAROUND CVR $ 4.99
JUSTICE LEAGUE VS GODZILLA VS KONG #1 (OF 7) CVR B LEE & WILLIAMS CD STK VAR $ 5.99
JUSTICE LEAGUE VS GODZILLA VS KONG #1 (OF 7) CVR C MATTINA CD STK VAR $ 5.99
JUSTICE LEAGUE VS GODZILLA VS KONG #1 (OF 7) CVR D BLANK CD STK VAR $ 5.99
JUSTICE LEAGUE VS GODZILLA VS KONG #1 (OF 7) CVR E ALBUQUERQUE FOIL VAR $ 6.99
JUSTICE LEAGUE VS GODZILLA VS KONG #1 (OF 7) CVR H INC 1:25 MORA CD STK VAR $ ???
NIGHTWING #107 CVR A BRUNO REDONDO $ 4.99
NIGHTWING #107 CVR B JAMAL CAMPBELL CD STK VAR $ 5.99
NIGHTWING #107 CVR C DAN MORA CD STK VAR $ 5.99
NIGHTWING #107 CVR D DELL OTTO ART SPOT CD STK VAR $ 5.99
NIGHTWING #107 CVR F ZULLO TRICK OR TREAT CD STK VAR $ 5.99
SANDMAN UNIV NIGHTMARE COUNTRY GLASS HSE #5 (OF 6) CVR A MURAKAMI (MR) $ 3.99
SANDMAN UNIV NIGHTMARE COUNTRY GLASS HSE #5 (OF 6) CVR B ROBLES CD STK VAR (MR) $ 4.99
SUPERMAN #7 CVR A JAMAL CAMPBELL (#850) $ 5.99
SUPERMAN #7 CVR B LEE BERMEJO CD STK VAR (#850) $ 6.99
SUPERMAN #7 CVR C FRANK CHO CD STK VAR (#850) $ 6.99
SUPERMAN #7 CVR D DAVID NAKAYAMA CD STK VAR (#850) $ 6.99
SUPERMAN #7 CVR E DAVID FINCH CD STK VAR (#850) $ 6.99
SUPERMAN #7 CVR F GREG CAPULLO & JONATHAN GLAPION CD STK VAR (#850) $ 6.99
SUPERMAN #7 CVR G JIM LEE ICONS SERIES SUPERMAN FOIL VAR (#850) $ 9.99
TITANS #4 CVR A NICOLA SCOTT $ 3.99
TITANS #4 CVR B JEN BARTEL CD STK VAR $ 4.99
TITANS #4 CVR C DAVID TALASKI CD STK VAR $ 4.99
TITANS #4 CVR F CHRISSIE ZULLO TRICK OR TREAT CD STK VAR $ 4.99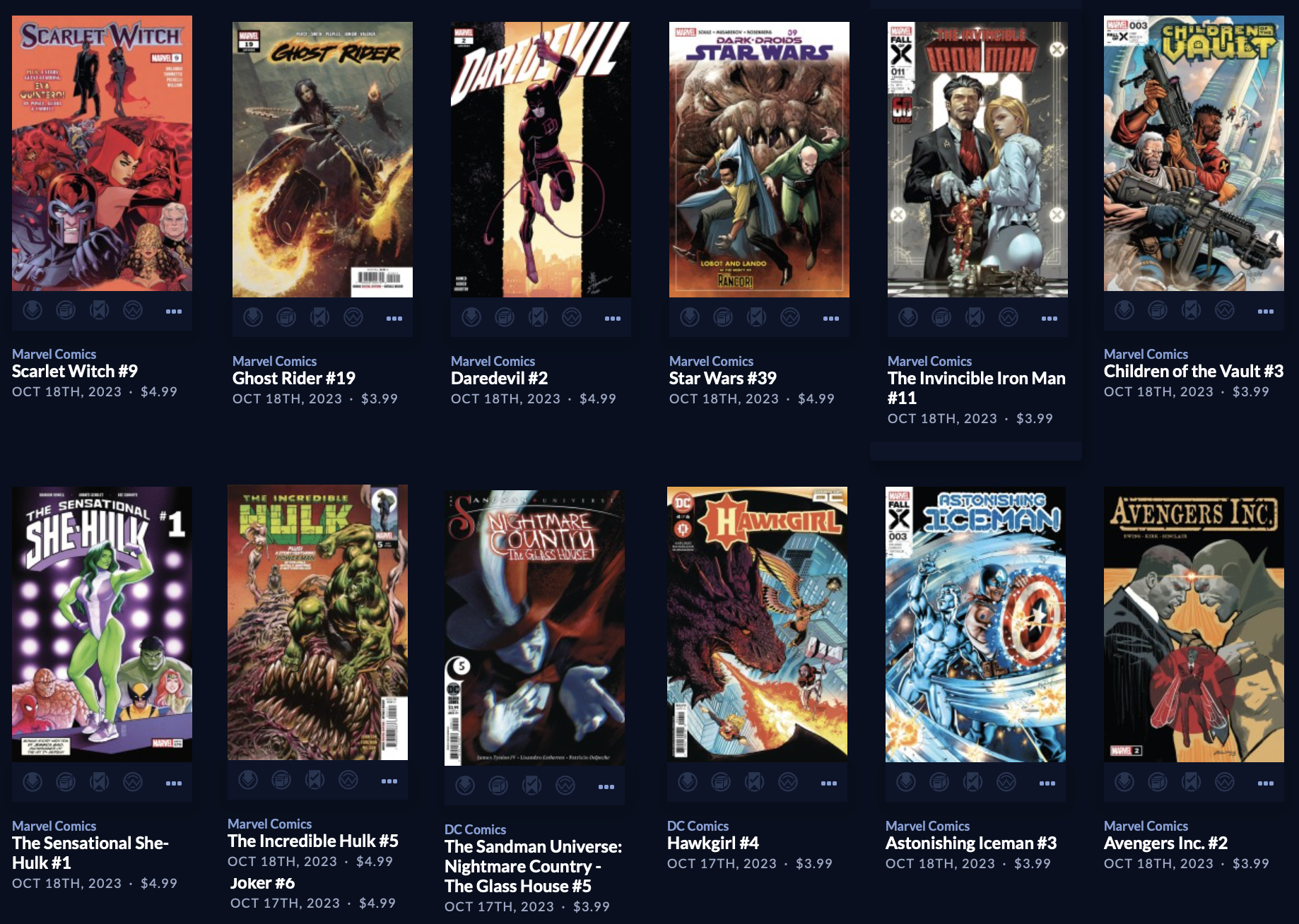 Marvel Comics
ASTONISHING ICEMAN #3 $ 3.99
ASTONISHING ICEMAN #3 PETE WOODS VAR $ 3.99
AVENGERS INC #2 $ 3.99
AVENGERS INC #2 AKA ARTIST VAR $ 3.99
AVENGERS INC #2 BEN HARVEY WASP VAR $ 3.99
AVENGERS INC #2 JOHN TYLER CHRISTOPHER AVENGERS 60TH VAR $ 3.99
CHILDREN OF THE VAULT #3 (OF 4) $ 3.99
CHILDREN OF THE VAULT #3 (OF 4) LUCIANO VECCHIO VAR $ 3.99
CRYPT OF SHADOWS #1 $ 4.99
CRYPT OF SHADOWS #1 PAUL AZACETA VAR $ 4.99
DAREDEVIL #2 $ 4.99
DAREDEVIL #2 DAVID MARQUEZ VAR $ 4.99
DAREDEVIL #2 FEDERICO VICENTINI STORMBREAKERS VAR $ 4.99
DEADPOOL BADDER BLOOD #5 (OF 5) $ 4.99
DEADPOOL BADDER BLOOD #5 (OF 5) NICK BRADSHAW NEW CHAMPIONS $ 4.99
DEADPOOL BADDER BLOOD #5 (OF 5) ROB LIEFELD VAR $ 4.99
GHOST RIDER #19 $ 3.99
GHOST RIDER #19 LUCIANO VECCHIO NEW CHAMPIONS VAR $ 3.99
INCREDIBLE HULK #5 $ 4.99
INCREDIBLE HULK #5 ALEXANDER LOZANO VAR $ 4.99
INCREDIBLE HULK #5 DAN PANOSIAN NEW CHAMPIONS VAR $ 4.99
INCREDIBLE HULK #5 ERNANDA SOUZA COMUNIDADES VAR $ 4.99
INVINCIBLE IRON MAN #11 $ 3.99
INVINCIBLE IRON MAN #11 ADI GRANOV HOMAGE VAR $ 3.99
INVINCIBLE IRON MAN #11 ALEX LOZANO AVENGERS 60TH VAR $ 3.99
INVINCIBLE IRON MAN #11 TAKESHI MIYAZAWA NEW CHAMPIONS VAR $ 3.99
ITS JEFF #1 3RD PTG GURIHIRU VAR $ 5.99
MILES MORALES SPIDER-MAN #11 $ 3.99
MILES MORALES SPIDER-MAN #11 1/25 VAR BEN HARVEY VAR $ ???
MILES MORALES SPIDER-MAN #11 SARA PICHELLI NEW CHAMPIONS VAR $ 3.99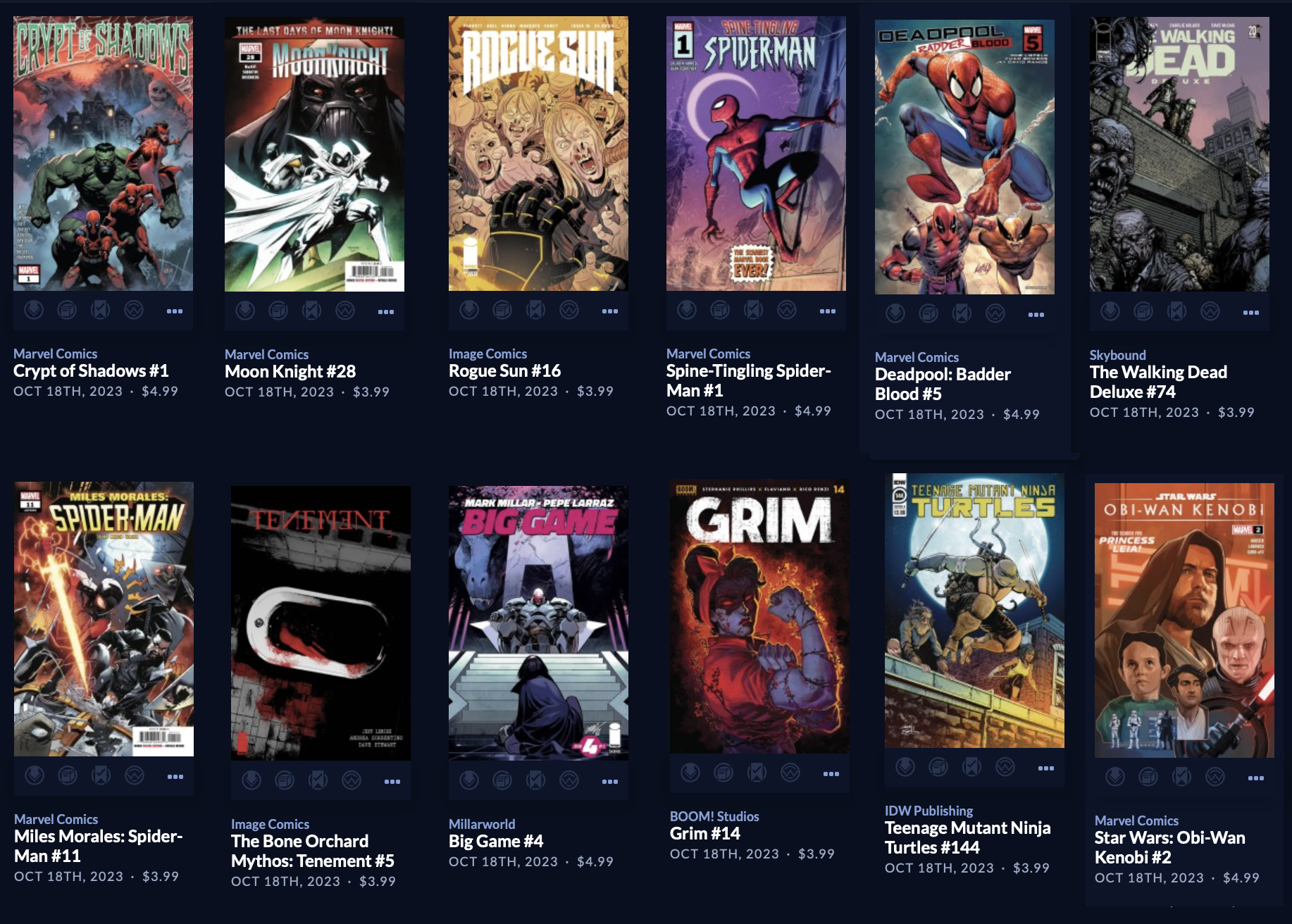 MOON KNIGHT #28 $ 3.99
MOON KNIGHT #28 INHYUK LEE LAST DAYS OF MOON KNIGHT VAR $ 3.99
MOON KNIGHT #28 JAVIER GARRON NEW CHAMPIONS VAR $ 3.99
MOON KNIGHT #28 NIC KLEIN STORMBREAKERS VAR $ 3.99
SCARLET WITCH #9 $ 4.99
SCARLET WITCH #9 ERNANDA SOUZA COMUNIDADES VAR $ 4.99
SCARLET WITCH #9 JEN BARTEL NEW CHAMPIONS VAR $ 4.99
SENSATIONAL SHE-HULK #1 $ 4.99
SENSATIONAL SHE-HULK #1 ADI GRANOV HOMAGE VAR $ 4.99
SENSATIONAL SHE-HULK #1 GISELE LAGACE AVENGERS 60TH VAR $ 4.99
SENSATIONAL SHE-HULK #1 LEIRIX SHE-HULK VAR $ 4.99
SENSATIONAL SHE-HULK #1 LUCAS WERNECK STORMBREAKERS VAR $ 4.99
SENSATIONAL SHE-HULK #1 MIRKA ANDOLFO NEW CHAMPIONS VAR $ 4.99
SENSATIONAL SHE-HULK #1 RIAN GONZALES VAR $ 4.99
SENSATIONAL SHE-HULK #1 SKOTTIE YOUNG VAR $ 4.99
SILVER SURFER REBIRTH LEGACY #1 2ND PTG JTC VAR $ 3.99
SPINE-TINGLING SPIDER-MAN #1 $ 4.99
SPINE-TINGLING SPIDER-MAN #1 1/25 VAR LUCIO PARRILLO VAR $ ???
SPINE-TINGLING SPIDER-MAN #1 ROD REIS VAR $ 4.99
SPINE-TINGLING SPIDER-MAN #1 SKOTTIE YOUNG VAR $ 4.99
STAR WARS #39 $ 4.99
STAR WARS #39 1/25 VAR DUSTIN NGUYEN VAR $ ???
STAR WARS #39 JOHN TYLER CHRISTOPHER ACTION FIGURE VAR $ 4.99
STAR WARS #39 ROTTA STAR WARS CLONE WARS 15TH ANNIV VAR $ 4.99
STAR WARS #39 SPROUSE RETURN OF THE JEDI 40TH ANNIV VAR $ 4.99
STAR WARS OBI-WAN KENOBI #2 $ 4.99
STAR WARS OBI-WAN KENOBI #2 1/25 VAR EM GIST VAR $ ???
STAR WARS OBI-WAN KENOBI #2 RAHZZAH VAR $ 4.99
WOLVERINE #36 2ND PTG TYLER KIRKHAM VAR $ 3.99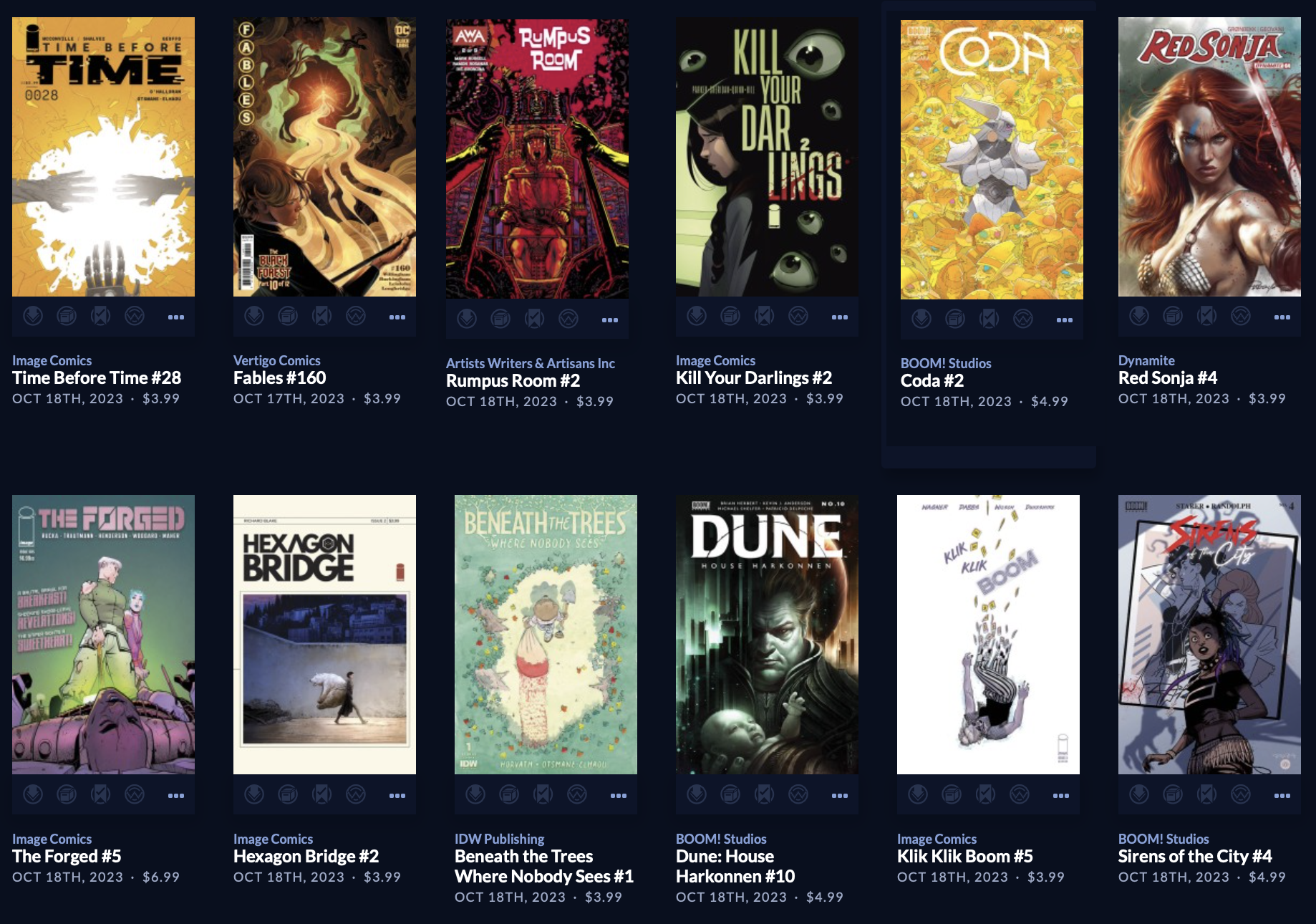 Other Comics
AL CAPONE VAMPIRE #1 CVR A CHAYKIN & NITRO $ 4.99
AL CAPONE VAMPIRE #1 CVR B HOMAGE $ 4.99
ANTARCTICA #4 CVR A ROBERTS $ 3.99
BENEATH TREES WHERE NOBODY SEES #1 CVR A HORVATH $ 3.99
BENEATH TREES WHERE NOBODY SEES #1 CVR B ROSSMO STORYBOOK $ 3.99
BIG GAME #4 (OF 5) CVR A LARRAZ (MR) $ 4.99
BIG GAME #4 (OF 5) CVR B LARRAZ (MR) $ 4.99
BIG GAME #4 (OF 5) CVR C SCALERA (MR) $ 4.99
BONE ORCHARD TENEMENT #5 (OF 10) CVR A SORRENTINO (MR) $ 3.99
BRZRKR PEN & INK #1 CVR A GARNEY (MR) $ 6.99
BRZRKR PEN & INK #1 CVR B SPOT UV VAR GARNEY (MR) $ 6.99
BRZRKR PEN & INK #1 CVR C BLANK SKETCH VAR (MR) $ 6.99
CODA #2 (OF 5) CVR A BERGARA $ 4.99
CODA #2 (OF 5) CVR B VAR HARREN $ 4.99
CYBERPUNK 2077 XOXO #1 CVR A REBELKA $ 3.99
CYBERPUNK 2077 XOXO #1 CVR B ALAN LOVE $ 3.99
CYBERPUNK 2077 XOXO #1 CVR C TOMMASO $ 3.99
CYBERPUNK 2077 XOXO #1 CVR D CHOW $ 3.99
DUNE HOUSE HARKONNEN #10 (OF 12) CVR A SWANLAND (MR) $ 4.99
FORGED #5 CVR A HENDERSON (MR) $ 6.99
FROM WORLD OF MINOR THREATS ALTERNATES #2 CVR A HEPBURN $ 4.99
FROM WORLD OF MINOR THREATS ALTERNATES #2 CVR B BROWNE $ 4.99
GARGOYLES HALLOWEEN SP #1 CVR A LOLLI $ 4.99
GARGOYLES HALLOWEEN SP #1 CVR B PUEBLA $ 4.99
GARGOYLES HALLOWEEN SP #1 CVR C ANDOLFO $ 4.99
GRIM #14 CVR A FLAVIANO $ 3.99
GRIM #14 CVR B REAPER VAR ORZU $ 3.99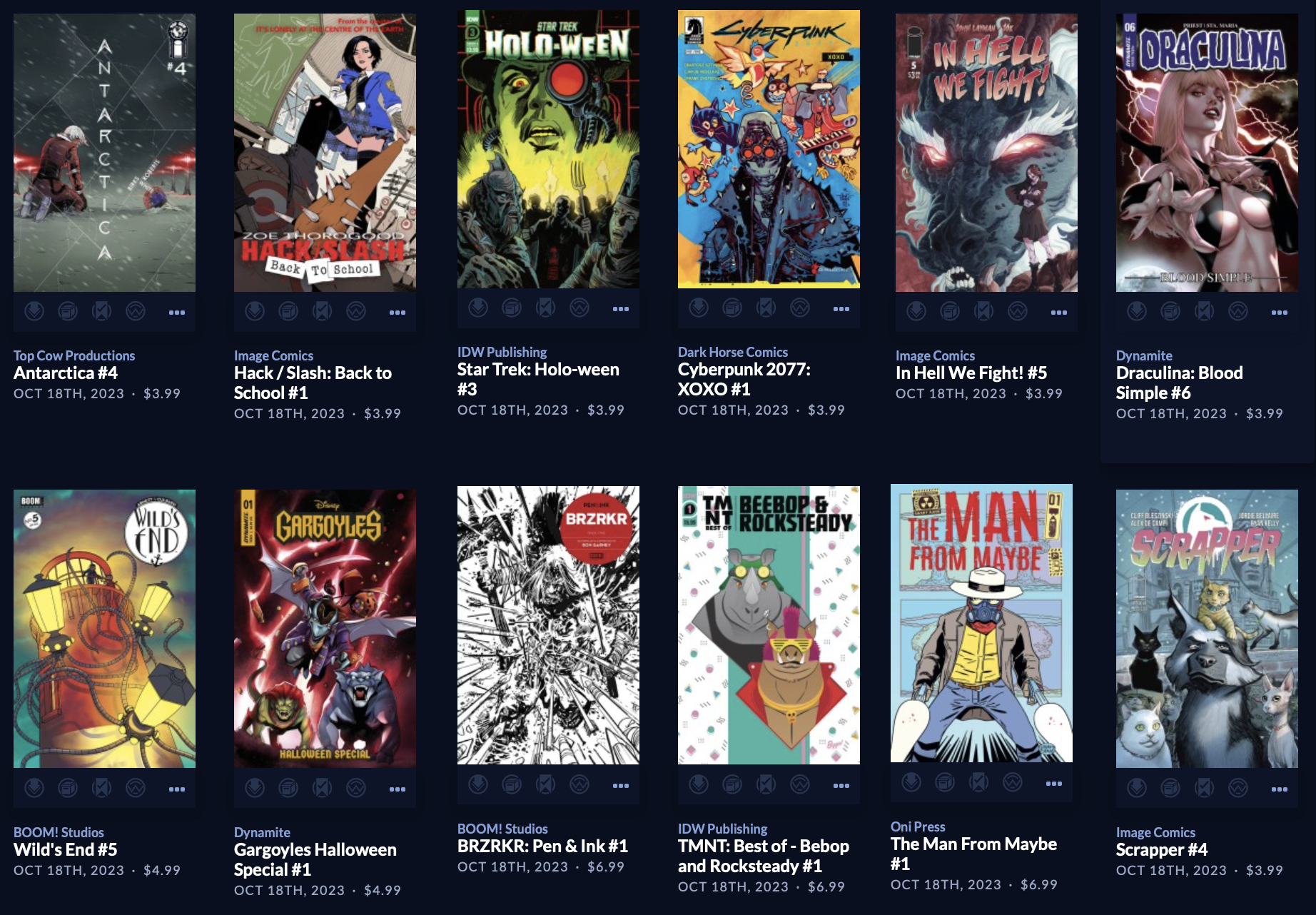 HACK SLASH BACK TO SCHOOL #1 (OF 4) CVR A THOROGOOD $ 3.99
HACK SLASH BACK TO SCHOOL #1 (OF 4) CVR B SEELEY $ 3.99
HACK SLASH BACK TO SCHOOL #1 (OF 4) CVR C CASELLI $ 3.99
HEADLESS HORSEMAN HALLOWEEN ANNUAL #1 CVR B MIGNOLA $ 7.99
HEXAGON BRIDGE #2 (OF 5) $ 3.99
IN HELL WE FIGHT #5 $ 3.99
KILL YOUR DARLINGS #2 CVR A QUINN (MR) $ 3.99
KILL YOUR DARLINGS #2 CVR B STEGMAN (MR) $ 3.99
KLIK KLIK BOOM #5 CVR A DABBS & WILSON (MR) $ 3.99
MY LITTLE PONY BLACK WHITE & BLUE #1 CVR A GARBOWSKA $ 5.99
MY LITTLE PONY BLACK WHITE & BLUE #1 CVR C 1/10 VAR GRANT $ ???
RED SONJA 2023 #4 CVR A PARRILLO $ 3.99
RED SONJA 2023 #4 CVR B YOON $ 3.99
RED SONJA 2023 #4 CVR C LINSNER $ 3.99
RED SONJA 2023 #4 CVR D BARENDS $ 3.99
RED SONJA 2023 #4 CVR E COSPLAY $ 3.99
ROBOTECH RICK HUNTER #2 (OF 4) CVR A GRIFFIN $ 3.99
ROBOTECH RICK HUNTER #2 (OF 4) CVR B BERNADO $ 3.99
ROBOTECH RICK HUNTER #2 (OF 4) CVR C IZZO $ 3.99
ROBOTECH RICK HUNTER #2 (OF 4) CVR D QUALANO $ 3.99
ROBOTECH RICK HUNTER #2 (OF 4) FOC GRIFFIN VIRGIN $ 3.99
ROGUE SUN #16 CVR A VECCHIO MV $ 3.99
RUMPUS ROOM #2 (OF 5) CVR A HARRIS (MR) $ 3.99
RUMPUS ROOM #2 (OF 5) CVR B BAKER (MR) $ 3.99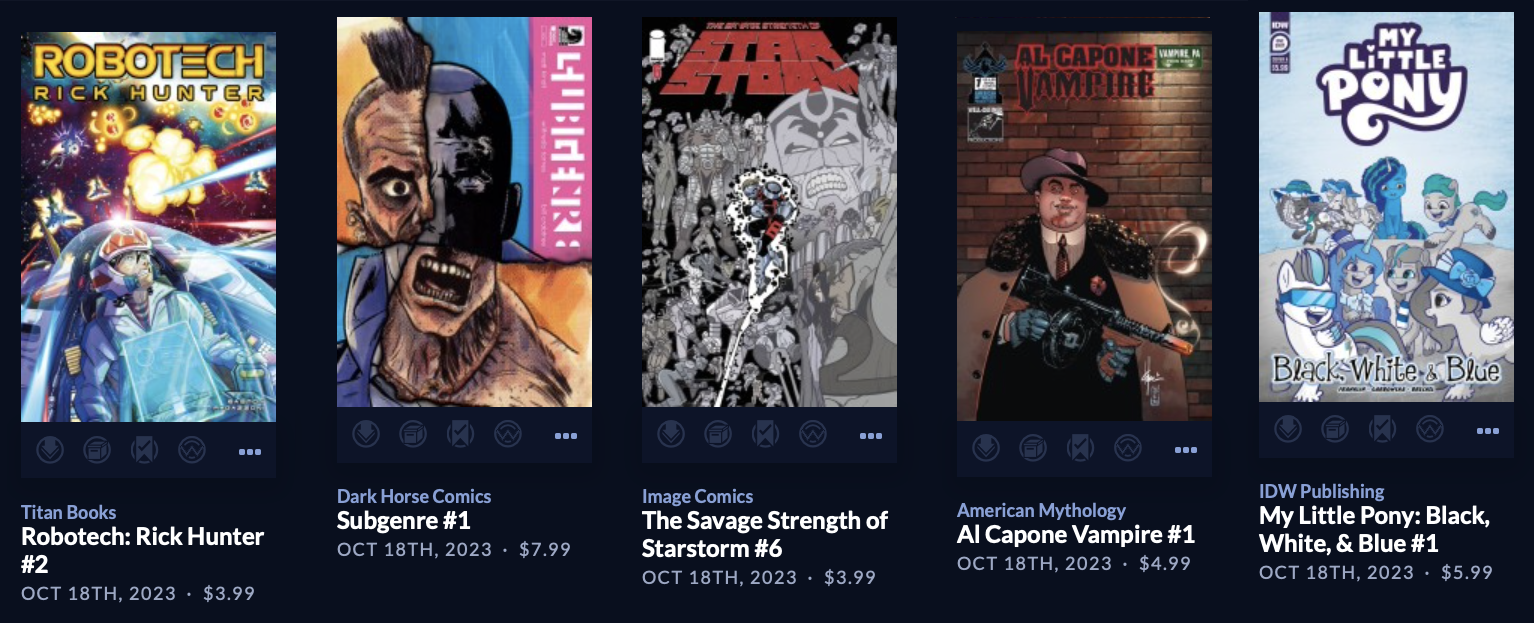 SAGA #66 2ND PTG (MR) $ 3.99
SAVAGE STRENGTH OF STARSTORM #6 CVR A DREW CRAIG $ 3.99
SCRAPPER #4 (OF 6) CVR A FERREYRA $ 3.99
SIRENS OF THE CITY #4 (OF 6) CVR A RANDOLPH $ 4.99
SIRENS OF THE CITY #4 (OF 6) CVR B VAR FRANY $ 4.99
STAR TREK HOLOWEEN #3 CVR A FRANCAVILLA $ 3.99
SUBGENRE #1 CVR A TORRES $ 7.99
THE MAN FROM MAYBE #1 CVR A KANE $ 6.99
THE MAN FROM MAYBE #1 CVR B RUBIN $ 6.99
THE MAN FROM MAYBE #1 CVR C CAGNETTI $ 6.99
TIME BEFORE TIME #28 CVR A SHALVEY (MR) $ 3.99
TMNT BEST OF BEBOP AND ROCKSTEADY $ 6.99
TMNT ONGOING #144 CVR A SMITH $ 3.99
TMNT ONGOING #144 CVR B EASTMAN $ 3.99
WALKING DEAD DLX #74 CVR A FINCH & MCCAIG (MR) $ 3.99
WILDS END #5 (OF 6) CVR A CULBARD $ 4.99
News
COMIC SHOP NEWS #1887 $ FREE
DC BOOKS
BATMAN THREE JOKERS TP (MR) $ 19.99
TEEN TITANS GO BOX SET 02 THE HUNGRY GAMES $ 29.99
Other Books
ALWAYS MATT TRIBUTE TO MATTHEW SHEPARD $ 22.99
BOCCHI THE ROCK GN VOL 01 $ 15
CLAMP PREMIUM COLL TOKYO BABYLON GN VOL 01 $ 15
DUNE HOUSE HARKONNEN HC VOL 01 (MR) $ 24.99
FAUST LOVE OF THE DAMNED HC (A) $ 89.95
JIM HENSON DARK CRYSTAL CREATION MYTHS COMP COLL HC $ 75
SPY X FAMILY GN VOL 10 $ 11.99
THE INCAL KILL WOLFHEAD HC (MR) $ 24.99
THE LITTLE RED WOLF GN $ 9.99
Toys
CHAINSAW MAN BREAK TIME COLLECTION V2 POWER FIG $ 25.99
CHAINSAW MAN CHAIN SPIRITS V1 DENJI FIG $ 31.99
CHAINSAW MAN CHAIN SPIRITS V2 AKI HAYAKAWA FIG $ 26.99
CHAINSAW MAN CHAIN SPIRITS V4 POWER FIG $ 26.99
CHAINSAW MAN VIBRATION STARS POWER FIG $ 26.99
FIVE NIGHTS AT FREDDYS BALLOON FREDDY AF $ 13.99
FUNKO FIVE NIGHTS AT FREDDYS BALLOON FREDDY 7IN PLUSH $ 12.99
FUNKO FIVE NIGHTS AT FREDDYS CIRCUS FREDDY 7IN PLUSH $ 12.99
GODZILLA 2019 BANDAI MOVIE MONSTER SER VINYL FIG $ 24.99
JUJUTSU KAISEN JUFUTSUNOWAZA NOBARA KUGISAKI 2 FIG $ 26.99
JUJUTSU KAISEN JUKON NO KATA MAKI ZENIN FIG $ 26.99
MY HERO ACADEMIA TOMURA SHIGARAKI II DXF FIG $ 26.99
ONE PIECE GRANDLINE LADY WANOKUNI V11 ULTI DXF FIG $ 26.99
ONE PIECE GRANDLINE LADY WANOKUNI V12 KOZUKI HIYORI DXF FIG $ 26.99
ONE-PUNCH MAN SAITAMA FIG $ 26.99
POP FOODIES POPCORN BUCKET VIN FIG $ 12.99
POP FOODIES SODA CUP VIN FIG $ 12.99
STAR WARS VINTAGE COLLECTION ARC TROOPER AF $ 21.99
STAR WARS VINTAGE COLLECTION MANDALORIAN RESCUE AF SET $ ???
SW AHSOKA BLACK SER 6IN HK-87 ASSASSIN DROID AF CS $ ???
SW AHSOKA BLACK SER 6IN MORGAN ELSBETH AF CS $ ???
SW BLACK E6 40TH ANN 6IN LUKE JEDI AF CS $ ???
SW CW BLACK SER 6IN AHSOKA TANO AF CS $ ???
SW CW BLACK SER 6IN MAGNAGUARD AF CS $ ???
SW CW BLACK SER 6IN PHASE II CLONE TROOPER AF CS $ ???
TOHO ULTIMATES SHOGUN GODZILLA GLOW AF $ 71.99
TOHO ULTIMATES SHOGUN GODZILLA GREEN AF $ 71.99
TRANSFORMERS STUDIO SER ROTB MIRAGE DLX AF CS $ ???
TRANSFORMERS STUDIO SER ROTB OPTIMUS PRIMAL LDR AF CS $ ???
WWE CHAMPIONSHIP SHOWDOWN TWO-PACKS SERIES 12 ASST CS $ ???
WWE CHAMPIONSHIP SHOWDOWN TWO-PACKS SERIES 13 ASST CS $ ???
WWE CHAMPIONSHIP SHOWDOWN TWO-PACKS SERIES 14 ASST CS $ ???
X-MEN 97 LEGENDS 6IN AF ASST $ ???
YU YU HAKUSHO 30TH ANNIVERSARY YUSUKE URAMESHI DXF FIG $ 26.99