Translation: New Arrivals on June 17th
Biggest week in quite a while, in number of titles on the wall. Here's a tiny sample of what we're expecting Wednesday, June 17, 2015. Much gratitude to GoCollect.com for putting a list together each week so we can borrow it. Click here to see their complete list.
Secret Wars is barely to be found this week (just Deadpool's SW), and yet, we have about 15 more titles than last week! This year should be called Year 1 because both DC and Marvel are starting over or re-vamping old characters, or whatever and the avalanche of Number One issues continues: Black Canary, Doomed, Dr. Fate, Harley Quinn & Power Girl, JLA (9 covers), Martian Manhunter, Prez, Robin Son of Batman (who knew?), Secret Six are all number #1's this week, and Marvel has Thors (plural), Squadron Sinister,  and Runaways (Battleworld) just starting (over). Plus, to get ready for more 1's, Magneto and Ms. Marvel both announce "Last Days of…" above the title this week.
From the movies and other media, we have a new Mad Max Fury Road "Furiosa", Minions and Plants vs. Zombies -all number one's!
This could also be called the year of change. I heard Marge and Homer will be divorced next season. What's the world coming to?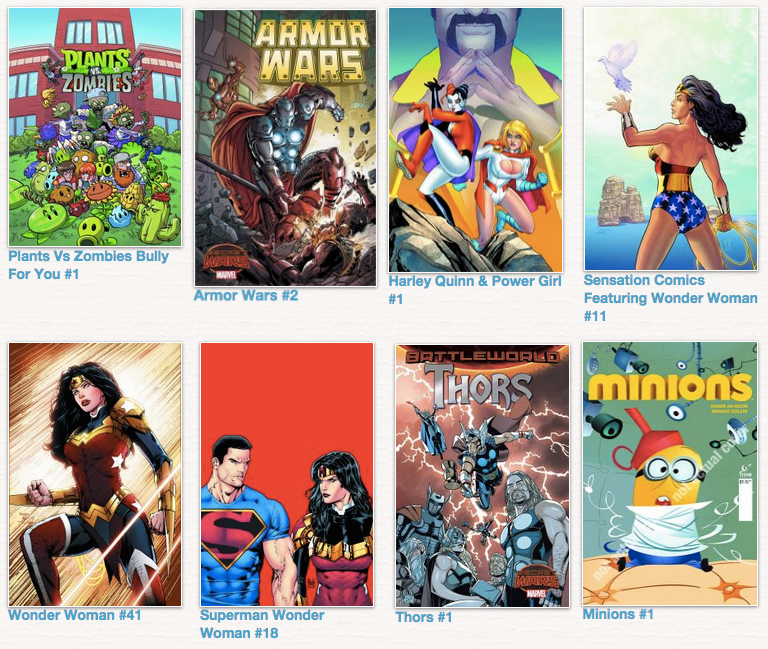 (We don't always order everything on this list, but if it's a Marvel, DC, or Image (and the great majority of the rest), we probably do. But, we may only order 1 or 2 of some of the titles, so we could sell out. If you are driving in, you might want to call first.)
I've noticed our source is not always perfect and sometimes predicts an occasional arrival a little early, as in Thors #1 being on last week's list in stead of this week's. Also, I don't have all variants memorized and it occurs to me that GoCollect.com chooses one of who knows how many to show and the one they show we may or may not get, or it may be $10 or more.
So another disclaimer is needed: comics shown on this page MAY be subject to price and availability anomalies without notice.